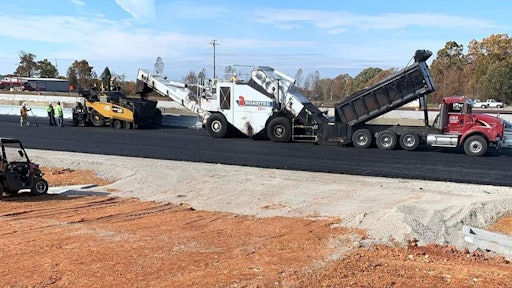 Dustin Watson
New data released this week by the Federal Highway Administration (FHWA) shows exactly how much states stand to lose from the $7.6 billion funding rescission mandated by the 2015 FAST Act that's scheduled to take place next year. Congress is staring down a fiscal cliff of its own making and every potential solution comes with its own issues.
The American Association of State Highway and Transportation Officials (AASHTO) noted this week that because the $7.6 billion rescission is more than the combined $5.35 billion of unobligated balances the states carry, the cuts may be even deeper than what the law calls for. The remaining $2 billion will come out of states' fiscal 2020 contract authority.
"All 50 states and the District of Columbia will be hurt by the rescission, including close transportation partners of these states," a group of more than 40 transportation associations and related groups, including the American Public Transportation Association and the National Governors Association, wrote in a September letter to congressional leaders. "The planned rescission next summer is already starting to impact project construction, which will delay mobility, quality of life, and economic benefits provided by these projects if unaddressed soon."
The Department of Transportation estimates Texas, New Jersey, Pennsylvania and Illinois stand to be the most significantly impacted by the planned revocation, based on an unobligated balance of contract authority formula, as laid out by the Federal Highway Administration. More than $450 million is at risk of rescission in each of the four states.
The path forward is complicated. A bipartisan repeal has failed so far to catch a ride on multiple potential vehicles. It's also tricky to attach authorizing language to spending bills. Few authorizing bills have been enacted lately. And it might be hard to get unanimous consent in the Senate or a standalone bill that, while it's deficit-neutral according to the CBO, seems to slash revenue.
What is a Recission & Why is it Happening?
According to the FHWA, s rescission is legislation enacted by Congress that cancels the availability of budget authority (e.g., contract authority) before that authority would otherwise expire. Section 1438 of the FAST Act contains a $7.569 billion rescission that will take place on July 1, 2020.
The rescission will be calculated based on each State's overall share of the unobligated balances of contract authority subject to the rescission as of September 30, 2019, relative to all States. This share will determine the proportional amount of the rescission applied to each State.
Take New Hampshire: The state is facing a cut equivalent to 20% of its annual federal highway contribution, or $37.8 million. Transportation Commissioner Victoria Sheehan says the cut would have a "crippling effect" on the state's ability to implement a painstakingly developed 10-year plan.
And in Texas, more than $960 million in contract authority is at stake, according to the Department of Transportation.
States do not have flexibility to determine the programs and amounts by program from which the rescission is applied. Section 1438 of the FAST Act requires that the amount to be rescinded from each program within a State be calculated using a formula.
AASHTO Issues Second Coalition Rescission Repeal Letter
The American Association of State Highway and Transportation Officials (AASHTO) is leading a 42-organization effort calling on Congress to repeal the impending rescission.
"This group of diverse national associations that support investment in our nation's transportation infrastructure is writing once again to urge Congress to repeal [the rescission] by the end of this calendar year," the November 14 letter said, which mirrors a similar appeal made to Congressional leadership via an earlier letter in September.
"We ask for this action immediately as part of any moving legislation, including FY 2020 appropriations, the National Defense Authorization Act, or another year-end vehicle," the letter added.
"It is especially critical to repeal this provision during the current calendar year because in the worst-case scenario, states may be forced to deobligate existing projects in order to provide the necessary amount of contract authority to be rescinded," it stated. "If this happens next spring or summer at the peak of the construction season, the effect would be especially devastating."
The letter also emphasized that the automatic funding cuts triggered by the rescission may go deeper than expected. According to Federal Highway Administration data released last week, the total unobligated balances of state highway funding subject to the rescission stands at just over $5.35 billion as of September 30.
That means a further $2 billion-plus would have to be extracted from federal-aid highway contract authority held by states during fiscal year 2020 to meet the mandated $7.6 billion cut.