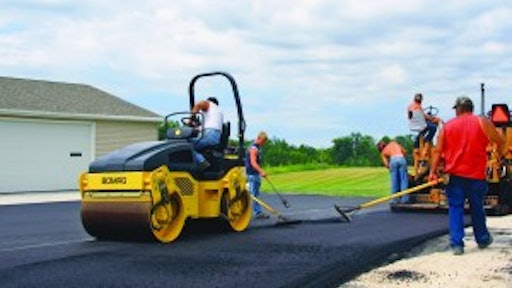 For contractors in the market for an asphalt roller, not just any model or size will do. As with any large purchase, you will have to match the machine to the application and keep an eye on future growth plans. What is adequate today may be outsized as your company grows with the market.
But despite growth plans, market conditions, and other variables, pavement maintenance contractors looking for a new or used roller have a wide selection from which to choose, and size is only one consideration.
Contractors can choose from static steel wheel, vibratory, and pneumatic (rubber tire) rollers. They can purchase rollers that bend in the middle to accommodate tight turns, that have both front and rear drive for hilly terrain, and that are versatile enough to be employed on small patch jobs, bike paths, driveways, parking lots, municipal streets, roads, and highways.
They all have their place in the market, says Dave Dennison, Bomag product manager. "The pneumatic rollers in our product lineup, for example, are among our heaviest and biggest machines we offer. They are used primarily, but not exclusively, for asphalt compaction on highways. The static weight of the machine, in combination with the rubber tires, creates the kneading effect, which tightly packs together the asphalt and aggregate by removing air voids.
"Tandem drum rollers can be used to compact base and asphalt materials. Shutting off the vibratory rear drum also gives them the ability to compact and apply the finishing touch on asphalt patches."
One of Bomag's more versatile vibratory drum rollers is the BW120 AD-4. This 47-in. model has an operating weight of 5,700 lbs. and is fairly compact, measuring less than 98 in. long. It features a 33.8-hp water-cooled Kubota diesel engine, and both the operator's platform and the drums are vibration isolated so the compaction force is concentrated into the material. Dennison says this adds longevity to the machine and ensures operator comfort. A dual vibration frequency setting - higher setting at 4200 for asphalt work and lower setting of 3300 for base work, adds to the machine's versatility.
The BW120 AD-4 features articulated steering and seven degrees of oscillation allowing the drums to stay in contact with uneven surfaces when doing base work. It also features an enclosed spray bar that protects it from being damaged and minimizes wind effect on the spray. A sliding seat and forward-slanting drum support legs offer great operator visibility.
For smaller paving projects, Specialty Asphalt Products offers The Eliminator Zero Clearance Roller, powered by a 15-hp Honda engine. "The unit has been on the market for 1 ½ years," says Larry Raymond, president of Specialty Asphalt Products. "One of its unique features is a three-piece front drum that eliminates the need for a drum support frame. The absence of a frame allows operators to get close to the sides of buildings or other structures, eliminating the time and labor associated with using a plate compactor."
The Eliminator Zero Clearance Roller is dual drive for powering up inclines, articulated (with an 82-in. inside turning radius) for maneuverability, and features infinite forward and reverse speed control. "Another interesting feature is a pressurized water system with a 10-micron filter. To my knowledge, we have yet to experience a plugged nozzle," Raymond says.
Ease of maneuverability is also a trademark of Wacker Neuson's RD12 and RD16 rollers. "These are tremendously popular rollers for us," says Jim Layton, Wacker Neuson marketing communications. "Their small drum width of 35.4 in. allows them to be used in rather tight spaces, and they're also ideal for compacting bike paths and driveways.
"These compact rollers provide great visibility. They feature dual hydrostatic drive with infinite forward and reverse speeds and articulated steering for maneuverability."
The 1-ton RD12 comes with a choice of a 20.5-hp Wacker engine or 18-hp Honda engine; the RD16 is heavier and features a three-cylinder, 26.8-hp Lombardini diesel engine. "The additional weight of the RD16 comes primarily from the diesel engine," Layton adds. "Whether contractors buy a diesel or gas-powered roller is usually a personal preference. If they already have diesel-powered equipment in their fleet, including a larger diesel-powered roller, then the RD16 with the Lombardini engine, would likely be a good fit for smaller projects."
Big, But Not Too Big
"We've seen a resurgence in the 7-ton roller market," says Bob Marcum, Volvo product specialist for compaction and motor graders, referring to the company's DD70 and DD70HF models. "These machines are very versatile and the only difference is the frequency of each - 3,300 vmp with the DD70 and 4,000 vmp with the DD70HF. They can be used on city streets and parking lots, and their weight allows them to compact in fewer passes."
Marcum notes that with a length of 176 in. both rollers are very transportable as well, allowing them to share space with a paver on a lowboy trailer. Two features particularly attractive for contractors, he adds, are the eight amplitude settings and two complete, independent water systems.
"Adaptability sets the DD70 apart from other rollers in its class. Eight amplitude settings allow operators to literally customize the roller to the asphalt and changing job conditions. The DD70 can compact deep lifts, thin lifts, base courses, and overlays and perform very efficiently on both cool days and very warm days."
When talking rollers, Marcum emphasizes that water can be a machine's Achilles heel. If the roller runs out of water or a water system spray nozzle plugs up, the asphalt will stick to the drums and halt the paving operation. The DD70 and DD70HF both feature 205-gal. capacity water tanks and two complete, independent water systems, with a backup pump and spray bars. If a pump breaks down or nozzle plugs, the operator simply switches to the backup system. Operators can also change the water flow rate to adjust to changing site conditions.
Filling a niche between the smaller compact rollers and the upper end mid-size models is the Wolfpac 4100. Manufactured by Stone Construction Equipment, this unit has an operating weight of 2 tons and features a unique design that allows operators to direct the vibration to both 40-in. wide drums or to the front and rear drums only.
"Being able to turn the vibration on or off on both drums gives operators added versatility," says Guy Boor, engineering manager for compaction products with Stone. "When rolling a driveway, for example, the operator may want to drive the roller into a garage to compact the asphalt up to the door. In that case, turning off the front drum would be important. Similarly, there are occasions when the ROPS will prevent operators from getting underneath obstructions. Again, having the ability to vibrate either drum adds versatility to the machine."
Boor goes on to explain that a three-position switch enables the operator to select lighter or heavier compaction or instead choose the static mode, depending on the job requirements. At 40 in. wide with 4,000 lbs. of impact per drum, he emphasizes that the Wolfpac 4100 fits nicely in between smaller 35-in. drum rollers and larger 47-in. models. "The 4100 can do the work at both ends of the scale, which gives operators real value for their dollars," he says. "The roller's versatility has made it popular with rental centers, giving them the opportunity to rent one machine to contractor customers whether they are paving driveways and parking lots or working on small roads."
When it comes to purchasing or renting a roller, size is not the only determining factor. The small and midsize units are versatile and can punch a lot of rolling power into compact frames. As Boor notes, the model 4100 is very similar in size to the company's smaller 3100 yet, as he explains, "it weighs more and hits harder."
Yes, the above manufacturers agree that one has to fit the machine to the job, but drum size, length, and weight of the machine need not be the only determining factors. Contractors should take into consideration drum impact and frequency, maneuverability, water systems, ease of operation, and overall design among other important features before signing on the dotted line.
Specializing in the construction industry, Rod Dickens is a freelance writer based in Neenah, WI.