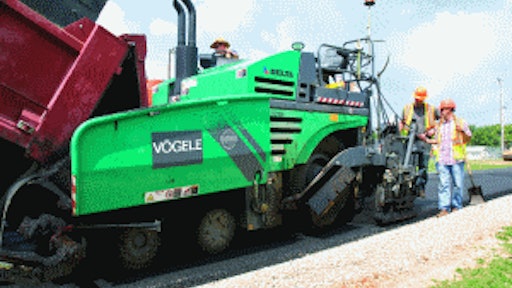 The performance - but especially the mobility - of a new 8-foot wheeled Vögele Vision 5103-2 paver is helping a major Midwestern asphalt producer and contractor stay in the black.
Delta Companies Inc.'s Missouri Region, located in Cape Girardeau, MO, this summer was using a new Vision 5103-2 to build a new asphalt parking lot and resurface streets in the Ozark city of Doniphan, MO, on the scenic Current River. Delta was benefiting from the paver's automation and mobility.
There, Delta was paving a parking lot for Doniphan's city park on the Current River. The contractor placed a 2-inch lift directly on the existing, graded rock parking area, then followed with a 1 3/4-inch cap lift, compacted to 1 1/2 inches. A 3/4-inch NMAS material was used in the base lift.
For this project in early July 2010, Delta placed 770 tons of base mix, and was placing 470 tons of surface mix when visited, for a total of 1,240 tons of asphalt. HMA was placed at about 320 degrees F. The project was funded by a Rural Development grant from the U.S. Department of Agriculture.
"This paver is user friendly, more comfortable for the operator and easy to maneuver," says Derek Schatte, operator. "A lot of the older pavers will overwork the operator, but not this one. Everything is right at your fingertips. To fill the screed, I have one button to push. Instead of worrying about each separate auger, it fills the screed automatically and shuts down when its full."
In addition to street and main line work, the 5103-2 is especially suited for paving parking lots over loose bases, Schatte says. "It goes well in parking lots on sand bases, where most pavers won't go," he says. "But with its front wheel assist this one goes right on through."
Since early 2010, the Vision 5103-2 has been used continuously by Delta on a variety of projects. "It's the smoothest-laying machine we've ever used," says Jesse Schrader, screed operator. "The mat is good and even all the way across. You can adjust the screed so there is not a line or a blemish in the mat."
Tires bring speed
Delta likes wheeled pavers because of their mobility.
"We like the speed and maneuverability they provide," says Keith Richard, general superintendent, Delta Companies Inc. "We were impressed by the speed at which this paver can travel when we are paving, so long as we don't outrun our rollers."
But the wheeled paver isn't just fast; it's top feature is that it's maneuverable. "That's especially important on a gravel-base parking lot like Doniphan City Park," Richard says. "When you turn a track machine too sharply, you will just tear up the base and create a lot of extra handwork. But this rubber-tired paver is very maneuverable."
The 5103-2 enhances productivity in other ways. "It has other features that we really like," Richard says. "When have to tie into a header or bridge the 5103-2 allows us to continue to run our augers while the drag chain is off. This reduces the amount of waste and clean-up inherent to this procedure."
The machine's quiet operation also aids working conditions. "This paver is quiet, very quiet," Richard says. "Also, the operator can do everything from the top that the screed operators at the back of the machine can do.
"For example, the screed operator may go back to help rake a joint, or go back and fill in a hole," he continues. "With him gone, if the joint needs to be matched, the paver operator can bump the screed extension out to match the joint with a push of button, or turn the augers off. He can do whatever he wants to up there."
Delta doesn't have firm numbers on fuel consumption.
"We are tracking fuel consumption but don't have detailed data right now," Richard says. "But I can tell you it does not use the amount of fuel that our other pavers do. It holds enough fuel for the entire day and appears to use two-thirds of the fuel that other pavers do."
Paving crew participated
While contractors can be creatures of habit in terms of the equipment they acquire, Delta understands that the quality of the equipment and the way it is used is changing, and the contractor must change with it.
Delta evaluated the technology that the Vision Series and a competitor offered and let the paving crew decide which machine it wanted to use.
"It's all about change," Richard says. "We looked at the technology and looked at the Vögele paver and another brand, and asked the crew for their opinion, which was used as one of the criteria for evaluating the new paver."
There were several features the crew liked on the Vögele, including its electronic operation.
"The electronics make it very simple to get a very good ride," Richard says. "Even though it has an 8-foot main screed, we have paved three state routes with it already this year and the rideability is excellent."
With built-in extensions, Delta can pave up to 15 feet wide with the screed extensions. "We also actually can get heat on the extensions," he adds.
The Vision 5103-2 paver also offers enhanced visibility. "I ran the machine myself one day, and it was great," Richard says. "On either side the seats pivot and swing out to the side of the machine, so you can see into the augers. You could also see at least half the hopper."
Delta part of COLAS family
Delta Companies Inc. traces its lineage to 1920, when a partnership in 1920 between Edward F. Regenhardt and William H. Harrison led to what is today the Delta Companies Inc.
In 1962, Delta Asphalt, Inc., was formed to provide the Missouri market with asphalt and contracting services.
In 1993, the companies became part of COLAS, Inc., based in Morristown, NJ. Since then, the Delta Companies have grown significantly, starting with the 1997 purchase of Baughn Construction in Arkansas, which added asphalt plants in Tuckerman and Black Rock.
Today, Delta Companies Inc., with locations in Missouri, Illinois and Arkansas, is a major Midwest heavy/highway contractor, paving contractor and materials producer.