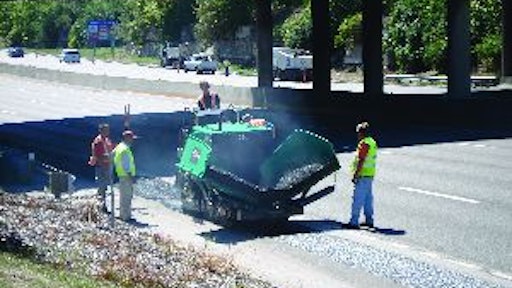 No matter what industry you work in, change is inevitable. The paving industry is no exception. One area where change seems to be a constant is in equipment. Manufacturers are constantly producing new equipment or updating features on older machines. Asphalt Contractor decided to take a look at the small and mid-sized paver markets to see what changes and trends are occurring with these pavers.
The consensus seems to be that trends in these markets are filtering down from the larger highway-class pavers. Improved features from larger pavers are starting to be seen on smaller equipment and, in some instances, are even becoming standard for the small and mid-sized pavers.
Brodie Hutchins, general manager for Vogele America, says the reason for this trend is that contractors are starting to stretch the intended use of smaller pavers. Although this may save a contractor in costs, it also causes a paver to work harder resulting in quicker wear. However, manufacturers are taking notice of how contractors are stretching these smaller pavers, and new features are being added to increase the pavers' usability.
For example, Hutchins says Vogele's small pavers are now being made with more advanced automation and electric heat in screeds. In the mid-sized market, increased horsepower and more comfortable features and amenities are being added.
Vogele has adopted some of these trends for its Super 700 utility paver, according to Hutchins. The Super 700 is a small paver with a 4-foot paving width, but it also has features found on larger pavers. "It's got the robust features of a big machine. With those demands we have to make the machines tougher and last longer," he says. The Super 700 has a generator for electric heat and an integrated leveling system with the controls so that it just plugs right into the machine.
The integrated leveling system gives the paver more precision on the mat. "It makes contractors' lives easier. With material management, they don't have to do as many things feeding the machine. They kind of put the machine on autopilot because the augers and conveyors really monitor themselves, and the leveling allows the screed to do its own thing," Hutchins says.
The Super 700's hopper has been designed so it can do several different jobs, he adds. This helps the paver to accommodate different types of work such as tight places or shoulder work. With Vogele's mid-sized pavers - the 2111W, 2116T, and 2116W - Hutchins says they will soon have more maintenance free features common on larger pavers.
Contractors doing larger jobs where precision is important are going to benefit from Vogele's improvements to its equipment, Hutchins says. And although Vogele originally thought the Super 700 would be purchased mostly by commercial contractors, Hutchins says the customer base is actually split between commercial paving, highway paving, and utility contractors. The Super 700 allows these contractors to do jobs other than the main large job, he adds.
A focus on electronics is another noticeable trend in the small and mid-sized paver markets. VT LeeBoy, for example, offers electronic steering in its 8500, 8510, 8515, and 8816 conveyor fed paver models, according to Mike Lee, VT LeeBoy research and development. LeeBoy has also introduced the Legend Electric Screed heating system to these pavers.
This screed heating system uses an electric generator instead of propane to heat the screed. "The electric screed heat eliminates fumes, flame, and fuel and is safer and easier to use for the operator," Lee says. "Electric heat is more evenly distributed across the length of the main screed plate and extension plates," he adds.
Electric screed heat was originally a feature on LeeBoy's larger highway pavers, but it is now an option for its mid-sized pavers. Lee says propane heat can create hot spots, and inconsistent heat from propane can cause streaks in the mat or even cause the screed plate to warp. Electric heating is one way to eliminate these problems.
Even though trends in electronics are playing a big part in the manufacturing of small and mid-sized pavers, Lee says the change that will have the most impact in the market is compliance with the Tier 3 engine regulations. "Engines meeting these regulations will be more costly to the OEM and, in turn, more costly for the small and mid-sized paver," he says. However, Lee says all contractors will benefit from changes and improvements that make them more efficient, safer, or productive on the jobsite.
The Gehl Company also sees engine changes having an impact on pavers. Steve Kirst, product manager for pavers, says Gehl has added larger but quieter engines to its two models of smaller pavers, the 1448 Plus and the 1648 Plus. "The extra horsepower allows for better performance yet the lower sound levels make it not only easier for the crew to effectively communicate with each other but also makes the unit friendlier in confined residential and commercial areas," he says.
Another improvement Gehl has added to its 1648 Plus unit is infinitely variable ground speed control. Kirst says this allows a contractor to be more productive because it precisely matches ground speeds with paving conditions. And more productivity is a key factor guiding trends.
Kirst says Gehl pavers are geared toward paving contractors who focus on smaller jobs such as driveways. These smaller crews need pavers that allow everyone to feel comfortable and confident while operating the paver, he says. And the improvements Gehl has made to its small and mid-sized pavers based on trends the company is seeing is one way it is helping contractors.
The biggest trend John Hood, Bomag America's sales manager for paving and milling products in the U.S., sees in this market isn't even on paving equipment; it's with the people using the equipment or paying for the jobs. Paving contractors and customers have become more educated and sophisticated, Hood says. As a result, expectations on equipment and job results are higher. "As much as machines have grown in sophistication, contractors have grown more," he says. "Everyone is looking to do a better job." And Hood sees this as a good thing. He says contractor education is important because no matter what features you have on a paver, you can only do so much with the equipment.
To satisfy higher expectations from both contractors and customers, Hood says the trend in small and mid-sized pavers has become making equipment of higher quality. And better quality machines, whether they are small or large, benefit all contractors, he adds. "Residential contractors benefit because they can do more driveways during the day and the quality of the job is higher. If you're a commercial contractor: more production. You can do the job quicker, in a more professional manner, keep your property management pleased, and utilize them for referrals."
A lot of highway-class contractors are now acquiring small machines because the equipment has reached a quality level where it can do some fill in work that can match the level of road-class pavers, Hood says. "The quality of the paving machines on the market today is much better than it was five years ago. And from what it was 10 years ago, it's night and day. Ten years ago people just said 'well yeah, it's a small paver, and it can't really do this stuff, and you can't expect this.' That's gone. Now expectations that small paving manufacturers are falling under are basically the same things that large ones are."
Hood says he has also seen a trend in moving from tow behind and gravity fed pavers to conveyor fed pavers. Bomag now offers three models of mid-sized conveyor fed pavers: the 4413, 814, and 815.
The biggest change Bomag has made to its mid-sized pavers is with the electrical and hydraulic systems. For example, the mid-sized units now have screed automation. Screed automation allows a contractor to use sonic or lasers to read and adjust screed depth when putting material down. This automation results in more precise depth, more consistent finishes, and more consistent usage than manual adjustments, Hood says. "That automation in the past has always been reserved to larger pavers - highway class pavers - and it's really made its way into the commercial class paving industry."
As far as electronic systems go, Hood says they will continue to be integrated into Bomag's pavers. "Electric switches are much easier to operate than some lever and crank," he says. "Anything you can automate to make that contractor's life simpler is a good thing."
Manufacturing new or updating current pavers for higher productivity will be a trend that continues to influence the market. And there is no doubt that future trends will continue in the direction of making equipment and work easier for paving contractors.