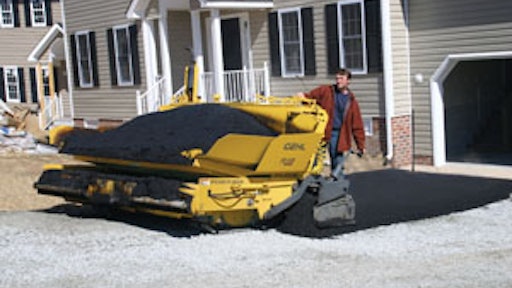 Gehl 1648 and 1448 Pavers
Power Box asphalt pavers from Gehl are designed for various commerical and municipal applications.
Two, fully adjustable screed options
4- to 13-foot paving widths
4-foot 9-inch to 5-foot 5-inch wall height for better operator visibility
1648 has the option of attaching material augers to the extensions
41-hp Isuzu water-cooled engine
Bomag ProPaver 813RT Paver
The midsize ProPaver 813RT can push asphalt feeder trucks while maintaining paving speeds up to 150 fpm.
Standard paving widths from 4 to 14 feet or up to 16 feet with optional 18-inch bolt-on extensions
Paving depths from zero to 6 inches
80-hp Isuzu turbocharged diesel engine powers a hydrostatic drive and pumps
7.5-ton hopper capacity
Dual-slant conveyor system
Dual operating stations
Terex/Cedarapids CR552RX Remix Paver
The CR552RX Remix Tier 2 Series rubber-tire paver features a 240-hp turbocharged diesel engine.
Three screed models with paving widths from 10 to 30 feet
Hopper load bearing capacities increased by 40 percent to 25 tons
Large rear wheel drive motor with 20 percent increase in drawbar pull
Remix Anti-Segregation System virtually eliminates particle and temperature segregation
Revamped cooling system with single-width, triple-element radiator
LeeBoy 8816 Asphalt Paver
The LeeBoy 8816 5,000-pound, 130-hp track-mounted asphalt paver is designed for road and commercial applications.
8- to 15.5-foot heat and vibrating Legend screed system
Dual operator stations
10-ton receiving hopper
Independent sonic auger and conveyor system
Ingersoll-Rand Titan 8820 Paver
The new Ingersoll-Rand Titan 8820 features an electronic paver management (EPM) control unit.
19.3-ton paver
For placing wearing, binder and base course material in large paving widths and thicknesses
Caterpillar AP-655C Asphalt Paver
The AP-655C 8-foot rubber-track asphalt paver incorporates the Mobil-trac system undercarriage, combining the traction and flotation benefits of a crawler with the mobility, speed and ride characteristics of a wheel-type paver.
40,800-pound operating weight
174-hp

Caterpillar

3056E ATAAC diesel engine
Steering/propel controller
Material-handling system uses a controller to precisely control augers and feeders, calibrate and monitor the system
Choice of Extend-A-Mat 8-16B or AS2251 screed
Dynapac F 25 and F 30 Pavers
The F 25 paves from 8 feet 2 inches to 26 feet with a 1,700-tph flow-through capacity, while the F30 has a 2,400-ton capacity and paving widths from 9 feet 10 inches to 52 feet.
135- and 200-hp six-cylinder Cummins engines
Outboard auger drive system features two separate, independent, hydraulically driven augers with infinitely variable speed control
Separate slat and auger drives allow cutoff of material while spreading material evenly in front of the screed
LeeBoy 8515 Asphalt Paver
LeeBoy's 8515 asphalt paver brings heavier track assembly and undercarriage, an 8- to 15-foot paving width, and 7.5-ton hopper to its 8500 Series of commercial asphalt pavers.
Can be outfitted with either a poly-pad or continuous rubber tracks
Hydraulically raised hopper bed for cleaning and service ease
74-hp Hatz Silent Pack engine
Two-speed hydrostatic drive
Paves up to 6 inches deep
Dual operator station
Roadtec RP155
The RP155 asphalt paver is designed to work in all types of subgrades and paving applications.
155-hp John Deere diesel engine
8-foot electrically heated vibratory screed
Hydraulically raisable engine hood
Goodyear rubber tracks
Vögele 2111W Paver
The 2111W rubber-tire paver features a 110-hp Cummins QSB4.5T turbocharged diesel engine.
Portal axle drive provides true differential lock or modulated steer-assist pedals
190-cubic-foot hopper capacity
17-feet long with an 8-foot 6-inch inside turning radius and top travel speed of 13 mph
Fully proportional feeder system comes standard with ultrasonic material level sensors
Augers hydraulically adjust from 4 to 9 inches above the ground
17-foot 6-inch maximum paving width
Ingersoll-Rand Highway-Class Pavers
The track-mounted 5110 and wheel-mounted 5160 and 5170 pavers feature an auger system that is independent of the conveyor system for optimal material flow.
Reversible augers and conveyors optional
8-foot screed width
28-foot maximum paving width
13.6-ton hopper capacity for production rates of 719 tph
185-hp

Cummins

Tier II engines
Hydrostatic direct-traction drive system
Front-wheel assist on 5160 and two- or four-wheel assist on 5170
Layton D-550 Super-Paver
Layton's D-550 Super-Paver features a tow-behind design.
Single-lever controls for independent augers, screed depth and extensions
Up to 12-foot-wide paving
Manually adjustable hopper wings
Dual propane-powered engines
Mauldin Classic 550E Paver
The 550E classic compact paver is available in both crawler and rubber-tire models.
Extendable augers for laying 6-inch mats to a full 13-foot width without the use of shovels
Gear-driven steering system
23-hp, three-cylinder Kubota water-cooled diesel engine
Paving speed up to 140 fpm
Salsco Mini-Track Paver
Designed for sidewalks, utility trenches, patching and more, Salsco's Mini-Track paver can pave 3- to 6-feet wide.
Hydraulic tracks move in and out
10-hp Yanmar diesel engine
Paving speed of 50 fpm
Paving thickness of 1/4 to 5 inches
Hydraulic cut-off plate
Hydraulic dump box
6-foot turning radius
Puckett Bros. 692 Asphalt Paver
The 692 asphalt paver is powered by a 42.5-hp Caterpillar diesel engine.
6-ton hopper with 9- to 14-foot extendable screed
Joystick controls on cylinder functions
Electronic speed control from zero to 240 fpm
Ergonomic, operator-friendly design
8- to 13-foot model 682 asphalt paver also available
Vögele 2219T Paver
The 2219T features a 190-hp Cummins QSB5.9TAA turbocharged, aftercooled diesel engine.
Final drive uses two hydraulic motors to deliver four speed ranges with shift-on-the-fly control
Top travel speed of 10 mph
225-cubic-foot hopper capacity
Augers hydraulically adjust from 4 to 9 inches above the ground
Fumes extraction system
Fully proportional feeder system with ultrasonic material level sensors
Four screed options
Maximum paving width up to 25 feet 6 inches
Companies in this article