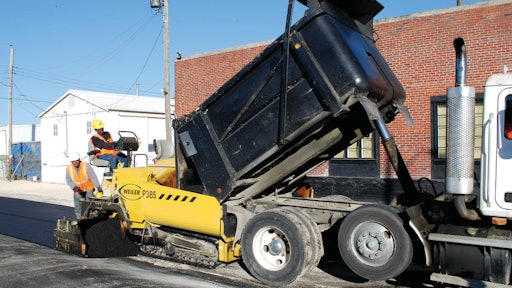 Manufacturers of asphalt paving equipment pay close attention to contractor needs and wants as well as trends in what the market expects and what type of work will be available. That explains at least partially why there's such diversity in equipment offerings, from types and sizes to features and options available to today's paving contractors. Here's just a sampling of what contractors can put to work when the need arises.
Carlson CP-90 Paver
With an 8 to 15-ft screed, the CP-90 Paver from Carlson is especially designed for commercial contractors who pave driveways and roadways and highway contractors for paving approaches and shoulders. On the market for 3 ½ years, the CP-90 weighs in at 20,000 pounds, the heaviest in its class, says sales and marketing manager Tom Travers. The unit is also completely re-buildable as all major wear items are bolted instead of welded to the frame.
"Having a re-buildable paver with 10-ft highway components stuffed into an eight-foot frame gives the CP-90 three times the life cycle over competitive models," explains Travers. "Among features are a heavy-duty auger and conveyor components, a 12-inch auger with replaceable sections, and replaceable conveyor floor plates. Seven bogie wheels on the undercarriage provide added support for the track frame and alleviate track wear.
"Operators also have easy access to all moving parts, the engine, and the hydraulic components," Travers adds. "A simple walk around will allow them to inspect chains, bearing, and other key items and make necessary adjustments or repairs prior to getting into the field." As he point out, in a paving operation, nothing is more frustrating or costly than having to shut down in the middle of a project.
The CP-90 comes with an Eaton hydraulic pump and motors and is powered by a Caterpillar 84-hp engine. "A 36-gallon fuel tank allows for longer running times," says Travers. "The platform can also accommodate two-or three-person operation, adding to the unit's versatility." Popular options include a beacon light and umbrella, truck hitch, and adjustable tow point.
Ditch Runner Model DR 458
Recently introduced by Reid Manufacturing, the Model DR 458 features a 4-ton hopper and an 8 to 12-foot screed. "Paving contractors will notice that the 458 closely resembles a previous Puckett Brothers model," says Reid Manufacturing president Bobby Reid. "I've taken the design and added updates such a four-cylinder Kubota engine, a new track, and hopper sides that fold under 8 feet so paving contractors don't need a special permit to transport the machine."
Reid says the 458 is ideal for paving small drives, small streets, parking lots, and even tennis courts. "This is designed to be a ground floor and inexpensive paver that contractors can start making money with right way," he adds. "It will also do a great paving job."
Before getting into manufacturing, Reid notes that he operated a paving company that used several Puckett Brothers pavers. "I was always very satisfied with their durability and performance," he emphasizes. "I want to bring some of these older models back to life and reintroduce them to contractors looking for these same characteristics from their pavers. The DR 458 is just such a machine."
LeeBoy 8515B Paver
This commercial class paver from LeeBoy can be used for a variety of projects, from completing driveways and large parking lots to paving turn outs, shoulders, emergency lanes, exit ramps and subdivision roads. Contractors also employ this popular B Series for patch work and leveling roadways prior to large overlays.
"The 8515B is the latest in the evolution of the company's electric-over-hydraulic pavers," says LeeBoy territory manager Jim Wagner. Several special features, he notes, make it an attractive addition for any size contractor.
"An 'operator's choice' platform allows this machine to have both a high-deck and low-deck configuration," Wagner explains. "The high deck gives the operator great visibility and is ideal for paving contractors with larger crews. The low-deck configuration allows the operator to be close to the work, usually a requisite for the contractor with a smaller crew."
Among other features, Wagner says the placement of the augers in combination with the under auger cut-off gates gives the operator the ability to pave out to 10 feet without using augers, reducing auger wear. He notes, too, that the design allows operators to control the flow of mix as they pave, creating less handwork and reducing man hours.
"Even though the 8515B has a paving width of eight to 15 feet, the under auger cut-off gates give it the ability to pave infinitely variable widths," Wagner emphasizes. "This is an especially important feature for contractors who use their paver for a variety of patch work."
The 8515B weighs in at 17,800 pounds. It comes with a water-cooled, turbocharged 84.5-hp Kubota engine.   The hopper has a 7.5 ton capacity, two 36-inch slat conveyors, and a 12-inch diameter auger. The heavy-duty screed features two propane burners on the main screed and one burner for each extension. An electric screed system is optional.
Vogele Super 700
With a basic paving width of 3 Ft. 8 In. to 10 ½ feet, the Super 700 track paver can service nearly every segment of the paving market, from small commercial operators to large highway contractors. "Commercial contractors can use the Super 700 for paving cart paths, sidewalks, driveways and other smaller projects plus, it can be used by the heavy highway contractors," explains Wirtgen America's Vice President of Distribution Development Brodie Hutchins. "For highway contractors, it's the perfect tool for widening roads, adding shoulders and any other application where maneuverability in close quarters is critical. The Super 700 can pave within 2 inches of a boundary and has many hopper configurations to accommodate creative feeding techniques."
The Super 700 is powered by a 60-hpDeutz engine and comes with what Hutchins says are highway-class features in a commercial package. "All the hydraulics, including those that operate the conveyor and tracks, are noted for their smooth and precise operation," he relates. "The paver also features an independent feeding system to provide optimum control of material flow. The conveyor is reversible to maximize material control."
Says Hutchins, "With the use cut-off shoes, the Super 700 can pave at infinitely variable widths down to 20 inches. He notes that the machine's slim profile and outer track gauge of just 3 feet 7 inches, allows the machine to sit inside of a 4-foot cut to pave. Since the entire paving process can be operated from a centrally located control panel, the machine can be operated by one person. It's also worth noting, adds Hutchins, how easy it is to use Vogele's Niveltronics grade and slope controls for precise results.
The Super 700 weighs 13,000 pounds and has a paving speed of up to 200 feet fpm.  
Dynapac F1000W
The largest paver in Dynapac's medium-sized wheeled class, the 33,000-pound F1000W is a wheeled finisher that is used for laying bituminous mixed material, rolldown or lean-mixed concrete, track-laying ballast and unbound mineral aggregates for foundations for paving. It features a 10-foot basic working width with a maximum working width of 25 feet (with extensions).
"Our wheeled pavers are well known for their reliability over many years of operation with a wide range of applications," Dynapac notes. "In combination with their flexibility these machines are the ideal choice for paving urban roads."
The F100W, which has a tracked twin, can pave to a maximum depth of 12 inches at a paving speed of 240 feet-per-minute. It features an integrated hydrostatic drive system, dual swing-out operator stations. Material transport features a dual independent slat conveyor with proportional speed control with each side operating independently along with dual independent proportional augers. Three screeds are available with the F100W: the EZIII-10 6,000-pound screed, the EZIV-10 7,000-pound screed, and the EZR-10 screed weighing 8,250 pounds.
" In response to the needs of end users and the construction industry a wide range of optional equipment is available which further enhances their versatility," Dynapac reports.
Volvo Blaw Knox PF 4410 Paver
The Blaw Knox PF-4410 is a commercial class paver from Volvo designed for contractors looking to move up in weight and power and yet retain the maneuverability to still do smaller jobs.
"The 4410 features much of the classic legacy technology that has been present in the Blaw-Knox offering for many years," explains John Sunkenberg, Volvo product competency manager for pavers. "The machine was introduced in 1999 as a replacement for the previous model PF-410. Some of the important upgrades included a larger six cylinder engine, one piece rubber track, and an 8 to 16 ft, front-mounted extension, electrically heated screed."
Sunkenberg categorizes the PF 4410 as a "robust yet very manueverable, 8-ft machine" that features many of the same components as the company's larger 10-ft models. Since the machine's overall dimensions are smaller than that of other pavers in its class, he notes that it is perfectly suited for "finessing" parking lots with multiple islands, landscaping elements, and light poles, along with paving more typical driveways and cul de sacs.
"This is a great, all around machine that can do big production job, too," he emphasizes. "Why should contractors spend more money for a heavier, commercial class machine like the PF 4410?" Sunkenberg asks.   "With more robust components, they will be able to put much more tonnage through the machine before investing in a rebuild or replacement.   Contractors also appreciate the machine's straightforward design that allows them to easily troubleshoot an issue and likely fix it on site, avoiding costly downtime."
The PF 4410 is powered by a 158-hp, six-cylinder engine and weighs 30,205 pounds without the screed, and closes in on 36,365 pounds with the screed.
Weiler P385 Paver
Introduced two years ago, this 8-ft commercial track paver from Weiler is designed for commercial contractors who wants both productivity and longevity out of their paver investment," says Territory Manager Ben Sherod. "With the P385, our engineers squeezed highway class features into a small package that can be rebuilt for years of productivity. Among replaceable wear parts are hopper wear plates, segmented augers, and track poly pads.
"Because contractors have different ways of doing the same paving job, we wanted out machine to be extremely versatile. An optional seat, for example, gives operators a choice of three positions on each side of the paver. The addition of cut-off doors will give them the ability to pave virtually any width up to 15' 8", from small patch jobs to paving parking lots and streets. It is also very serviceability with easy access to all engine and hydraulic components."
He notes that support from local caterpillar dealers provides contractors with excellent access to parts and service, an important component for minimizing downtime.
The P385 features a direct drive 140mm track and an electric screed with angle of attack adjusters on the extensions, extender height adjuster, and manual slope adjustment. Powered slope adjustment is optional. The paver weighs 18,000 pounds, including screed, and is powered by a Caterpillar 83-hp diesel engine.
Salsco Mini-Paver
Salsco offers two mini-pavers ideal for contractors looking to install cart paths, sidewalks, trenches, or anything 36" to 72" wide. One is Model 05004, a rubber tire version. The other is a track version, Model TP411.
"Our rubber wheel model is a basic, trouble-free powered drag box designed for paving hard surfaces such as sidewalks, golf cart paths, and walkways," explains Salsco president Sal Rizzo. "It counterpart, the track paver, is actually a miniature asphalt paver that allows contractors to pave off hard surfaces in very tight and restricted areas. It comes with several special features, including a hydraulic tilt hopper, cut-off door, hydraulic augers, and hydraulic end gates." Adjustable tracks that hydraulically move in and out are optional.
Rizzo notes that the company's mini asphalt pavers represent a giant step up for contractors who previously had to pave difficult, tight areas by hand and a very versatile alternative for contractors with larger pavers who would have to employ cut off plates to complete smaller jobs. The adjustable hydraulic tracks for the track paver, he adds, allow contractors to actually get down inside a trench with the machine to pave.
Among other features, the track paver has two nine-inch cast augers that are independently operated both forward and reverse, and all controls are located at the rear of the machine for easy access from either side. To facilitate loading mix, especially in difficult-to-reach areas, Salsco offers a side bucket to fit on skid-steer loaders.
The rubber tire mini-asphalt paver is powered by a 13-hp Honda electric start engine. The mini-track paver comes standard a 14-hp Hatz diesel engine.
Roadtec RP-175 (not approved yet)
It's not unusual for contractors to use this track paver on a driveway one day and a road the next, explains Roadtec's Eric Baker. The track design delivers ultimate maneuverability, yet its weight of 35,000 pounds (depending on the screed) and 174-hp engine give it big-job capability.
The company's vice president of sales notes that one of the key selling points of this commercial class paver is that it's easy to keep running. "On pavers, electrical systems usually cause the most problems," he relates. "The RP-175 track paver features a very simple electrical system that can be diagnosed from one junction box. Sealed toggle switches throughout are readily available from any electrical supply house."
Baker emphasizes that the paver's size, in combination with four electric screed options, adds to its already versatile design. The paver comes standard with the S-8 vibratory screed, but contractors who pave parking lots and other smaller projects may prefer the lightweight and versatile EZ-III. This hydraulic 8 to 13-ft extension screed features an adjustable angle of attack, adjustable slide track, berm builder, and spring loaded end gates with replaceable runners. A larger and heavier EZ IV screed is also available, along with an Eagle rear-mounted screed for paving longer stretches of road.
The RP-175 comes standard with a 34 kw generator set for plenty of additional electrical power. As Baker points out, a heavy-duty steel tractor frame accounts for much of the paver's weight and can be rebuilt with key components for a long life in the field.
A rubber tire version of the paver, model RP-170, is available for contractors who don't require the additional versatility and maneuverability of a track paver.
Companies in this article