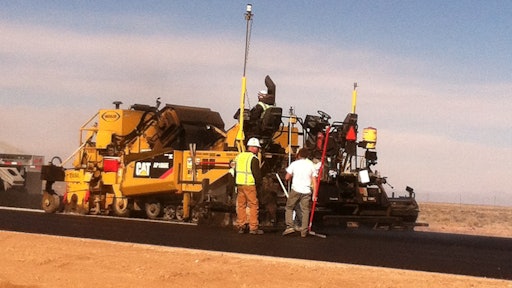 The county-owned, Miley Memorial Field Airport in Big Piney, Wyo., recently received a much-needed rebuild and widening of its lone double-taxiway airstrip. Serving the regional oil and natural gas exploration markets, the airfield is essential for transporting supplies and personnel. The $3 million contract to widen the single 6,800-foot runway an additional five feet was let to HK Contractors Inc. in Idaho Falls, Idaho.
"The existing airstrip has been in service for 30 years or longer, so it was time for a rebuild," said David Harrigfeld, GPS technician for HK Contractors. "About two or three years ago, we rebuilt much of the apron which had turned to alligator skin."
Building in 3D
Harrigfeld received paper plans and electronic files for the project from the engineering firm.
"For our construction and paving purposes, we needed to build a 3D digital model from the various materials provided to us," Harrigfeld said.
Harrigfeld used Trimble Business Center – HCE software, which he said was "an invaluable tool that let me build the surface quickly and accurately." The software is designed to manage, analyze and process site construction data.
"Our Trimble machine control systems were all on other time-sensitive sites. The company did not wish to rent another blade with GPS brackets and system, but because of the airport completion deadline and knowing when the first snow of the season will likely come we had to get creative to finish on time," said Harrigfeld.
When Harrigfeld arrived on site, they were preparing to lay the P209 crushed aggregate base course, which according to Harrigfeld can be a major challenge. "If you lay it too deep, you have to use a box scraper to avoid segregation. Or, if you lay it too thin and need to add to it, you have to first scarify the surface, then re-water the aggregate before laying it back to grade."
Using a paver to lay the base course
To maintain the necessary control and ensure accurate results with the placement of the 6,600 cubic yards of P209 crushed aggregate base course, Harrigfeld opted to use a track asphalt paver equipped with a Trimble PCS900 Paving Control System. With 168 kW gross power, the paver was upgraded to the Trimble 3D system and HK Contractors acquired a Trimble SPS930 Universal Total Station to provide high accuracy 3D machine guidance, requiring only one-person operation. The practice of using a paver to lay a base course is more common in other parts of the world but is still novel to most American paving contractors.
"Using 3D control on the paver we were able to accurately lay the aggregate base course to grade," Harrigfeld said. "We went up from the borrow and did not have to hub the P209 gravel, which would have taken the surveyors at least four days to complete. It would have taken them as long to hub it as it took us to lay it with the Trimble-equipped paver. Plus, we would have had to finish to those hubs."
Harrigfeld estimates that in time savings, the technology saved the company seven days of aggregate base course placement on this very tight time schedule job. He also cites better efficiency and increased productivity in the asphalt paving.
"The Trimble technology allowed us to easily and accurately place the 12,600 ton of asphalt to the FAA required tolerances, which are plus or minus half an inch to design grade," said Harrigfeld. "Additionally, it helped us achieve the smoothness tolerance of plus or minus half an inch to design."
The FAA requires that paving contractors use the 16-foot straight-edge to confirm that variance is no greater than a quarter of an inch when measuring either laterally or transversely the entire length of the runway.
Versatile tool helps beat the clock
"The 3D paver placed the P209 crushed aggregate base course, paved the airstrip and passed the straight-edge test without any remedial work required," Harrigfeld said. "It's not a common practice to lay gravel with a paver because it's extremely abrasive. I had never done it before so I was worried about the amount of wear we would have on the paver. As it turns out, the amount of wear was minimal compared to the amount of time we saved and still met the critical tolerances that the system allowed us to have."
In addition to meeting tight tolerances, using the Trimble PCS900 allowed Harrigfield to complete paving operations in a shorter time frame - in 17 days instead of the at least 25 days he estimated it would have taken without 3D paving technology.
"The Trimble technology on the paver helped us in the race to not only meet the county's deadline for completing the Miley Memorial Field Airport airstrip rehab but also beat the weather coming in for the season. Two or three days after we completed the job, we had an eight- to 10-inch snowfall that would have shut that job down for the year," Harrigfeld said. "During our crunch to get everything completed we had tremendous support from our local Trimble dealer who helped get everything set up on the paver and was on site monitoring the progress. I'm happy with the work our crew did and the cooperation we received from our dealer. I'm proud of the results and would have no hesitation ever flying into that airport."