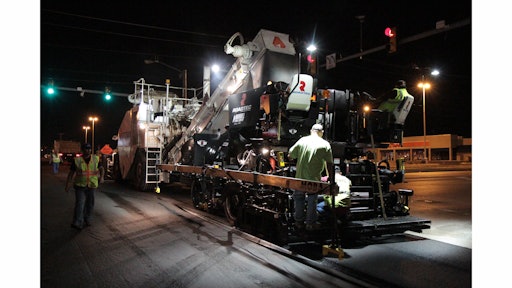 Anytime you can earn an $85,000 ride bonus on a $7-million asphalt paving project, you know you've got good people and good equipment doing the work. That's the 100% ride bonus achieved by Markwell Paving, Oklahoma City, on 1.25 miles of Interstate 35 in Norman, OK, earlier this year.
It was a $29-million project with earthwork, drainage, a 300-foot-wide bridge, and some concrete paving in addition to a full-depth asphalt pavement on the six-lane mainline plus ramps and shoulders. The project was completed by a three-contractor joint venture that included Markwell, Allen Contracting and Manhattan Road and Bridge.
The profilometer used on the top permeable friction course of asphalt had a zero blanking band.
"To receive full pay, you're allowed 3 inches of deviation in a mile and we had less than half an inch," says Damon Markwell, president of the company that bears his name. "We used an Ames lightweight profilometer. The lanes were 12.5 feet wide so that's the width we paved at. It was really four lanes with on- and off-ramps when you add the shoulders in. We paved just shy of 5,000 English tons."
Unconventional gravity-fed paver
To pave the top course and earn the ride bonus, Markwell bought a Roadtec Stealth Paver, model SP-100e, that was exhibited at CONEXPO-CON/AGG last spring.
"We do primarily mill and overlay work and it was designed primarily for overlay work, and we needed to replace one of our older pavers," says Markwell. "We were intrigued by the Stealth Paver and it was an opportune time, so we bought it."
The Stealth Paver is an unconventional machine because it's gravity-fed. There is no front hopper with wings, no flight chains, no wear plates and no hydraulic motors to drive the flight chains. Because the paver has fewer moving parts, it can work with a smaller engine that uses less fuel.
"We figure it saves around $35 an hour compared to a conventional paver," says Markwell. "Plus it has fewer wear parts that need to be replaced."
The Stealth Paver has a hopper that is designed to be fed by a material transfer vehicle, and Markwell already had two Roadtec Shuttle Buggies when they bought the new paver.
"The Stealth Paver has 30-foot skis on both sides with MOBA controls," says Markwell. "We bought it with a Roadtec Eagle Screed, and it produces a tremendous ride.
"We've used it on four different state highway projects, the I-35 project, and probably 10 city street projects," he continues. "We have probably run close to 100,000 tons of asphalt through it so far. Every project that we have put it on, we have made our ride bonus in some form or another."  
Warm mix eliminates fibers
On the I-35 project, Markwell first paved 10-inches of Oklahoma S3 base course in three lifts. The first two lifts used PG 64-22 binder and the third one contained PG 76-28 binder. Two inches of Oklahoma S4 surface course came next, topped by 1.25 inches of permeable friction course. The asphalt came from Markwell's 400-tph Astec Double Barrel plant located about 15 miles from the project. Paving production ran at about 300 tph with the paver moving at 25 to 30 feet per minute. 
For the permeable friction course, the Oklahoma Department of Transportation allowed Markwell to use warm mix asphalt. The contractor used the warm mix additive Evotherm, delivered mix to the project at 255 degrees F, and placed the asphalt at about 240 degrees. Using warm mix allowed Markwell to eliminate cellulose fibers, which Oklahoma normally specifies in order to prevent drain-down in the binder-rich mixture. On I-35 the friction mix had 6% binder.
"We were able to reduce the temperature from 325 degrees to 255 degrees using Evotherm, which eliminates drain-down of the oil," says Markwell. "It was the first project in Oklahoma that has been allowed to do that. We had great success with it. And because of that, Oklahoma is looking at continuing the practice on to other projects. By producing at a lower temperature you eliminate drain-down. And that way you can eliminate the fibers."
Creating smoothness
Mike Boatman, Markwell's vice president and general manager, says the Roadtec Stealth Paver has fewer moving parts to vibrate the screed and cause bumps in the mat. "Anytime your screed moves, or you move your extensions in and out, you can get a bump," says Boatman. "A lot of the smoothness is due to the personnel who place it, but we wouldn't be able to produce that kind of smoothness without the machine. You don't have drag conveyors or anything like that moving, so that creates less vibration and movement that gets transferred back to the screed."
The paver runs on solid rubber wheels, not on tracks, so there is less undercarriage wear than on a tracked machine. On the Stealth Paver, asphalt flows directly from the cone-shaped hopper, through flow gates to the augers on the left and right sides of the machine. The head of material in front of the augers is automatically controlled by a MOBA electronic control system. As the screed calls for more material on the left or right, the auger speeds up and the operator can open up the flow gate if necessary. 
"You can manually override it and get more material if you need it, but it's pretty much an set-it-up and push-go automated," says Boatman. "It produces a nice smooth ride. So far we really, really like it. Our customers seem to be happy with the finished product and that's our main goal – to make the customer happy and put down a good product that will last a long time."