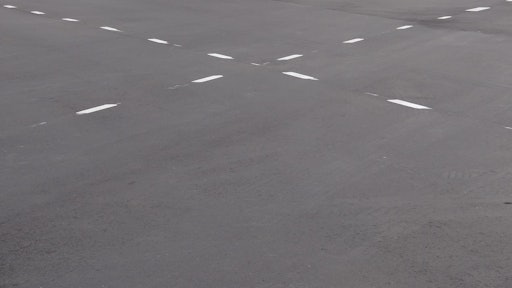 Traffic management is a difficult part of road construction, but it's even tougher when it's peak season near the coast and you're implementing an innovative new design scheme. These are some of the major conditions we at S.T. Wooten recently faced with a project for the North Carolina Department of Transportation (NCDOT), involving re-paving a busy two-mile stretch of road on Highway 74-76 in Wilmington and executing the state's second-ever diverging diamond interchange (DDI).
Most states now have at least one DDI, which are said to reduce fatal crashes by more than 60%. 
The DDI is a newer design that is growing in popularity across the country due to its ability to help ease traffic and enhance safety around congested interchanges. It may appear a little visually weird at first glance, but the DDI essentially allows two directions of traffic to cross to the opposite side of a roadway for easier access to a freeway. It helps move high volumes of drivers through an intersection more smoothly without needing extra lanes and traffic signals. The design also eliminates left turns against oncoming traffic, reducing the risk of accidents happening between vehicles coming from opposite directions.
The DDI was an ideal fit for the site of our Highway 74-76 project, a unique location near the Brunswick River crossing where the two growing towns of Belleville and Leland converge as drivers head into downtown Wilmington.
Making matters more complicated, this highway provided the only access for vacationers to get to some of the area's most popular beaches. In fact, we found traffic was pretty much a constant obstacle in this area during the daytime, so we knew it would be a major factor for us to anticipate and plan around in order to meet milestones in each phase of construction.   
Putting planning into practice
As my dad used to say, "No one likes change except for a wet baby." Along the same lines, drivers don't want to deal with road construction in an already congested area, even if the end result is beneficial.
Keeping public concerns in mind, we worked closely with local officials to ensure all project work was done in conjunction with NCDOT guidelines and caused as little disruption as possible for area drivers. Doing this the right way required keeping at least two lanes of traffic open at all times in and around the job site – not a small task for our crews and one that would require careful execution.  
Since traffic was an ongoing challenge during the day, we implemented a strategic plan that maximized night work for priorities like grading and excavating.
This allowed us to take advantage of off-peak hours when less people were on the road to get major work done and keep the project's momentum pressing forward on schedule. With the often extreme daytime high temperatures we experience during warmer months in the South, this provided the added benefit of giving our crews a bit of cooler working conditions.
For the DDI's paving and striping, we nailed down two weekends where traffic would be closed off completely form the site. We made sure every minute of those 48-hour windows counted with crews rotating around the clock, ultimately working to ensure we get the job done right and on time.
Understanding there would be an adjustment period for the public upon the onset of the new DDI, we rolled things out on a Sunday when traffic was its lightest point – providing an opportunity for drivers to transition into the new traffic pattern.
Safety standards
Proper planning was key in tackling traffic challenges and ensuring successful execution on this new design, including the steps we took to protect drivers and our crew members during construction. Because people's safety was at stake, it was important to have a plan in place to eliminate risk factors and effectively maintain the site.
First and foremost, we knew we would need to utilize outside resources to help manage traffic effectively.
We implemented a strategy using two traffic officers, one set up on each end of the DDI, to help direct drivers through and around the work zone. In instances where someone was confused or needed help with direction, which did happen on occasion, the officers were there to quickly address the issue and help assist the driver before the situation escalated and became a bigger problem.
To keep our crews safe in the face of potential hazards that come with road work zones, we took time to understand the traffic patterns during each phase of construction. This helped to ensure the right placement of materials, including concrete barriers and traffic signals to inform the public.
When it comes to maintaining work zone safety, a simple checklist can serve as a great tool for project managers to use in outlining all materials and equipment that are needed and to understand those items that may need to be stored when not in use.
While safety is always a huge priority, the traffic we faced day in and day out on this project made communication all the more important. From the foreman to the crew, it was crucial for us all to be on extra-high alert. It's true that you can't predict who or what is going to come in contact with your work zone at any given time, but the commitment our team had to look out for each other and the public went a long way in reducing safety risks.
Takeaways
When all was said and done, we completed the project by the mid-November deadline to the satisfaction of both the NCDOT and driving public. It's never fun for the public to deal with road construction, so it's great to see how the finished product benefits people – and this one was special.
It was incredibly rewarding to receive the positive feedback we did after the project was completed, which included the local municipalities and people who lived in the area. It really makes all the hard work worth it.
Paving the DDI was such a unique experience on so many levels, from the design innovation to dealing with unique traffic challenges. Our collective experience, knowledge of the area and careful planning really helped us stay on track, minimizing traffic delays and maintaining safety for all.
It took a group effort across the board: from our design-build and management team to the great execution of our crews and contractors. Having a trusted team that truly works together will continue to be our foundation for producing top-notch results.