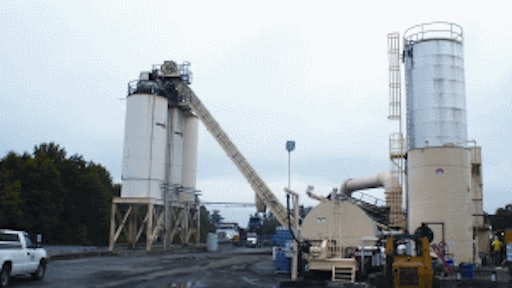 Atlas James Russell, Secretary/Treasurer and CEO of J. T. Russell & Sons, Inc. (JTR) does not put much stock in titles. "Titles don't impress me," he says. "The people producing, hauling and laying the mix are just as important as I am."
What is impressive about this Albemarle, NC-based company is the tremendous growth and diversification achieved by this family-run business. What started as a contracting company by J. T. Russell, Sr. in 1939 and subsequently succeeded by a second generation of the late J. T. Russell, Jr. and his brother Robert E. Russell has expanded into a fully integrated asphalt operation.
Today, the company is in its third generation of leadership with Jim, his two brothers (David and Tim Russell) and two cousins (Raymond and Tony Russell) all at the helm. The fourth generation is also getting a taste of the business.
What may be most interesting to the outside observer is how this contractor, turned paving company, turned producer, turned asphalt binder distributor just happened into some of these businesses. And the origins of the company's service diversification, which has helped it prosper through this deep economic downturn, can be traced to a single event nearly 25 years ago.
First plant
For roughly 50 years, JTR was primarily a construction and paving contractor, relying solely on private and small commercial work. The asphalt side of the business paved less than 50,000 tons per year until the late 1980s.
"At that time, there was only one 60-tph batch plant in town supplying mix to the asphalt contractors," recalls Russell. The producer had JTR handcuffed. The company couldn't rely on getting enough mix to confidently and competitively bid highway work.
He vividly remembers the project that moved the company into asphalt production. The paving crew was completing the parking lot application for a fast food chain. A looming North Carolina winter cold-spell threatened to delay final paving of the lot. JTR, the crew and restaurant owner were all on the same page to finish the parking lot before colder temperatures hit.
However, the local asphalt producer would not cooperate. "We only needed 60 tons of mix to finish the job, and our supplier would not start up the plant on a Saturday so we could finish," says Russell.
As a result, the project was delayed months while everyone waited for the cold weather to break, so the crew could finish paving. The unintended consequence of the producer's action, or lack thereof, was JTR getting into the asphalt production business.
It was a financial risk at the time to purchase an asphalt plant with JTR's paving business being relatively small. Most plant manufacturers at the time didn't look at JTR as a serious customer. That is until the company visited CMI, now Terex Roadbuilding, who worked with company representatives to supply a plant that would fit the contractor's current business level and provide room for expansion.
The first asphalt plant purchased in 1987 by JTR was an SVM-1100 drum mix plant (today part of the Terex E3 Series of drum mixers), which was capable of producing approximately 200 tons per hour. The plant was sited at the company's New London, NC location.
From that moment on, JTR has not looked back. Producing asphalt has given the company more flexibility to bid a wider variety of jobs. The paving side of the business now offers services ranging from driveways and parking lots to highways and airports.
The success of that first plant led to the purchase of two more CMI (now Terex) plants – an STD-300 located in Charlotte and an SVM-1500 in Conover, NC. Today, JTR makes more than 500,000 tons of asphalt mix annually and has developed a close working relationship with Terex Roadbuilding.
"Terex looked at us as a serious customer when others wouldn't," says Russell. "Gary Bouldin (aftersales manager for Terex Roadbuilding) continues to take an interest in our business and keeps any problems with the plants to a minimum."
Warm mix
JTR continues to expand and innovate with its asphalt production business. It is currently evaluating different warm mix asphalt systems.
The Conover plant is equipped with a Terex foamed asphalt warm mix system, while a second plant is equipped with chemical additives for reducing mix temperatures.
The Terex warm mix system simply injects hot liquid AC with water at a single mixing point. This exclusive expansion chamber foams the asphalt, which is then immediately pumped into the drum via the existing AC line to thoroughly coat the aggregate. This warm mix system has successfully reduced mixing temperatures by up to 90 degrees F.
Most of JTR's warm mix produced to date has been used on private jobs, but the company is also working the mix into state projects. To date, nearly 10,000 tons of the chemical warm mix asphalt has been produced, while 50,000 tons of the foamed warm mix asphalt has been produced using the Terex system.
"We are seeing temperature reductions from 300 to 270 degrees F, which is resulting in significant fuel savings," comments Russell.
Cold patch, hot oil
JTR's success with asphalt is not limited to hot and warm mix. The company also has a profitable cold patch business.
About 15 years ago, the marketers of Quality Pavement Repair (QPR) - a modified cold mix product bagged and sold through home improvement stores such as Lowes - needed a vendor to make and bag the mix for the North Carolina region.
JTR agreed and proprietary oil was shipped to the Charlotte plant site, and the company set up a bagging operation in 1995 at their Albemarle Location.
"JTR's intention was to give the paving crews work during the short winter months," explains Russell. Crews bagged nearly 1,000 tons of QPR cold patch during that first year.
As time went by, JTR was asked to increase bagging production of the cold patch. However, demand quickly outpaced the company's supply capabilities at the Albemarle operation. A separate facility was needed where a double bagging system could be installed and more of a full-time operation could be established.
At nearly the same time, Russell had a family friend who was getting out of the textile business. This friend asked him to consider purchasing the building for the QPR business. There was only one problem. The new bagging operation for QPR required approximately 30,000 square feet, but the textile building was 10 times that size.
Out of courtesy, Russell agreed to look at the building. Upon inspection, he noticed something that piqued his interest and made purchasing the behemoth financially feasible.
"I saw pipes with insulation leading to two huge tanks," says Russell. He learned that those tanks had a 1 million gallon capacity each and inside the tanks were heat coils that could be used in heating liquid asphalt. There was also a third tank that held 250,000 gallons.
Russell immediately saw an opportunity for the hot mix business. Initially, he thought this would give JTR a competitive advantage by being able to purchase asphalt binder in bulk when the price was low. When the friend gave Russell a favorable asking price for the building, the company made the purchase.
This ushered in an entirely new business for the company. Not only would the producer buy asphalt binder in bulk, but they could also sell and ship binder to other asphalt producers.
Today, from its four terminals, JTR markets polymer-modified, rubber-modified and Performance Graded asphalt binders meeting state DOT specifications in Virginia, North Carolina and South Carolina.
The cold patch business has also reaped a substantial benefit with JTR being in the binder business. The company now blends the oil used in QPR, growing that product's profit margin.
This incredible expansion into the asphalt business can be traced back, at least in part, to that one parking lot job in the mid 1980s when JTR's asphalt supplier would not start the plant for a measly 60 tons of asphalt. Thinking back to the project, Russell is thankful for the producer not making the mix.