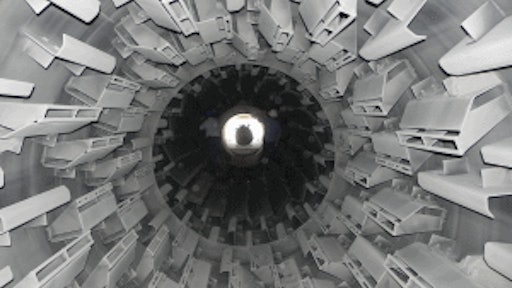 A CMI 400-tph counterflow plant, which has been cranking out asphalt at Silver Star Construction Company's Moore, OK headquarter for the past 12 years, was due for an upgrade as the reliable drum mixer and some of the ductwork had reached the point of requiring a major overhaul.
For owners Steve Shawn and Craig Parker investing in new components made more sense than rebuilding the existing worn out equipment.
"We talked to some of the major plant manufacturers about what we wanted to accomplish, and Maxam Equipment came back with the solution that best addressed our needs at this time," notes Parker, vice president.
Silver Star Construction has been serving the Oklahoma City Metropolitan area for over 20 years as both a site development and road construction contractor. From earthmoving to soil stabilization to concrete or asphalt products and services, the company's 150 associates are poised to deliver the right solutions in meeting their customers' expectations.
With asphalt production and construction a significant part of the contractor's business, supported by approximately a third of its workforce, upgraded the Moore facility was a vital investment to the future success of the company.
"We knew the investment was necessary simply because some of the components were wearing out, but we also viewed it as an opportunity enhance our production capabilities with today's technological advancements," Parker notes. "We definitely wanted to improve the overall fuel efficiency of the plant simply because we often have to process material that has a high-moisture content (During this past spring, the moisture content of the asphalt producer/contractor's aggregate stockpiles was in the 4-5% range.). And, we wanted to upgrade the facility with technology that would allow us to continue expanding the use of RAP material."
Silver Star replaced its aging 400 tph CMI counterflow drum with a 400 tph Maxam SOLO counterflow drum, equipped with a natural-gas fired Hauck Star Jet Burner.
The SOLO technology lowers exhaust stack temperatures to less than 250 degree F, cutting fuel costs by 7-10% per ton. That particular performance characteristic not only appealed to Silver Star's desire to operate a more fuel-efficient production facility, but it also allowed them to reduce emissions at the plant, produce more mix at a lower cost, and increase the RAP content of mixes produced because the SOLO technology has recycle inlet that heats RAP material directly. This means that mixes produced in drum can handle up to 50% RAP without superheating the material, which often produces blue smoke because high temperatures often burn off some of the recycled liquid asphalt binder.
The 48-foot-long by 9' 6" diameter drum is equipped with the MAXAMizer Heat Recovery System, Raptor Recycle System, TrooTrac Self-Aligning Trunnion System and the AQUABlack Solutions for Warm Mix System.
The MAXAMizer Heat Recovery System's high-efficiency flighting reduces drum exhaust temperature below 200 degrees, via a small modulating heater that's dedicated to maintaining baghouse temperature by increasing the baghouse inlet temperature to the preferred minimum of 225 degrees.
The Raptor Recycle System eliminates steam, blue smoke and higher fuel costs associated with superheating virgin aggregate by introducing RAP directly into the drum.
This allows the RAP to be warmed up by the radiant heat generated by the burner flame, limiting the time of exposure to the overall heating process – in other words, removing the moisture without cooking off the reclaimed asphalt binder.
Since the RAP is being warmed up at the same time virgin aggregated is being dried, there's no need to superheat the virgin material before mixing it with the RAP material. The technology lowers fuel consumption, reduces emissions, and allows for increased RAP percentages since it heating process is conducted at a lower temperature.
The TrooTrac Self-Aligning Trunnions automatically and continuously align to accommodate load changes and/or imperfectly mounted drum tires. MAXAM's separate TrooTrac Thrust Load System is designed to handle the entire thrust load, maintaining full contact with the drum tire face.
To further enhance its WMA capabilities, Silver Star added the MAXAM AQUABlack Warm Mix Asphalt System, which produces larger water bubbles in the foaming process of the liquid asphalt cement being injected into the mix. MAXAM's Microbubble technology uses 1,000 psi in the foaming process.
Other upgrades to the Silver Star production facility included a 75,000 ACFM exhaust fan, a primary collector, inlet and outlet ducting, and dust return screw convey
"We know our investment is significant, but we also know the improvements made are significant," Parker says. "We've been operating the plant at approximately 330 to 350 tph and although we have conducted an analysis of the fuel savings we've achieved, we know it's significant. The RAP collar and preheating system to maintain our baghouse temperature has definitely cut the amount of fuel required to produce mix at this plant.
"And we're definitely excited about the potential to increase the RAP content of our mix designs," Parker adds. "We've been producing mixes with 25% RAP for commercial projects and state (roads) base and intermediate courses. We're also able to provide surface course material with 25% RAP on commercial projects and when NCAT (National Center for Asphalt Testing) completes its studies on increasing RAP content, we think we'll be able to increase the RAP content on state projects.
"I know we'll have to make additional investments to fractionate RAP material to comply with standards for increasing RAP on state projects, but I think our investment so far will serve us well as relates to the future of RAP," he continues.
Parker also notes that the addition of the dust collector and recycling that material back into the mixing drum has reduced the load placed on the baghouse.
But at the end of the day, day-in and day-out, the bottom line is making sure the plant maintains a cost-effective production rate to meet the needs of Silver Star's three asphalt paving crews. Ninety to 95% of all the asphalt produced at the Moore facility is used to support the work performed by the contractors own crews, with a 50/50 split between commercial and government agency work.
"We do sell some mix to a couple of municipality customers, but the three 200-ton storage silos provide the capacity to handle our commercial, state and private customer needs within a 60-mile radius of the plant," Parker says.
As an active member of the National Asphalt Pavement Association's quality initiatives, operating a production facility that can consistently produce a high-quality mix is paramount for Parker and his partner.
"You always want to investigate ways to cut your operating costs and improve your product," Parker states. "This latest investment has helped us do both and will continue to position our company as a quality asphalt producer and contractor."