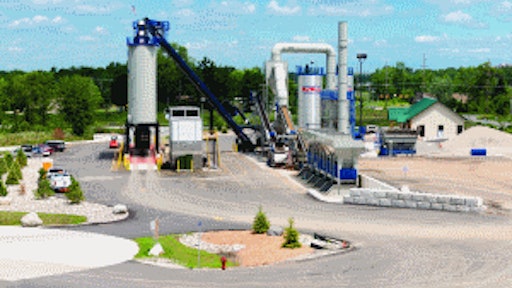 When Jeff Kresnak turned on his new Gencor 300-tph asphalt production facility in Gaines Township, MI, this past spring, he let other asphalt producers know that he would no longer require their services.
"Up to that point I felt boxed in, like I had to plan around the schedules of other producers," Kresnak notes. "I never felt like I could continue growing my business without having control of my own production facility."
According to Kresnak, owner of Superior Asphalt Sealing and Repair, the decision to own and operate an asphalt production facility was made well over a year before the plant was put into service.
Kresnak started in the business almost 30 years ago when he was a teenager, striping and sealing pavements, and eventually purchasing a one-ton roller to offer patch and paving services. Today the company supports approximately 100 employees and operates two paving crews to deliver projects large and small, from driveways to parking lots to roadways for municipalities and county road agencies.
"With this new 300-tph plant equipped with four 200-ton storage silos we can provide mix for all the different projects we construct, as well as serve the needs of our retail customers," Kresnak says. "This is not the largest asphalt plant in the market, but it definitely fits our niche and that's any project or customer from one ton up to a few thousand tons. Our primary market is the southeast corner of Kent County and we want our customers and our prospective customers to know that they can count on us to provide a complete service package."
Completing the package
Superior Asphalt's full-service offering includes site preparation, new asphalt installation, asphalt restoration, asphalt repair, crack and joint sealing, sealcoating, pavement markings, drain repairs, infrared repairs, milling, and now hot mix asphalt production.
"The plant just completed the level of service we now can offer customers," Kresnak says. "When one of the area's producers closed, we noticed the quality of mix seemed to be slipping, and we thought that was happening we knew that other customers might be feeling the same way. We knew investing in our own plant would give us complete control over the quality of material we produced at a price that would be much lower than what other producers were charging me. We simply did not want to keep settling for a lower quality mix at a higher price. We wanted a higher quality mix at a lower price and we wanted to offer that to other customers as well."
While the competition is stiff in Superior Asphalt's market, Kresnak is optimistic about the future growth opportunity the plant investment has created. Controlling quality and costs will allow the asphalt producer/contractor to be more competitive in securing projects and also retail sales.
"Our plant is located in a heavy industrial area with easy access to major roads," Kresnak says. "We don't have a direct competitor located in the immediate vicinity of our plant, so we're in a pretty good position to offer a competitive, high-quality product. And, we have the service capabilities to provide a total package from excavation to new asphalt installation. We can control and guarantee the entire process from start to finish."
The plant Kresnak chose a Gencor plant largely because of the positive experience he's had when purchasing mix from other producers who operate that brand.
"I would pull into different plants over the years and I always knew how different the quality can be from one plant to the next," he notes. "I always felt I was getting a much better mix when I purchased from a Gencor plant operator."
Major plant components include:
An 8' " diameter skidded insulated Ultradrum dryer/mixer fired by an Ultra oil/gas burner
Five 10' x 14' cold feed bins equipped with two bin vibrators, 30" x 7' 6" feeders and a 30" collector conveyor
An 8' x 14' skidded series IV recycle bin with 3' x 12' feeder
A 50' x 10' Deister double deck aggregate vibrating screen set up in with total remote bypass
A 4' x 8' Diester single deck recycle vibrating screen
A 20" x 70' skidded recycle scale conveyor
A 50,000-cfm skidded baghouse with 10,160 square feet of cloth providing a 4,921:1 air-to-cloth ratio
Four 200-ton stationary silos with safety gates
A 300 tph by 81' slat conveyor with cleanout and reject chute
Two 30,000-gallon indirect fired AC vertical storage tanks
A HYGCO-200 Gencor hot oil Hy-Way heater
A 12' x 36' skidded operator's control center equipped with Ultralogik process and loadout control, and Gen III burner control
The other thing that impressed Kresnak was the ease of operation.
"The Ultradrum (counterflow system) is very simple to operate and we were not pressured to add equipment that we really couldn't justify with the size of our operation," Kresnak says. "We decided not to add the early-entry RAP (reclaimed asphalt pavement) feature because we just couldn't justify the additional $100,000 for that option.
"We're currently using approximately 30% RAP in commercial base course mixes and 20 % in commercial surface course mixes, and the system handles those types of mixes well with the early entry system," he continues. "We're also currently producing approximately 1,000 tons per day and the setup we have is delivering what we need without additional options. If we need to make some changes down the road, we can."
Since Superior Asphalt is a full-service contractor, the ability to control all aspects of a project from excavation, site prep, and final paving, it's easier to control how the plant is operated to meet the specific needs of a project. The milling capabilities Superior Asphalt can provide also allows the asphalt producer/contractor to generate the RAP it needs, control the quality of its RAP stockpiles, and eventually add what a specific project will permit.
For Kresnak and the rest of his associates at Superior Asphalt, the new plant signifies the commitment made to continue growing. With approximately $3 million invested in the new plant and another $3 million to develop the site, Kresnak says he's exactly right where he wants to be.
"We know our market and what our customers want, and we are absolutely convinced we can deliver," Kresnak states. "Eighty percent of our current plant production supports the projects of our two paving crews, but we have the capacity to increase production to meet the needs of our retail customers. And, once we have a new testing lab installed at our facility, we'll be able to pursue more DOT work."