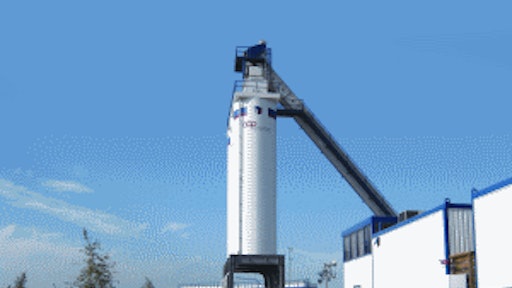 Hubbard Construction Company's commitment to quality has played a key role in its growth over the years.
"Hubbard Construction Company was founded in South Carolina in 1920 by Francis Evans Hubbard," says Jeff Roberts, USA technical director for The Hubbard Group. "In 1924, he moved his company to Florida. Frank M. Hubbard, son of Francis Evans Hubbard, ran the company from the early 1950s to the early 1980s.
"During Florida's booming growth in the latter half of the 20th Century, Hubbard Construction was closely involved in the development of the major attractions in the Orlando area, including Walt Disney World, the Orlando International Airport, and the NASA Kennedy Space Center on Cape Canaveral."
Roberts went on to describe how Hubbard Construction has grown to where it is today. The company has seven hot-mix asphalt (HMA) plants in Florida: four in the Orlando area; two in Jacksonville; and one in West Palm Beach. There are separate operating divisions in each of those areas, plus another one in Tampa that does not have an HMA plant at this time.
Hubbard Construction has a sister company - Blythe Construction - that has its headquarters in North Carolina. That company operates seven HMA plants and is in the process of installing several new plants to serve its market area. The two companies report combined annual revenues of more than $450 million, which makes them as - a team - one of the largest highway contractors in the southeast part of the United States.
According to Roberts, Hubbard Construction recently added two new Astec Double Barrel HMA plants: one with Orlando Paving in Winter Garden near Orlando and one with East Coast Paving in West Palm Beach.
Winter Garden plant
This plant was set up and became operational in July of 2007. The facility originally consisted of a conventional Astec 8 x 40-ft Double Barrel dryer/mixer configuration, but the company decided to retrofit the unit with a Double Barrel Green System to allow the production of warm-mix asphalt (WMA).
The installation also included a six-compartment Astec cold-feed system and two other feed bins for reclaimed asphalt pavement (RAP).
Other plant components included an Astec Phoenix burner that can handle either natural gas or No. 2 oil; an Astec Pulse Jet Baghouse; and an Astec New Generation Storage System that has three 200-ton storage silos with electric heat on the cones and hot-oil heat on the drag conveyor.
Mike Stacey, Hubbard plants manager, is in charge of all seven plants in the Florida market. He recalls the startup of their new Astec plant was very quick and very smooth.
"From the time we received the air permit, it took only about eight or nine months before the plant was delivered, set up, and producing hot-mix asphalt," Stacey says. "Astec technicians came down here and stayed with us until everything was running smoothly."
According to Stacey, the Double Barrel Green System was added as a retrofit after their conventional Astec Double Barrel plant had been working for about six months.
West Palm Beach plant
The new Astec Double Barrel plant in Hubbard Construction's East Coast Paving operation in West Palm Beach was installed and became active in April 2008.
According to Roberts, the plant did quite well in its first season of operation. "That is really the best part of the story," says Roberts. "It has had a positive impact on that division's ability to provide service to their customers."
Mike Kanaday, manager of East Coast Paving's construction and paving divisions, agrees with Roberts. "The plant has been running well," says Kanaday. "When we first set it up, there were a few bugs to work out, but you can expect that with any plant. Astec stayed with us until everything was okay. It's been a good plant."
The market area being served by East Coast Paving's new HMA facility is mainly in south Florida, within about a 60-mile radius of West Palm Beach. "We are currently running two paving crews here," Kanaday says.
East Coast Paving's new facility is quite similar to the one that was installed in Winter Garden. It consists of a relocatable Astec Double Barrel dryer/mixer with a Phoenix burner capable of using natural gas or No. 2 oil as fuel. The rated production capacity of the Double Barrel dryer/mixer is 400 tph.
There is a six-compartment cold-feed system for virgin aggregates and a separate two-compartment feed system for RAP.
Finished mixes are stored in an Astec 600-ton New Generation Storage System that consists of three 200-ton silos with electric blanket heat on the cones and hot-oil heat on the drag and traverse.
Operator control of the plant is handled in an Astec Pilot Control Center that is equipped with a Total Control 2000 HMA programmable-logic control (PLC) system that can regulate the operations of the plant's components, including the burner, feeders, belt scales, storage silos, and storage tanks for the liquid asphalt cement.
An equipment manager's view
An HMA producer who might be thinking about buying a new plant can often be frustrated by the product literature.
Bill White, the company's corporate equipment manager, shares Hubbard's approach saying, "As far as we are concerned, hot-mix asphalt plants are equipment just like dozers and pavers and other tools. We believe that a plant has to be able to produce the mixes that we want it to produce at the rate we want them and with the amount of RAP that we want to use. A plant has to be able to do all of that.
"If you have a $3 or $4 million investment and it is not making money, then obviously that is not a good sign," he continues. "You are not getting a proper return on your investment unless that plant is making hot-mix on a dependable basis. With the market the way it has been recently, you just can't make that kind of an initial investment and then struggle to get by through the first two or three years, trying to get it to work."
Support after the sale is paramount in Hubbard's commitment to quality and profitability objectives.
"That is why we like Astec's dedication to service," White notes. "They don't just sell you a plant, put it up, and then go home. They stay there with you and make sure the plant is doing what it is supposed to do. And if you have problems later, you can call those guys at 10 o'clock in the morning or 10 o'clock in the evening and they will respond immediately. That is exactly what you need when you have that much money sitting out there on the ground!"