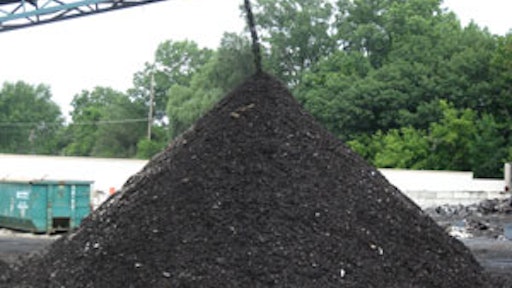 Ideal Recycling, an asphalt roof shingle recycling company was started in 2006 by Chris Edwards, a tool and die maker in the automotive industry who had been laid off four times before trying to repurpose his skills in a new occupation, and Todd Foster, a Royal Oak Kimball High School friend of Edwards. This year, the company is poised to more than double the volume of roof shingles it recycles.
Ideal Recycling expects to remove 15,000 tons of asphalt shingles from Michigan landfills this year alone. The company supplies it's finely ground mix to asphalt companies that, in turn, use it to pave parking lots and private roads.
According to Michigan law, asphalt companies may use up to five percent recycled asphalt in hot asphalt mix. At the current time, recycled asphalt is not approved for use in public roadways, but Edwards and Foster hope that will change in the future. Particularly with concerns about the environment and the costs of oil mounting.
"We are hopeful that more and more homeowners and contractors will realize that keeping shingles out of landfills and reusing the material for roads is a winning proposition for everyone," said co-owner Foster, who sold his refuse business, Midway Disposal, to start Ideal. "Our hope is that Michigan will follow the lead of environmentally-progressive east and west coast states in considering banning these materials from landfills altogether."
Ideal has the capacity to recycle 52,000 tons of shingles per year, as allowed by permit. The company accepts shingles from homes and apartment or condos with four units or less and charges a per-ton tipping fee of $18 - $20, depending on the cleanliness of the load. This is less than the cost to dump them in a landfill.
Ideal Recycling employs six people. While it currently accepts asphalt shingles for recycling, in the future it plans to add staff and expand into other recycling areas including tires, drywall, glass and other building materials.
The company is part of what is hoped to become a reuse, recycling and green business corridor along Eight Mile in the city of Southfield, MI according to Michael Csapo, general manager of the Resource, Recovery and Recycling Authority of Southwest Oakland County (RRASOC).
"What Ideal is doing is not just important for the environment, but also for Michigan's economy," said Csapo. "When you think about how many jobs and value-added activities will be provided, Ideal really is part of the growing green economy in Michigan."
Ideal Recycling, located in Southfield, Michigan, is the premiere recycler of asphalt roof shingles, removing 15,000 tons of debris from Michigan landfills per year. The company is focused on providing value, professionalism and service to haulers, roofers and do-it-yourself customers; and producing clean, high-quality recycled raw materials. For more information, visit www.idealrecyclinginc.com.