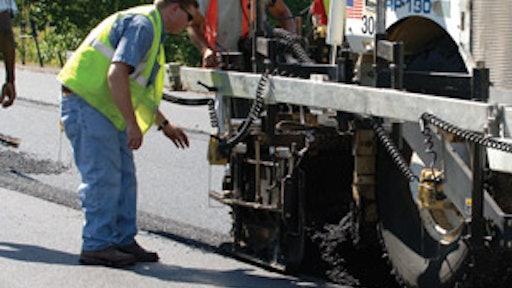 Astec, Inc. recently demonstrated a new process it developed to reduce the mixing and compaction temperatures of asphalt without sacrificing the quality of the resulting pavement. According to the company, the Double Barrel Green system it developed to make the new mix has less environmental impact than conventional asphalt mixing technology.
The new process is considered a warm-mix process. However, unlike other warm-mix technologies, this process does not require the addition of commercial additives. Instead, ordinary water is injected into the mix along with the liquid asphalt cement. The injection of water causes the liquid asphalt to foam and expand in volume. The foaming action helps the liquid asphalt coat the aggregate at a temperature that is about 50° F less than traditional hot-mix asphalt.
J. Don Brock, founder and CEO of Astec Industries, Inc., highlighted the following benefits of mix made using this technology:
Improved workability - the foamed liquid asphalt coating has a lower viscosity
No smoke or smell - the light oils in the liquid asphalt never reach the boiling point, eliminating the smoke (vapor) and corresponding smell
Ability to use high percentages of recycled mix with a standard grade of asphalt
Longer pavement life due to less oxidation of the mix and more uniformity of compaction
11% less fuel due to the 50° F lower temperature
11% increase in production
Other benefits cited include: a more comfortable and safe operating environment for workers; the elimination of fume systems on plants and pavers; and no increase in cost.
For the demonstration, Southeastern Materials of Chattanooga, TN, created the mix using a prototype of the water injection manifold on a Double Barrel drum mixer. The mix contained 50% RAP. It was transported to the paving site where Talley Construction of Chattanooga used a Roadtec Shuttle Buggy SB-2500 and RP-190 paving machine to lay 3,400 tons of the mix.
During paving, mat temperatures averaged 260° F behind the paver, 250° F at breakdown and 240° F during compaction. Average compaction achieved was 92, well within Tennessee state specs.
Representatives from the National Center for Asphalt Technology (NCAT) were on site, where they obtained samples during production to conduct future tests. Testing will include wheel tracking tests, moisture susceptibility tests and total binder properties.