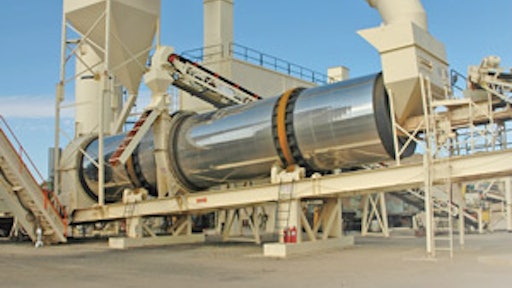 With production facilities in Hennepin, Utica and Peoria, IL, Princeton-based asphalt producer/contractor Advanced Asphalt drew on its 47 years of experience when deciding on how to best upgrade two of its plants, according to owner Dick Nelson.
"Over the years we've used a variety of equipment, and we manufactured much of it ourselves, in order to address the aggregate and asphalt production needs of our company, so we have a pretty good idea of what we like and what works for us," Nelson states.
Advanced is a dominant asphalt producer/contractor in Northwest Illinois, with a market extending south to Peoria and north to Rochelle, west to Galesburg and east to Morris, supporting a paving crew out of each of its production facilities.
"Eighty-five to 90 percent of our work is tied to governmental projects (state, city and township paving contracts), and we're producing over a million tons a year of aggregate out of our Hennepin quarry and over a half million tons of asphalt out of our three plants," Nelson says. "All of our asphalt facilities are equipped with crusher and screening capabilities to process RAP, so we constantly adapt and improve our equipment to be as efficient and productive as possible while delivering a quality product to our customers."
Plant metamorphosis
Upgrades at the Advanced asphalt plants have come over the years by replacing components rather than entire plants.
"There are a lot of good plant manufacturers out there and we've used many of their products over the years, but when it came time to replace the drums at our Hennepin and Peoria facilities we decided to go with the Dillman Unified Counterflow Drum Mixers," says Steve Harmon, Advanced general manager. "We considered several different brands, but we kept coming back to the simple, productive design of the Dillman drum. It's a heavy-built drum, with a heavy trunnion drive system, and we like how RAP is added in the mixing process. It's just a good simple concept that's built well."
Advanced installed a 10-foot 6-inch-diameter by 54-foot-long drum at the Hennepin facility, and a 9-foot 6-inch-diameter by 54-foot-long drum at the Peoria plant.
With an anticipated large project in the Peoria area, Interstate 74 to be specific, Advanced knew upgrades were in order to handle the production needs for that project.
Mike Gustafson, who manages plant operations for Advanced, says the company moved some of its Hennepin plant components to Peoria, but soon realized in late 2004 that those components were not delivering the quality of mix required to satisfy the project needs.
"We were considering used equipment, but then we started to look at investing in new equipment," Gustafson says. "We finally narrowed our search down to Dillman because of our past experience with the company and the equipment they produce. The drums just seemed to be the best solution to our needs."
Outfitting two production facilities
After researching the best solution for their asphalt production needs at both the Hennepin and Peoria plants, including a visit to another asphalt producer's operation to take a firsthand look at how the Dillman drums performed, here's how Advanced retrofitted its two pants:
The Hennepin installation included:
A 10-foot 6-inch-diameter by 54-foot-long Dillman Unified Counterflow Mixer powered by four 50-hp drive system with heavy duty Sumitumo gearboxes
Combustion and veiling flights fabricated with 3/8-inch AR plate steel
30-inch by 26-foot indexing slinger conveyor with 110-inch travel
Mixer drum fired by a Hauck StarJet 750 extended oil-only burner, with no ignition tile, flame-shaping while firing
Model TBA36-125 blower with 125-hp drive system
An 80,000 CFM Heavy Duty Pulse Jet Baghouse with 765 14-foot-long bags, featuring ¼-inch steel construction, 17,519 square feet of cloth that delivers a 4.57 to 1 air/cloth ratio at maximum capacity. The baghouse has a Twin City 542 BC Fan powered by two 150-hp ODP motor fan drive system and a 60-inch square stack
At the Peoria facility, Advanced installed:
9-foot 6-inch-diameter by 54-foot-long Dillman Unified Counterflow Portable Drum Mixer powered by four 50-hp motors with heavy-duty Simitumo gearboxes
Combustion flights fabricated with 3/8-inch AR plate steel with veiling flights constructed of ¼-inch AR plate steel
30-inch by 26-foot indexing slinger conveyor
The mixer drum is fired by a Hauck StarJet 580 extended oil-only burner, with no ignition tile, flame-shaping while firing, and a Model TBA36-100 blower with 100-hp drive system
Happy with performance
With two years of production experience running the new drum mixers at both the Hennepin stationary plant and the Peoria portable plant, Gustafson is happy with how the Dillman drums have performed. "We didn't run a lot of mix through the Hennepin facility in 2006, but that was only because we didn't have a lot of work scheduled near that plant," Gustafson says. "But we know it's designed and equipped to handle our high production needs in the future.
"As for our Peoria operation, the plant has really performed well over the past two seasons," he continues. "We produced a lot of tonnage for the I-74 project and we were very happy with the quality of mix we produced. We had to meet some pretty demanding production schedules on that project (I-74) and the drum really held up well and performed to our expectations."
While Advanced made sure all upgrades to the Peoria facility were done to maintain its portability aspect, Gustafson says continued work on the I-74 project as well as other major infrastructure projects will likely keep the plant in Peoria for the foreseeable future.
"With the upgrades we made, this plant has the productivity of a stationary and it's proven that it can meet the demands of a large project," Gustafson says. "But it's also nice to know that we can move it to another location to serve the high-production needs of a future project."