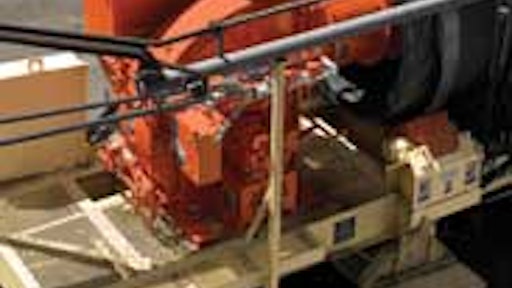 United Companies, an Oldcastle division that operates six hot-mix asphalt plants in Colorado, is forging new territory in plant efficiency by turning to an old, reliable fuel source — coal.
Jim Bryan, construction/plant manager for United, says the rising cost of fuel, including waste oil, was a factor in his decision to find a more economical means of producing mix at the company's Grand Junction facility in Western Colorado, but the frequent lack of adequate supply of waste oil played a more dominate role in moving forward to finding a better way.
United's Grand Junction operation consists of a 300-tph Astec Double Barrel™ relocatable plant that was installed in 2000. It was fired by a combination waste oil/natural gas burner and produces between 150,000 and 200,000 tons of HMA annually.
"We purchased another Astec plant last year for one of our other locations and they (Astec) were talking about a new coal burner design they were working on," says Bryan, who's been with United for 20 years. "I was intrigued by the concept of burning coal and so I inquired about the possibility of converting this facility (Grand Junction) to a coal-fired burner. We (United and Astec) did some research (the availability of coal near the facility, as well as cost analysis of burning coal versus other fuel sources) and then we put together a proposal to purchase a coal-fired burner.
"One of the biggest issues that made the coal-fired technology an attractive option was the fact that our supply of waste oil was not reliable," Bryan adds. "It seemed like every year in late summer we were unable to get the used oil we needed to maintain production, and that meant burning other fuel sources at a much higher cost."
The Phoenix Coal burner
With coal being one of the least expensive fuels available today, Astec Inc. developed a coal burner, the Phoenix Coal, to give HMA producers another option to help cut their operating costs.
The 75 MMBTU/hr rated system installed at the United facility uses a constant, small amount of #2 or waste oil to fire the base flame for support of the coal fire. Astec's 100 MMBTU/hr is a combination oil, natural gas and coal burner. When burning coal, it will use either oil or natural gas as the support fuel. This family of burners is able to fire up to 100 percent on oil or natural gas or a combination of coal and support fuel.
The efficient, low maintenance Phoenix Coal provides substantial fuel cost savings by burning pulverized coal with oil or gas as a support fuel. The burner requires no refractory, performs at the same production rates as gas or oil units, and is highly responsive to load changes.
According to Michael Swanson, Astec Burner Systems manager, "the startup (of United's Grand Junction Phoenix Coal burner) went extraordinarily well. It burns coal far more cleanly than we expected and operation is easier than we expected." On its second day of full operation, it produced 2,800 tons of mix.
United is pleased
Initial results are encouraging for Bryan and United. With a coal source located approximately 70 miles from the plant and the efficient operation the burner has demonstrated during the first month of service, Bryan expects to see a 40-percent savings in fuel costs without the concern of added emissions.
"It's a very clean burner," he states. "We used a combustion analyzer to test the emissions and we were pleasantly surprised with how low they were. It's a lot cleaner than we expected and it's as clean as the emissions we were recording when burning used oil.
"We're very happy with the performance and efficiency of the burner," Bryan adds. "It does react a little different than an oil-fired burner, so there has been somewhat of learning curve in switching over to this coal-fired burner. At the end of a production shift, you have to clean the coal out of the system by backing off the coal feed to the burner and increasing the other fuel source, but that's about it."
Gary Catlett, Astec industrial products director who did some of the design work on the Phoenix Coal burner and served as team director on the Grand Junction installation, says the different operating procedure Bryan was alluding to has been the only adjustment required in switching from oil to coal.
"We recommended that they (United) ramp down on the coal feed and ramp up on the oil feed at the end of the day, as well as ramp down on the dryer feed (aggregate coming into the drum) in order to clean out any residual coal in the system," Catlett says.
With United being the first customer to install the modified Phoenix burner, which is configured to burn coal, waste oil or #2 oil, the fuel source options and the transition from one fuel source to another is easier to control. Astec is adding the natural gas-burning option to it 100 MMBTU/hr Phoenix Coal burner.
"The (coal) burner requires a base flame source (fired by waste oil or natural gas) to heat up the dryer and ignite the (pulverized) coal as it is fed into the burner," Catlett says.
As for the efficiency and low emissions of the coal-fired burner, Catlett says the burner only uses 16 pounds of coal to produce one ton of HMA. The ash produced by burning coal is minimal — approximately 1.25 pounds per one ton of HMA — and does not affect the quality of the mix.
Catlett is optimistic about the potential for the coal-fired burner technology.
"Astec built a coal-fired burner in the '80s and was ready to launch the product, but by the time the product was available oil prices dropped and the market was no longer interested in a coal-fired burner," he notes. "The current rise of oil prices has renewed that interest and for (HMA) producers who have access to coal, the technology may provide an economical alternative to their current fuel sources.
Bryan, in particular, will evaluate the advantages of firing his Grand Junction plant with coal, and then decide if United's other five production facilities could benefit as well. Time will tell, but Bryan adds, "If fuel prices, including used oil, continue to rise, and we anticipate they will, we expect to save even more by burning coal."