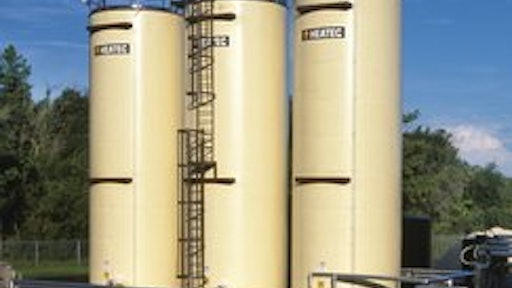 AC storage tanks
Meeker supplies a full line of liquid AC storage systems built for modified asphalts.
Vertical or horizontal, stationary or portable
Up to 35,000-gallon capacities
Hot oil coils or electric and direct-fired heat systems
Asphalt pumps, strainers, jacketed asphalt valves and piping available
Meeker Equipment Co. Inc.
cold feed plant
Rock Systems offers a portable cold feed plant.
Available in 2-, 3-, 4- or 5-hopper compartments
Accurately feeds different materials
Each hopper measures 14 x 9 6" with 20-ton storage capacity
Roller belt feeders with variable speed drives provide precise measuring
Collecting conveyor mounted under feeders and hoppers delivers materials
Rock Systems
DSX drum cleaner
Compound Technologies DSX cleaning system for hot mix asphalt drums is designed to eliminate manual drum cleaning.
DSX-7 drag and drum release agent is designed for drag conveyors, tranverses, batchers, pug mills, mixing drums, material transfer devices, pavers, rollers and tack trucks
Compound Technologies Inc.
DuoDrum Plants
Dillman Equipments Duo-Drum Plants feature independent aggregate dryers and separate mixing drums.
Dryer has large combustion volume zone and more dryer length
Mixer captures all by-products of mixing, such as fumes and light ends, and sends them to the dryer burner to be incinerated
Stantionary, skid mounted and portable configurations
Produces 650 tph with high recycle percentages
Superpave ready
Dillman Equipment
EcoStarII
Haucks EcoStarII provides flame stability with superior performance and BACT for low emissions.
Fuel saving and reduced emissions through enhanced air/fuel ratio control
Simplified design for ease of installation, fuel handling and operation
Pre-piped, skid-mounted fuel manifolds with integral safety and manual shutoff valves, orifice/flow meters and control valves
Optional motor/impeller vibration monitor for preventive equipment maintenance
Hauck Manufacturing Co.
Ez-Flo continuous weigh scales
The Ez-Flo continuous weigh scales -- for dust, fillers and hydrated lime -- are designed to be more instantaneous and accurate than reading depleting weights from silo leg base load cells.
Continuous weighing of powders up to 400 degrees
Easily retrofitted to existing equipment
Easy to add to automatic blending and batching systems
Clarence Richards Services
Raptor recycle system
Maxams Raptor recycle system allows batch or counter-flow drum plant recycle without blue smoke or steam explosion.
Operates to 50 percent recycle
Maxam Equipment Inc.
Roadbuilder Series
The Roadbuilder Series has a parallel-flow design to maximize drying as it moves the moisture-laden aggregate in a rotating, veiled pattern away from the flame.
Four production sizes: 110, 160, 250 or 350 tons per hour
Dryer flame is shaped to minimize asphalt cement burn-off resulting in cleaner emissions
Available in both stationary and portable configurations
All plant components are standardized to ease maintenance
ADM Asphalt Drum Mixers Inc.
Sealing System
Superiors Sealing System eliminates spillage and reduces maintance of components in conveyor loading zones.
Patent pending system eliminates belt sage and creates a tight seal between the hopper skirting and conveyor belt
Optional low-friction UHMW cartridges
Cartridges availabe in either 5- or 10-in. widths
Superior Industries
shaker decks
Ace Groups shaker decks are designed to filter out oversized aggregate from your mix.
Custom made with single or double deck
Single decks available from 3 x 5 up to 5 x 10
Made to use common size screen cloths
The ACE Group LLC
Ace Group
TCII
Astec offers the flexibility of Microsoft Windows 2000 and soft PLC engine.
Run and monitor all plant functions from a standard PC, including blending operations, plant motors, motor currents, mix and plant temperatures, material inventory, silo levels, energy usage, and alarm status.
No traditional control panels needed
Flexible Profibus I/O
Siemens WinCC MMI
Runs on standard PC under Windows 2000
Astec Inc.
Thermo-Guard Asphalt Storage Tanks
Heatecs Thermo-Guard tanks heat and store liquid asphalt cement.
Heated by hot oil
Available in sizes ranging from 10,000 to 35,000 gallons
Numerous options available
Heatec, Inc.
Companies in this article