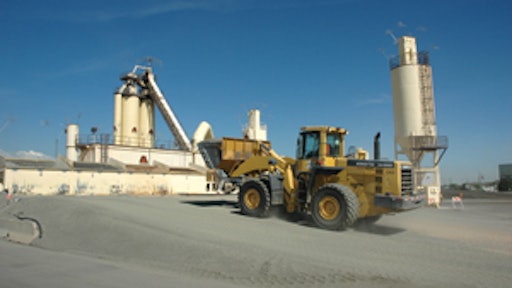 In 1998 the City and County of Denver made a substantial investment, to the tune of $3+ million to upgrade its asphalt production facility to support its cost-effective, self-contained street maintenance division. And in nine years that investment has more than paid for itself in the savings generated versus having to buy hot mix asphalt from an outside vendor, along with the additional benefits of having a plant that serves the exclusive paving needs of this road agency.
When it came time to replace its aging batch plant facility, Denver selected a relocatable Astec 300-tph double barrel drum counterflow system to meet its annual 200,000+ ton demand. The plant is equipped with a:
Four-compartment cold feed system
Silent natural gas-fired burner
55,000-cfm baghouse with a horizontal impactor to remove large fines
Two 250-ton storage silos used to store a standard ½-inch mix
One 60-ton storage silo used to store a 3/8-inch special mix
Blue smoke recovery system
Relocatable command control center with Process Mate 96 Control System with automatic silo loadout
Two Heatec 25,000-gallon AC tanks with polymer mixer/agitator systems
One Heatec 10,000-gallon emulsion storage tank
One Heatec relocatable 5,000-gallon hot water tank
Heatec 2,000,000 BTU Helical Coil hot oil heater
Lime additive silo and delivery system
Relocatable recycle system with Telsmith Crusher
Operating the plant
Mike Haines and Lou Bustos operate the plant and are supported by a wheel loader operator and a yard laborer. The crew produces 1,500 tons per day on average during the eight-month paving season. Ninety-five percent of all mix produced at the plant supports the paving, pothole, alley and hot in-place programs the city and county street maintenance division undertakes each season, with the remaining production going to airport and parks' department needs.
"For the street maintenance work, all of the mix used is our standard ½-inch design which contains 20-percent RAP," notes Haines. "We generally use one of our main storage silos for that mix and the other to store virgin mix, which is only used as a back-up if for some reason we're not able to process the RAP mix."
"It's really been beneficial to have our own plant," adds Pat Kennedy, senior engineer for the department. "Having our own production facility allows us to get the mix we need when we need it. If we were buying mix from an outside vendor, we would have to wait in line like everyone else to be loaded. Having our own plant and trucks (used for snow removal during the winter) makes a big difference in supplying our projects in a timely fashion and always knowing what to expect when the mix arrives at the jobsite. Since we produce the same mix for all of our projects, we know we'll always receive a consistent mix each and every time one of our trucks shows up at the project."
A walk around the plant and it's obvious the pride the plant operators and street maintenance division take in maintaining a top-notch facility. The entire facility has been paved, even under the stockpiles of aggregate and other material used in production.
The plant itself is in as pristine condition as it was when it was first put into production. Granted, producing 200,000 to 250,000 tons of mix per year does not cause significant wear and tear on the facility, but the plant operators have a maintenance budget for repairs and they do schedule annual upgrades of wear items.
"We'll replace the plastic liners in the cold-feed bins and wear items inside the drum system, as well as other wear items on the drag slats and other components," Haines says. "We try to keep the plant in as-new condition and make sure we don't experience any unexpected downtime during our paving season. We take a preventive maintenance approach by replacing parts we think could cause problems in the upcoming season."
A winning solution
But for the street maintenance division and the city and county taxpayers, the plant has been a win-win investment.
Conservatively, the street maintenance division says it saves at least $4 per ton on the mix it produces compared to the going rate from independent vendors. That means the plant generates approximately $800,000 annually in savings over the cost of buying mix from an outside source. In the eight years the plant has been in operation, the savings generated have not only paid for the initial investment of the plant but have probably generated enough return to buy another plant.
But don't worry Denver taxpayers, the current plant will more than serve the asphalt needs of maintaining good roads in street maintenance division's network for a long time to come, and in doing so, will generate continued savings for what department officials consider a very sound investment.
"It really makes a good mix for our streets, and it allows us to use a lot of the milled asphalt we produce when reconstructing a street," says Dan Roberts, director of the street maintenance division. "It's just the most cost-effective way we can obtain the asphalt we need to maintain the network of roads we're responsible for maintaining."
Companies in this article