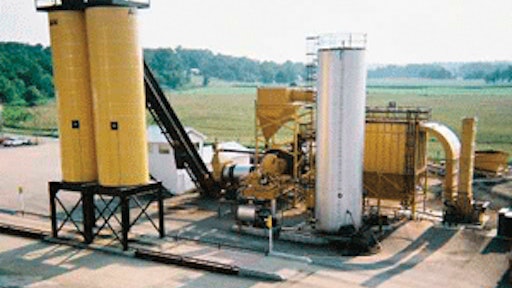 A much-needed asphalt plant upgrade is often seen as an enormous task. Mike Small of Small's Inc., d.b.a. Ohio Asphalt, simply describes it as biting the bullet. "You know you need to do it, but you're still not in a hurry to get started. After all, erecting a new asphalt plant requires a lot of planning, permitting, and time," says Small. While undoubtedly a challenging project, the goals are quite reasonable — producing more tonnage and a higher quality mix — at a lower cost. That was certainly enough incentive for the Gambier, OH-based company to trade in its old plant and replace it with a new 2005 Milemaker Series, Model MM225, dual-drum, counter-flow asphalt plant manufactured by Asphalt Drum Mixers (ADM) Inc.

"Our first ADM plant was simple, economical and met all our needs in previous years, but over time we outgrew it," says Small who oversees the equipment operations and maintenance for his family's business. "We knew it was time for a change. Buying a new plant was at least five years overdue, but we were just not ready to bite the bullet," he says. However, he adds that "when you've outgrown your plant, paving crews are waiting at the jobsite for materials and trucks are back at the plant waiting to be loaded. We had 10 trucks and only one 70-ton silo. Now with the larger plant we have a total of 400 tons of storage with the capacity to add more silos at anytime," says Small.

After considering all its options, including the used equipment market, the company chose an ADM plant. "We looked at all the manufacturers, the different technologies that were out there, made the comparisons, then concluded that the Milemaker was the best choice," says Small. "The plant produces exceptional quality mix regardless of the additives or mix designs. It also produces mix at a lower cost per ton, and we're really impressed at how smooth and quiet the plant operates. Also, ADM provides exceptional factory support. We couldn't have asked for more," he says.
Value-added expertise

Small acknowledges that ADM's factory support is a big advantage from many standpoints — engineering, installation and startup assistance, help with the air quality permitting, and solutions to design challenges. He points to the fact that they were faced with making a larger plant fit on a site with limited space availability.

"The new plant had to be installed where the older, smaller plant had been," says Small. "So we called on Mark Simmons (ADM's vice president) who took the time to listen to our needs and to evaluate the site. He then returned with several options for us to choose from. They were able to customize the equipment to accommodate our needs, a luxury not available from other equipment manufacturers we interviewed. We now have expansion potential in the areas of liquid asphalt and mix storage. Our plans are to increase both as our business grows."

ADM completed the engineering required for the installation. And, with Small's experience in the concrete business, the producer was able to pour its own foundation pads. "The information provided by ADM during the engineering phase of the project was great. When the equipment arrived, so did the people from ADM. The equipment looked great and fit together like it should. With ADM's expertise, we were able to assemble the plant in less than a week. Then without any delay we proceeded with the plant startup," says Small.
Efficient, high-capacity production

Small is quick to point out that his best production day so far with his new Milemaker asphalt plant exceeds 2,300 tons. When operating his old plant from dawn-till-dusk, he says that he could barely break 1,200 tons. "With the new plant we can change mixes on the fly, feed two crews at once and put out consistent quality asphalt no matter how difficult the mix design," says Small. "The 200-ton silos, and larger plant capacity, allow us to be more flexible. Also, with the ADM plant we can feed in RAP in higher percentages. No one can tell the difference and the stack remains invisible," he says.

Responding from the manufacturing front, ADM President Mike Devine says that the Milemaker is the result of design criteria initiated in the late 1980s. "At that time, we decided to develop a new asphalt plant that would meet industry needs while also satisfying the public's concern over emissions. We also needed to produce quality asphalt no matter how stringent the mix design, while exceeding all EPA regulations, and operating at the lowest possible noise levels. Our Milemaker plant zeros in on these challenges," he says.
Serving its customers

Ohio Asphalt serves customers in a highly competitive five-county area in Northwestern Ohio. "The reason we are successful is that our niche customers are loyal to us," Small explains.

"We live in the area, attend the meetings and provide an excellent product. When they have a problem, we're there to service it," he says, adding that his company and ADM have a lot in common. "We both provide a quality product, excellent service and stand behind what we sell."