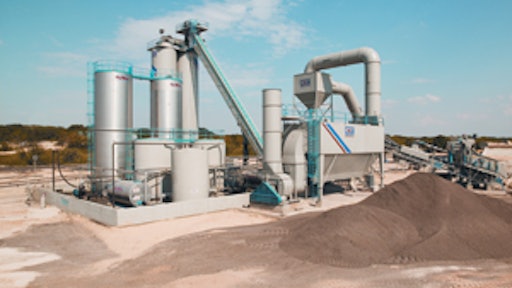 As a materials supplier, Vulcan Materials' business reputation has been built on its success to always have what customers want, when they want it and at a competitive price. That's why the company's Southwest District in Texas maintains two operating asphalt plants at its two San Antonio quarry locations.
"We're not a construction company, we supply aggregate and asphalt materials to contractors and other customers who actually do the work," says Harry Bush, manager of technical services for Vulcan's Southwest Division.
"To successfully deliver the service customers expect, our philosophy is to never be down," he continues. "We've had debates over whether it's better to have one large (asphalt) plant to serve our customers or to have duplicate production facilities at the same location. We used to only have a single plant operating at each of our San Antonio locations, but increased demand and the competitive nature of supplying asphalt caused us to take a close look at making sure our production capabilities were never disrupted."
At the company's Helotes Quarry operation, located on the west side of San Antonio, Vulcan had been operating a batch and a parallel drum plant for approximately 10 years. When it came time to replace the 30-year-old 5,000 pound batch in 2004, Bush and other members Vulcan's production team involved in researching a replacement plant felt it was time to invest in a high-production facility that would accommodate high reclaimed asphalt pavement (RAP) content, reduce energy consumption and produce low emissions.
They selected a Gencor 500 ton-per-hour counterflow drum plant with an advanced RAP entry system and Ultra II multi-fuel burner, which is fired by recycled oil. The plant was equipped with two 30,000-gallon AC tanks (a third has been added since then), seven cold feed bins, two RAP feed bins and two 300-ton silos (a third silo on a separate scale has also been added since the initial installation).
"We're generally producing two or three or even four different mix designs each day, so the silo capacity and the additional scale has allowed us to quickly respond to our customers' needs," Bush says. "When we were evaluating what we needed in a plant, we looked at the efficiency of the Gencor counterflow drum system, how well built the plant is, the low emissions it produces and the ability to increase our RAP usage in the mix designs we produce."
Plant considerations
Vulcan operates 12 asphalt plants in Texas, with the San Antonio market being a big consumer of asphalt, so efficiency, emissions and utilizing RAP were all major considerations that went into the new plant decision.
"Fuel costs continue to increase, so we were definitely interested in improving our fuel efficiency with a new plant. We even went to the added expense of insulating the drum," Bush says.
And even though Bush has yet to formally document the fuel savings the new plant has produced its first two years in service, he says it's much more efficient than the old batch plant.
A significant improvement has been in the amount of RAP the new plant allows the Helotes operation to incorporate into mixes it produces.
"With the old batch plant we could include approximately 10 percent RAP into our mixes. With our new Gencor plant, we're able to run between 20 and 30 percent RAP and that's important since the district we're in allows for high RAP content, even in some of the surface course mix designs," Bush says.
The new plant has turned out 400,000 to 500,000 tons a year during its first two years of operation, serving as the primary production facility at the Helotes Quarry. The 15-year-old parallel flow drum plant at the location is only used as a back-up production facility or secondary production facility when demand is high.
"We serve a wide range of customers out of this facility, including municipalities, counties, the Texas Department of Transportation, highway production contractors and commercial contractors, so maintaining a reliable source of various mix designs and quantity is crucial," Bush says.
Most of the TxDOT mix designs are similar to Superpave designs, but are still designated as TxDOT Type A, B, C and D designs. The facility does produce a considerable amount of permeable friction course mix, which contains a high content of crumb rubber, and there is also an increasing demand for stone matrix asphalt (SMA) for some of the high traffic volume projects.
A commitment to future success
Bush is confident the investment Vulcan made in the new plant will serve the San Antonio market for a long time to come.
"We pretty much operate year-round serving customers within a 50-mile radius of this facility (some as far away as 100 miles), so we expect this plant to produce a lot of asphalt for a long time," Bush says. "We invested in a good heavy plant because we know they can wear out, and there's always going to be routine maintenance to take care of, but to be a competitive player in this market you have to be willing to buy better plants each time you need to replace one that's worn out."
And with the expanded production capability, being able to incorporate more RAP in particular, and the fuel economy of the plant, the low emissions output of the facility also represents a significant commitment to being a good neighbor, both with agencies who buy from Vulcan and surrounding residential developments.
"The public is always going to be concerned about the environment and as residential developments continue to move closer to our plant/quarry operation, we have to do our part to protect the environment we share with our neighbors," Bush says. "So it doesn't hurt to let our customers and neighbors know that we've invested in technology that lowers the plant emissions in producing the asphalt they want. Nobody wants an asphalt plant in their backyard even when residential and commercial developments are the ones moving into your backyard, but everybody wants quality asphalt at a low price. So to deliver what our customers want, we have to make the investments required to maintain state-of-the-art production capabilities."