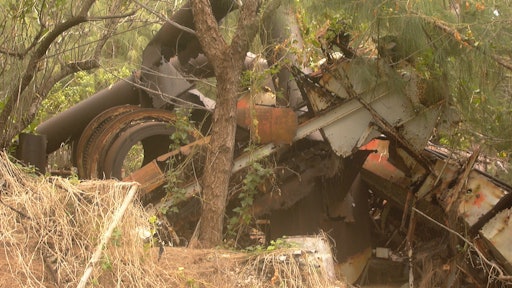 Over the last year I have been to over 50 asphalt plants in several countries, appraising equipment, trouble shooting ongoing problems, designing upgrades and training operators. One of the more vexing issues I encounter is when I am asked to set-up a plant that was sold by some "Plant Broker" who knows very little about asphalt plants, to someone new to asphalt plants. To add insult to injury, the plant is then taken down by some "Hack-n-Slash" expert. Such was the case at a plant this last summer in southern Texas.
I got a call from a new owner needing help to get the plant up and running. He had called me earlier in the year to inspect the plant for him with the thoughts of buying it. I gave him a price to go there, but never heard back from him. He apparently figured the price was too high. After all, most people figure it IS just iron. Then 6 months later, he calls and wants me to come set-up what he bought.
My first question was, "Who took the plant down for you?"
He gave me the name of a 'Fly by Night' company I'd had dealings with in the past. Mostly cleaning up their messes. "Why not have the guy that took it down put it back up?" I asked.
"He charged us $80,000 to take the plant down and now we can't find him. I am told he filed bankruptcy."
Needless to say I felt sorry for the client, so I said I would look it over. I flew down to Texas and went to the jobsite. When I drove up to the asphalt plant I was simply astonished at what I saw. The disassembler's crew had used a cutting torch and a Saws-All to get the plant down. Haphazardly. The ductwork was ruined. The feeder and baghouse legs were cut off at random angles as were most of the rest of the supporting structures. All the rubber belting for the conveyors was simply gone. The electrical wiring was cut with a Saws-All at random lengths and just heaped into a shipping container. There was NO possibility of ever using any of it again. But the Drag Conveyor was the worst. The conveyor had about a 15° twist in it where they had apparently dropped it. To say the plant was a disaster would be an understatement. It was very nearly Scrap Iron. All of these issues turned a two week job into a two MONTH job that cost the client over $160,000 when it was all over. This didn't include the $80,000 he paid the Shyster to get the plant down. He was almost $250,000 into a plant he only paid $300,000 for to start with. Not a very economically feasible project.
There are companies out and about like mine who offer assistance in assessing and moving asphalt plants. If you are the slightest bit uncomfortable, get help. I don't know about others, but at my company what we do is take a client's personnel and teach them how to tear-down, move and re-set their own plant. When we are finished the client's personnel understand their plant and know how to work on it. This is invaluable training. And it also helps us 'Weed Out' those personnel who are simply not suited to the stresses of an Asphalt Plant.
In "worst case" scenarios my guys will move plants alone, but I think this is a huge missed opportunity for the client. We are a "Training Company" first and foremost. If we can leave a client in a better place than when we met them, I always feel good about that.
However there are times when the client simply doesn't have the time or personnel to invest in moving the plant and my guys are tied up. In these instances I have been hired to "Supervise" the move by lesser known companies. As long as things are done correctly, this is a viable option.
My advice is simple: If you are not 100% comfortable with every aspect of moving and re-setting an asphalt plant, GET HELP. Even if it is only in a supervisory capacity. My Texas client could have saved at least $150,000 on his move if someone had just supervised the people doing the work.
Please remember, if you have a problem and need some advice, email or call me. I don't charge for phone/email consultations. If you are on Facebook you can get "real-time" help most of the time, just join my Plant Trouble-Shooting Group: https://www.facebook.com/groups/2151664251764889/
Keep in mind, I will be happy to help. Now and anytime in the future.