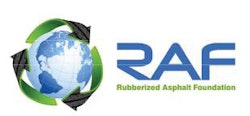 The Rubberized Asphalt Foundation (RAF), a research foundation dedicated to the science and practical use of recycled tire rubber in asphalt pavements, is developing a comprehensive online clearinghouse for rubberized asphalt research and documentation. As the library evolves, RAF will expand the archive to include white papers, specifications, research studies and industry news. In addition to original research, the foundation is soliciting material from academics and industry experts whose work includes the study of rubberized asphalt materials and processes.
"A large amount of information already exists but is languishing without an organized, centralized archive," said George Way, chairman of RAF. "Creating an online library ensures universal access to vital data and will serve to increase our collective knowledge of rubberized asphalt."
RAF is gathering project profiles, studies, specifications and other data that is valuable to professionals exploring and/or deciding on the use of recycled rubber in asphalt pavements. The foundation's searchable online database is catalogued for usability and updated with the latest developments in rubberized asphalt technologies and processes. Additionally, RAF is working to examine and validate current and emerging technologies that provide engineering solutions to pavement engineers and project owners.
"One of our main objectives is to provide current, independent data on the evolving use of recycled tire rubber in asphalt and practical specifications that enable its successful use," Way added. "Our hope is to develop a robust compendium of research that demonstrates specific and quantifiable benefits of various asphalt mixes and pavement preservation strategies."
To be considered for inclusion in RAF's online library, please contact Professor Walaa Mogawer at editor@ra-foundation.org. Submissions for consideration elsewhere on RAF's website may be sent to Elizabeth Dempsey Becker at ebecker@ra-foundation.org.
Companies in this article