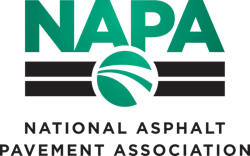 The National Asphalt Pavement Association (NAPA) announced today the three winners and four finalists for its 2012 Outstanding Website Award. The companies were recognized at a special ceremony during the association's Midyear Meeting in Boston.
The award recognizes website designs that promote the use of asphalt and the asphalt pavement industry. Awards are granted in three categories: Producer Member, Associate Member, and State Asphalt Pavement Association (SAPA).
The 2012 winner in the Producer Member category is Superior Paving of Gainsville, Va., won the award for the website, www.SuperiorPaving.net, which underwent a revamp in the fall of 2012 to more effectively share with customers and industry partners the company's culture and mission of building high-quality asphalt roads.

Producer Member finalists were:
Maryland Paving of Timonium, redesigned its website, www.MarylandPaving.com, to make the site more attractive and easier for potential customers, current customers, and public use.
Tilcon New York Inc., an Oldcastle Materials Co., of Wharton, N.J., revamped www.TilconNY.com allowing customers, local community members, industry partners, and suppliers to access practical, relevant, and timely information about Tilcon New York and asphalt pavements.
Reeves Construction Co. of Macon, Ga. relaunched, www.ReevesCC.com, offering users a detailed portrait of Reeves Construction and providing many valuable opportunities to learn about the company, its capabilities, safety culture, and history.
Winning in the Associate Member category was Gray & Son Inc. of Timonium, Md., for the redesign of www.GraynSon.com. The site showcases many services Gray & Son provides; the relationship with its sister company, Maryland Paving; and the importance of safety, civic, and environmental awareness.

— MORE —
Two State Asphalt Pavement Associations also won Outstanding Website honors. The 2012 winner in this category was Flexible Pavements of Ohio (FPO) of Dublin, Ohio, for www.FlexiblePavements.org, which demonstrates the value of asphalt as a pavement, aims to increase market share for asphalt, and ensures a venue for asphalt's success by disseminating information.
The Hawaii Asphalt Paving Industry (HAPI) of Honolulu was a finalist in the category. HAPI launched www.hawaiiasphalt.org to inform design consultants, government agencies, home owners, condominium associations, and developers in Hawaii about the world of asphalt and pavement treatments.