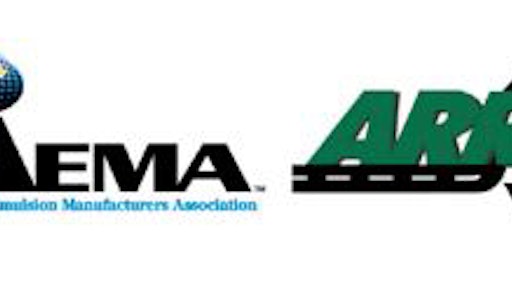 Representing over 140 of the world's leading companies in the pavement preservation and rehabilitation industries, over 300 delegates gathered recently to participate in the tenth combined annual meeting of the Asphalt Emulsion Manufacturers Association (AEMA 41st Annual Meeting), the Asphalt Recycling & Reclaiming Association (ARRA 38th Annual Meeting), and the International Slurry Surfacing Association (ISSA 52nd Annual Convention). Held in February 2014 in Aventura, Florida, the gathering heard more than forty speakers over the three-day period. The meeting was a concentrated assembly of industry promotion and technological advancement, as industry leaders and innovators joined together in a unique opportunity to discuss subjects of common interest and to share news of accomplishments in their related fields. Titled Preservation & Rehabilitation 2014 – The Smart, Sustainable Choice, the meeting highlighted advancements in technology and the application of asphalt emulsions and other additives, asphalt recycling and reclaiming, slurry and micro surfacing, chip seal and crack treatments.
In addition to the usual working and technical committee sessions that are always part of each Association's annual meeting, registrants heard presentations from numerous industry experts and leaders on a wide variety of subjects. During a period of generally subdued discretionary travel, those who chose to attend this mid-winter event were richly rewarded.
Speakers included the following:
Long-term Aging of Recycled Binders - Research in Progress
 Dr. Hesham Ali, P.E., Professor of Practice, Florida Int'l University
SBR Latex - Supply Chain
 Barry Baughman, Technical Director, ULTRAPAVE Corp.
Polymers for Pavements
 Barry Baughman, Technical Director, ULTRAPAVE Corp.
 John Murphy, Ultrapave Corp.
Chemical Additives Outlook
 Andy Bickford, Product Development Platform Manager, MWV
Current Pavement Issues in Florida
 Tom Byron, Chief Engineer, Florida DOT
Outlook of Cement Supply in North America
 Frank Cawkell, Asphalt Manager, ExxonMobil Americas
Dust Control Routing
 Bryan Darling, Crafco Inc.
Electronic Slurry/Micro Pavers
 Rex Eberly, Bergkamp, Inc.
Road Maintenance Using Natural Resources in Emulsion Primers
 Abdul Elkadri, Technical Advisor, GECAN
Field Sampling & Testing Chip Seal Emulsion Residue
 Mike Farrar, Lead Engineer, Western Research Institute
Multi-Functional Equipment for Chip Seals & Cape Seal
 Yvon Gerbel, Marketing & Product Manager, Breining-Secmair - Fayat Group
Issues Shaping Business and Society in the 21st Century
 Garry Golden, Futurist, University of Houston
Mti, a Value-Added Distribution & Laboratory Services Company
 Terry Hegner, Momentum Technologies International
Bulking Effect – Does it Matter?
Mike Hemsley, Manager of Field Services, Mix Design & Performance Testing,
Paragon Technical Services
VSS Macropaver Equipment
 Doug Hogue, VSS Macropaver
Mendocino County Multi-Layer Pavement Rehabilitation – ISSA 2014 Presidents Award Winner
 Gary Houston, Director of Sales, Marketing & Technology, VSS International, Inc.
Aggregates - Tar & Chip: Are There Synergies?
 Frank Hurkmans, Aggregates & Asphalt Marketing Manager, Walker Industries
Improving Sealcoats
 Alan James, Marketing & Sales Support, Akzo Nobel Surface Chemistry
Applicability of Modified Vialit Adhesion Test for Seal Treatments
 Trey Jordan, Civil Engineer, Paragon Technical Services, Inc.
Correlation of Shear & Tension Tests for Bond Coats used in Asphaltic Materials
 Trey Jordan, Civil Engineer, Paragon Technical Services, Inc.
Value of Polymer modifications & Fibers in Pavement Preservation
 Arlis Kadrmas, Technical Account Manager-Asphalt, BASF Corporation
 Rich Wenthe, Technical Services Engineer, MWV
API Std. 650, Annex M: Tanks Operating at Elevated Temperatures
 Butch Kirk, International Tank Service Inc.
Pavement Preservation & Maintenance Latest Technologies
 Pat Lavin, Road Science, Division of ArrMaz
Resource
 Myles McKemie, Ergon Asphalt & Emulsions, Inc.
Drum Capabilities & Wear Solutions
 Vance Moody, Kennametal, Inc.
Americans with Disabilities Act
 Robert Mooney, Pre Construction Team Leader, FHWA - Office of Program Administration
FP2 Update
 Jim Moulthrop, Executive Director, FP2 Inc.
Polymers for Pavements
 John Murphy, Ultrapave Corp.
Affordable Care Act
 George Olsen, President, Williams & Jensen
NCAT Update
 Dr. Buzz Powell, Assistant Director, National Center for Asphalt Technology
Wright Asphalt Tire Rubber Modified Asphalt Products
 Dan Quire, Wright Asphalt Products Co.
Welcome to PPRS Paris 2015
 Jean-Claude Roffe, International Member Representative, AEMA
This is Caterpillar…Built for it
 Terry Sharp, Caterpillar Paving Products
The Effect of Lab Compaction Method on the Strength of FDR Mixtures
 Sadie Smith, Graduate Research Assistant, Univeristy of Arkansas
Building Lasting Solutions
 Barry Stoughton, BLS Enterprises, Inc.
Utah's First Double Double
 Kirk Thornock, Program Manager, Utah DOT
Heatec Emulsion Equipment
 Jerry Vantrease, Heatec
Control Practices of Hydrogen Sulfide in an Asphalt Facility
 Bob Walley, Compliance Director, Ergon Asphalt & Emulsions, Inc.
 Tim Hermes, Health & Safety Specialist, Ergon, Inc.
FHWA Update
 Butch Wlaschin, Director, Office of Asset Management, Pavements, and Construction, FHWA
Meeting activities also included the respective elections of new officers and directors of each association, as well as awards presentations, and numerous committee, technical committee, and task force sessions during the three-day program.