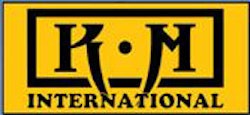 KM International announces upgrades to its current line of diesel hotbox reclaimers. The most notable upgrade to the KM International hotbox reclaimer is the updated control panel. The new control panel will integrate both a 24 hour timer and low temp thermostat, which were previously sold as additional options. Integrated into the new control panel will be the Programmable Logic Controller (PLC) and Human Machine Interface (HMI) systems. The PLC and HMI systems will allow the user to electronically view and control:
Current asphalt temperature
Asphalt temperature set point (50 to 350 degrees F)
Current combustion chamber temp
Battery voltage
Runtime since last reset & total runtime
Burner On Delay (0-72 Hours)
In addition to allowing the user to digitally control aspects of the hotbox, the PLC and HMI programs track data such as asphalt temp, combustion temp, voltage, date, time, etc., and records this data to allow technicians to better troubleshoot potential machine or asphalt heating issues. Along with the updated control panel, KM International's diesel hotbox reclaimers now include a single, lockable, heavy duty steel enclosure for the battery and hydraulic power unit.
The increased durability of the steel enclosure adds years of dependability to the unit. All KM International diesel hotbox reclaimers will now feature a one piece molded combustion chamber lined with 1 1/2-inch refractory ceramic board capable of withstanding temperatures in excess of 2,300 degrees F, the upgrade increases the chambers efficiency while also adding to the chambers already long life expectancy. On the dump hotbox reclaimer KM International has incorporated a remote controlled hydraulic dump allowing the user to safely operate the dump option from a 15-foot radius, providing the user a clear field of view when dumping material. The incorporated emergency stop ensures panic shut down in the event of an emergency situation. These updates increase the ease of use and operation to end users.