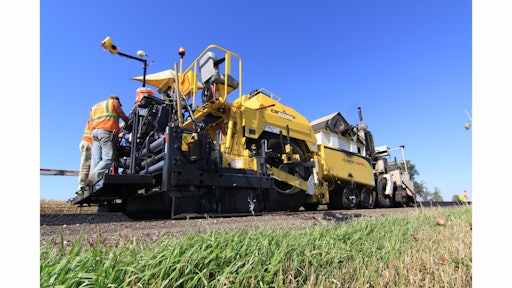 Territory Manager, Jerry Fitch, and BOMAG Americas, Inc. announce that May Heavy Equipment is now the authorized BOMAG road building equipment distributor in the State of North Carolina and the northern two-thirds of South Carolina.  May Heavy Equipment now specializes in the sale, rental, and parts and service support of BOMAG's broad road building line of milling machines, Cedarapids asphalt pavers, CMI RS and BOMAG MPH Series of reclaimer/stabilizers, light and heavy tandem and combination rollers, and pneumatic rollers.
"This family-owned dealership has built its reputation on providing customer support that is second to none, and that makes May Heavy Equipment the perfect partner to provide local sales and service support for BOMAG road building equipment," says John Hood, director of sales, heavy equipment for BOMAG Americas, Inc. Fitch adds, "May Heavy Equipment is growing and has a well-established customer base throughout its territory that need BOMAG road building equipment to efficiently complete their work. This relationship is a perfect match for both BOMAG and May Heavy Equipment."
From asphalt paving and compaction to rehabilitation, May Heavy Equipment is now a one-stop shop for new BOMAG road building equipment. This includes Cedarapids' line of commercial and mainline paving equipment along with BOMAG's industry-leading compaction equipment offering, both giving paving contractors what they need to achieve bonus-level smoothness and mats compacted to spec densities. The offering includes industry exclusives like the Cedarapids CR652 Remix Anti-Segregation Paver – the market's only paver to reblend asphalt at the last stage of the paving process to virtually eliminate segregation – and BOMAG tandem vibratory rollers equipped with the market's most advanced Intelligent Compaction System, Asphalt Manager, to prevent mat over compaction.
For the rehabilitation contractor, the broad line includes a range of high-performance utility and half-lane milling machines, offering cutting widths from 11.8 to 98.4 in (300 to 2,500 mm) with power classes ranging from 125 to 590 hp (92 to 440 kW). Regardless of whether the customer needs a machine that excels in road reclamation or soil stabilization, May Heavy Equipment has the solution in the CMI RS and BOMAG MPH Series of reclaimer/stabilizers that offer power ratings from 360 to 950 hp (268 to 730 kW), cutting widths from 96 to 120 in (2,438 to 3,048 mm) and depths from 12 to 21 in (305 to 533 mm).
"Today, BOMAG offers the road building contractor much more than its world-renowned compaction equipment line," says Richie Ambrose, V.P. of new equipment sales for May Heavy Equipment. "We are very excited about representing BOMAG's road building equipment line, as it complements our existing heavy equipment offering for our growing customer base throughout the Carolinas."
A reliable source for heavy equipment rentals, sales and service since 1997, May Heavy Equipment offers contractors quality machines at a competitive price and backed by superior service. Its expansive equipment offering includes a rental fleet of more than 200 new and used machines, consisting of every type of earth-moving and road-building equipment imaginable. The company serves its customers from its headquarters in Lexington, N.C. and branch location in Columbia, S.C., as well as from resident technicians and laydown yards located throughout the Carolinas. The company also has plans to expand to a new Raleigh, N.C. facility in the near future.