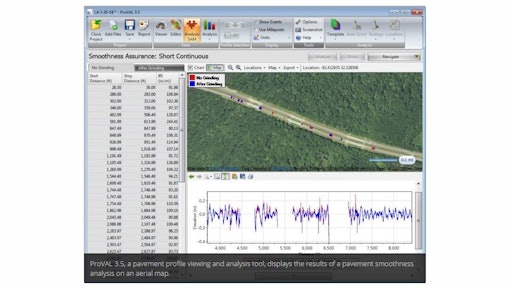 ProVAL, the software highway agencies and contractors use to evaluate pavement profiles, now offers enhanced map-based features. ProVAL 3.5's pavement profile analysis now fully incorporates GPS data, so ProVAL users can view pavement profiles on road maps and aerial maps. ProVAL is a Federal Highway Administration (FHWA) and Long-Term Pavement Performance (LTPP) product that was developed by pavement engineering firm The Transtec Group.
Highway contractors use ProVAL to accelerate operations and boost profits. ProVAL's standardized platform reduces time spent analyzing pavement profiles—the software can process and integrate numerous formats of profile data—and contractors can reduce the risk of penalties with ProVAL's construction performance-enhancing functions, such as the Smoothness Assurance Module. Owners, agencies, and contractors use ProVAL to increase consistency throughout operations by employing a single, standard tool for smoothness analysis and reporting.
Combining ProVAL's pavement profile analysis with road maps and aerial maps greatly enhances ProVAL's usability and better relates the results of analysis to jobsite locations. ProVAL currently supports MapQuest Road, MapQuest Aerial, OpenStreetMap, Bing Maps Road, and Bing Maps Aerial.
ProVAL has been incorporated into specifications for the American Association of State Highway and Transportation Officials (AASHTO), FHWA Federal Lands, and US state departments of transportation (DOTs). The Transtec Group provides ProVAL user support and training in cooperation with FHWA and assists DOTs during the process of incorporating the software into specifications.
For more information and to freely download ProVAL 3.5, visit www.RoadProfile.com or contact The Transtec Group's Dr. George K. Chang at GKChang@TheTranstecGroup.com.