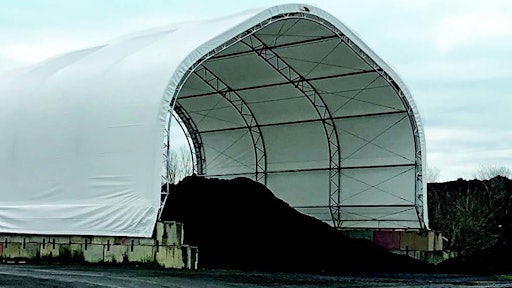 Granite Construction is an industry-leading construction company with nearly 100 years of experience executing large-scale infrastructure projects throughout the United States. Granite's Bradshaw Aggregate and Asphalt Plant has served the Sacramento Valley since 1988, and more recently it has taken on the processing of RAS (recycled asphalt pavement) to reduce waste. 
According to Kelly Curtis, project manager for Granite Construction, using RAS is a great way to salvage asphalt that would otherwise become trash.
"Asphalt shingles are a waste product generated from the roofing industry, and they would normally end up in a landfill," Curtis says. "But the shingles are impregnated with useful oils similar to the oil used in asphalt. By introducing RAS into asphalt mixes, Granite helps to eliminate waste, while reducing the plant's demand for raw asphalt oil." 
Before installing a ClearSpan structure to shelter the RAS, piles were left outside unprotected from the rain.
"During the winter rainy season, the RAS stockpile becomes saturated and too wet to use. By covering the stockpile from the rain, the benefits of producing Asphalt Concrete with RAS would be borne year-round," Curtis says. 
After losing time and potential profits, those at Granite knew it was time to invest in a solution. They decided on a Hercules Truss Arch Building from ClearSpan Fabric Structures for many reasons.
"We analyzed multiple cover options, from steel and aluminum structures, as well as other fabric covers. ClearSpan offered the best combination of durability at a competitive price," Curtis adds. 
Since installation, the fabric building has provided the space and versatility needed for the asphalt plant to operate efficiently.
"With the ability to install the structure on a block wall foundation and with the gable arch framing, we easily achieved the necessary clearance to allow our large front-end loaders to drive and load underneath the structure," Curtis says. 
Overall, everyone at Granite has found the building addition to make a positive impact on the business.
Curtis continued, "Installation was a breeze, and the cover has held up well through all weather conditions with essentially zero maintenance."