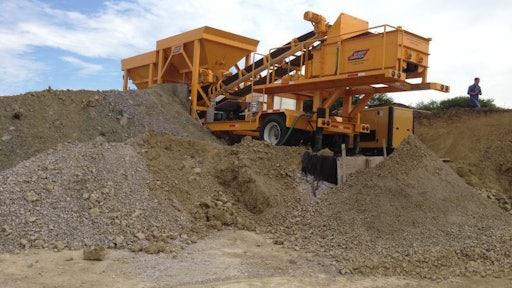 The PM200-SG Portable Pugmill Plant features mixing paddles with reversible, abrasion-resistant surfaces mounted on twin shafts and coupled to a high torque electric motor to reduce wear costs and provide mixing power.
Sauer Danfoss Plus+1 monitoring and control system for accurate feeds and load out
User-friendly control center provides maximum blending and proportioning control ensuring the desired consistency of the end product; allows for high-performance cold mix production
40-hp electric motor
Twin shaft pugmill
Standard water feed
Options inlcude: second 6.54 cu. yd. bin, power plant, asphalt feed, cement feed, weight scale, load cells and more
Principle bin: 8 cu. yd.
Charging bin: 6.54 cu. yd.
Length: 44.95 ft.
Width: 8.2 ft.
Height: 13.94 ft.
Request More Information
Fill out the form below to request more information about
PM200-SG Portable Pugmill Plant - 200TPH