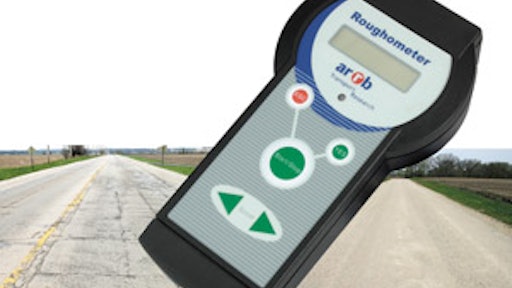 Humboldt Roughometer II
The Roughometer II can be used to assess paved and unpaved roads by providing objective and repeatable data regarding the actual roughness level of the surface.
Easily mounted to almost any vehicle
Gathers data and transfers it to a PC
Displays information in International Roughness numbers in both graphic charts and tables
Data can be transported to spreadsheet and database programs
Gilson Multi-Use Load Frames & Component Sets
These material testing frames from Gilson Co. Inc. offer many options and are very versatile systems to meet many laboratory needs.
One or two load frames can often perform many of the strength tests in a laboratory, requiring only a quick change of components
Component sets and accessories required are available for testing of soil, soil-cement and asphalt specimens
Frames can be configured to work with the following tests: Unconfined Soils; CBR; Triaxial; Soil Cement; and Marshall Stability
Pine SuperPave AFG2 Gyratory Compactor
Pine's new AFG2 is its third generation gyratory compactor which incorporates the newest technology.
Built-in angle measurement capabilities
Designed to account for frame compliance and dynamically compensates for varying mix stiffness
Internally stores results from 20 previous tests, including gyration number, specimen height, angle of gyration, consolidation pressure and sheer per gyration (optional)
Anton Paar SmartPave DSR
The SmartPave from Anton Paar is a dynamic shear rheometer (DSR) combined with a new Peltier heating system.
New easy-to-use software
Fully automatic temperature calibration (no water flow around sample)
Fast Peltier heating and cooling
TransTech PQI301
The TransTech PQI301 is a non-nuclear pavement quality indicator designed and built to take quick, accurate measurement of hot mix asphalt density.
For perpetual pavement mixes
Takes accurate density readings in three seconds
Available in various languages
Covered by AASHTO and ASTM test methods
Troxler Nuclear Moisture Density Gauges
Troxler Electronic Laboratories offers the Models 3430 Plus and 3440 Plus Apex Edition nuclear moisture density gauges.
Enlarged display screen
Storage capacity of up to 999 measurement records
Auto-store function
Backlit display screen
3440 Plus model also features backlit keypad, remote start keypad, USB data transfer port, extra loud beeper, automatic depth indication and optional GPS
Companies in this article