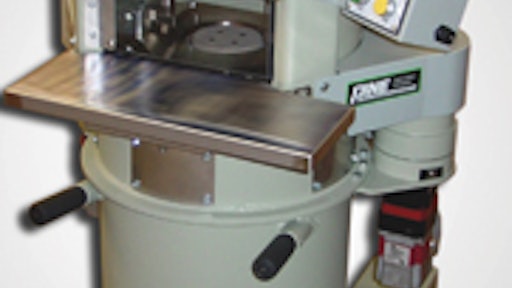 Pine SuperPave AFG2 Gyratory Compactor
Pine's AFG2 is its third generation gyratory compactor which incorporates the newest technology that laboratory technicians need.
Built-in angle measurement capabilities
Designed to account for frame compliance and dynamically compensates for varying mix stiffness
Internally stores results from 20 previous tests, including gyration number, specimen height, angle of gyration, consolidation pressure and shear per gyration (optional)
Troxler PaveTracker Plus
The PaveTracker Plus electromagnetic sensing device measures the dielectric constant of an asphalt pavement, slab or specimen and relates that constant to the material's density.
Quick indication of pavement segregation, areas of low density and overall pavement uniformity
Precise readings up to 1.5 inches on recently laid hot mix asphalt
Improved sensor cover features simple, self-adhesive disc design using upgraded materials; easy field replacement and installation; and cost-effective replacement kits
Despatch RTF Oven
The Rolling Thin Film (RTF) asphalt oven from Despatch is designed for testing effects of heat and air on moving film of asphalt in accordance with ASTM and AASHTO designations.
Maximum temperature of 400 degrees F
Digital temperature controls
Anton Paar SmartPave DSR
The SmartPave from Anton Paar is a dynamic shear rheometer (DSR) combined with a new Peltier heating system.
New easy-to-use software
Fully automatic temperature calibration (no water flow around sample)
Fast Peltier heating and cooling
Hydronix Hydro-Probe II
The Hydro-Probe II digital microwave sensor is for on-line measurement of moisture in free flowing aggregates on conveyors or in bins for asphalt production.
Robust housing and hard-wearing ceramic face
Simple to calibrate
Easily connects to control system
Troxler Model 3451
Troxler Electronic Laboratories' Model 3451 moisture density gauges measure moisture and density of soils, aggregate, asphalt and concrete.
Includes an on-board Global Positioning System (GPS) and a wireless Personal Digital Assistant (PDA) user interface
Measure the density of asphalt overlays from 1 to 4 inches without influence from underlying materials
Backscatter density measurement mode for full depth asphalt
Direct transmission for lifts of soil, soil aggregate and stone up to 12 inches
Geneq Micro-Deval Apparatus
Geneq's Micro-Deval Apparatus evaluates the abrasion in presence of water for coarse and fine aggregates.
Tests the resistance of fine and coarse aggregates to degradation by abrasion
Available models include the one, two or three tier
Standard with jars, balls, timer and magnet
Available with electronic controller
Enviro Tech EnSolv EX
EnSolv EX is a safe, effective extraction solvent that is used to replace Trichloroethylene for asphalt testing.
Non-chlorinated, non-flammable, non-hazardous, non-carcinogenic and non-regulated
Proprietary, azeotropic formulation is easy to use and provides longer chemical life and less regulatory hassle
AASHTO approved and conforms to ASTM D2172, D6368 and D5404
InstroTek Model 3500 Xplorer
The model 3500 Xplorer moisture density gauge from InstroTek Inc. features the most up-to-date electronics, improved performance and straight forward, simple operation.
Menu options are easy to read and navigate
A backlit LCD screen and special scroll functions allow operators to easily read the two-line display during day or nighttime work.
Battery Saver and InteliCharge extend battery life, keeping the gauge on the job instead of on the charger
Gilson SP-55 Quartermaster
Designed to handle large samples required in Superpave specifications, Gilson's SP-55 Quartermaster divides any hot mix asphalt sample for quality control analysis.
Field samples of 120 pounds are quickly reduced
Large hopper reduces handling of hot material between procurement of initial field sample and production of lab samples
Rugged steel construction
Humboldt Roughometer II
The Roughometer II can be used to assess paved and unpaved roads by providing objective and repeatable data regarding the actual roughness level of the surface.
Easily mounted to almost any vehicle
Gathers data and transfers it to a PC
Displays information in International Roughness numbers in both graphic charts and tables
Data can be transported to spreadsheet and database programs
Malvern Control and Analysis Software for Rheometers
Malvern Instruments offers a software version for its range of Malvern Bohlin rheometers.
Version 6.40 includes flexible data analysis setup and automation and a completely new test type
Analysis routines built into the software, including a template wizard, improved model fitting capabilities, Time Temperature Superposition (TTS) analysis, and data manipulation routines
Extended language support
Fewer than five mouse clicks are needed to perform an analysis
TransTech PQI301
The TransTech PQI301 is a non-nuclear pavement quality indicator designed and built to take quick, accurate measurement of hot mix asphalt density.
For perpetual pavement mixes
Takes accurate density readings in three seconds
Available in various languages
Covered by AASHTO and ASTM test methods
Interlaken Test System
Interlaken Technology offers a compact, servo-hydraulic test system that can perform a range of static and dynamic tests for both soil and asphalt.
Fulfills the requirements of ASATM, AASHTO and SHRP specifications
Several pre-programmed software applications are available with the system; custom test procedures are available
Accessories and fixtures include environmental chambers, indirect tensile fixtures, magnetic-mounted extensometers and various load cells and triaxial cells
Companies in this article