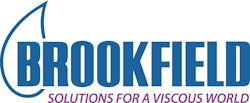 Middleboro, MA - Brookfield Engineering Laboratories has updated the look and added new content to its website - brookfieldengineering.com. The new website is easy-to-navigate and full of valuable information for both the novice and seasoned professional. The intuitive menu bar directs you to pages featuring: Products, Services, Support, Education, News & Events as well as contact information for Brookfield's worldwide representative/dealer network.
Overviews are presented featuring Brookfield's laboratory viscometers, process viscometers and rheometers. There are also pages for each specific instrument complete with specifications, features, typical applications, optional accessories as well as available downloads of product brochures and manuals. Videos on set up and operation of standard Brookfield Viscometers have recently been added.
The CT3 Texture Tester/Analyzer is shown along with a wide variety of accessories designed for specific physical testing requirements. And, Brookfield's PFT Powder Flow Tester is displayed including a demonstration video and a list of optional accessories.
The site provides a large amount of educational information including insight into the "Hows" and "Whys" of viscosity, texture and powder flow testing. Under the Education tab, seminars are offered as well as a growing number of application data sheets and educational videos featuring specific Brookfield products.
Visit the new website for information about Brookfield Engineering's Viscometers, Rheometers, CT3 Texture Analyzer and PFT Powder Flow Tester.
Companies in this article