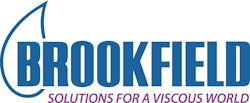 Brookfield Engineering Laboratories releases its new 2012 full-color catalog presenting Brookfield's complete line of viscometers/rheometers (both laboratory and in-line), texture analyzers and powder flow testers.
This year's catalog features:
• A Special DV-III Ultra Offer, including the EZ-Lock spindle connection designed to streamline productivity
• New texture website packed with valuable information for the texture marketplace
• New Powder Flow Pro Software with control capability for both standard volume (263cc) and small volume (43cc) shear cells on the popular Brookfield PFT Powder Flow Tester
The 2012 Catalog also provides a brief synopsis explaining the science behind viscosity measurement, texture analysis and powder flow testing. "Why Choose Brookfield?" explains the advantages of Brookfield instruments in both QC and R&D. All Brookfield instruments are shown with their features, a list of what's included as well as available accessories.
For more information or a free 2012 Brookfield Catalog, visit the website or call 800.628.8139.
Companies in this article