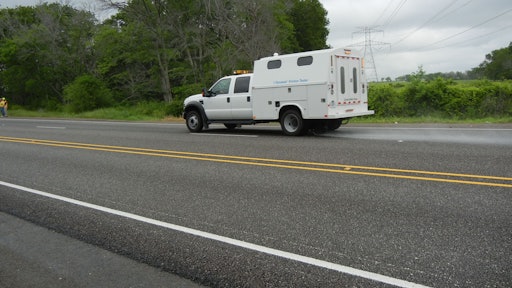 The Transtec Group announces the immediate availability of demonstrations of the Dynatest 6875H Highway Friction Tester (HFT). Demonstrations are offered free of charge to DOTs through an equipment demonstration program sponsored by the Federal Highway Administration (FHWA). The purpose is to provide an overview of the fixed-slip continuous measurement friction tester. Demos typically span from a half day up to one week.
The HFT provides a better picture of how friction varies over a section of pavement through continuous measurement reported at 1-foot intervals rather than one measurement every 500-1,000 feet with locked wheel testers. A self-contained testing vehicle, the HFT is a fixed-slip friction system that provides coefficient of friction values more representative of current automobile anti-lock braking systems, and reports a continuous friction trace that can be used for either Network Level or Project Level applications.
FHWA is offering demonstrations of the HFT in order to provide an overview of this new equipment. Agencies interested in a demonstration are responsible only for identifying test locations and providing appropriate traffic control. Please complete the online HFT request form to schedule an on-site demonstration, or download and submit the form via email. For more information, contact Bob Orthmeyer with FHWA at (708) 283-3533, Robert.Orthmeyer@dot.gov, or David Merritt with The Transtec Group, Inc. at (512) 451-6233, Dmerritt@TheTranstecGroup.com.
Companies in this article