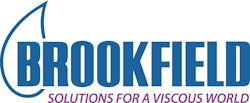 Brookfield Engineering Laboratories announces their next live teleseminar: An interview with Ross Clark scheduled for Tuesday, October 23, 2012 at 11 a.m. EST.
Ross Clark, who holds the position of Distinguished Research Fellow, works for CP Kelco at its San Diego R&D facility. CP Kelco is a global manufacturer of carbohydrate-based water soluble polymers/thickening agents such as xanthan, pectin, diutan, rhamsan, gellan, carrageenan and cellulose gum. These agents (hydrocolloids) are used in a wide range of applications from salad dressing and jams to construction materials and thickeners for petroleum production.
During the seminar, Ross will discuss how to choose between viscometers and texture analyzers. He will explain which instrument makes the most sense for different products and he will provide recommendations for specific applications. Questions from members can be submitted for consideration prior to the event.
Professionals can register and sign-up for the teleseminar free at viscosityjournal.com. Then, on the day of the event simply dial in, enter your participant code (received via email) and enjoy the seminar. This complete interview and as well as many previously recorded teleseminars are available for members to stream at their convenience.
For additional information, go to viscosityjournal.com for free informational websites and valuable resources dedicated to professionals in the viscosity and texture analysis marketplace.
Companies in this article