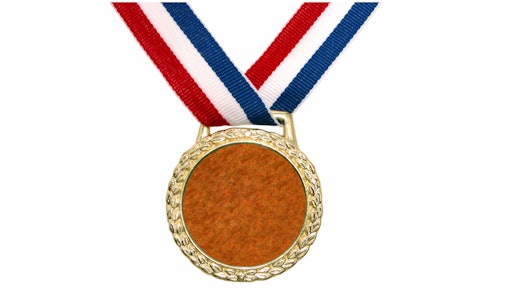 ISTOCK/GETTY IMAGES
I'm a fan of the television show Parks and Recreation. Of the many funny episodes, one I like to think back on is the Kaboom episode, where a character "tricks" people into building a playground as a practical joke. At the end of the episode he unveils his next master plan to trick people into building a hospital in a poor part of another country.
Funny or not, the concept of tricking people into building is somewhat relevant, as we're constantly talking and thinking about the construction labor shortage. Maybe this episode is on to something.
Ok, so I don't really think we should "trick" people into construction jobs, but it does spark some thoughts. Many contractors and associations have hands-on workshops, career days, the SkillsUSA challenge, etc. While these aren't tricks, these hands-on opportunities do rely on a couple of key factors that could help the construction industry recruit new workers: fun and competition. Disclaimer: I'm not saying fun and competition on the jobsite should replace safe, quality work. But, exposing more potential workers to the fun of construction, and fueling their competitive side could help generate interest.
Back in May, I received information about an event called Leaders Build Challenge. A fundraising event for the Habitat for Humanity of Orange County, the event is designed as both a competitive challenge and an opportunity to build homes for the less fortunate in the community. Dozens of executives and community leaders compete in construction games while helping to build affordable homes. While the participants know what they are doing, I can't help but recall that Parks and Rec episode!
So what if more construction companies explored events like this? Could you hold a fun, competitive construction building challenge in your community that could also benefit your community? There are so many possibilities for each community. You could go the route of Leaders Build and invite more prominent community members. Or, maybe you create a challenge for local high school students. Create teams, led by an experienced employee from your company, and see who can build the best bench, bird house, little lending library, whatever you can think of that can have benefit in the community after the competition is done!
Expose the future workforce to fun, competition and the skills required for construction. Make the work not seem like work. Everyone's heard the saying "It's not work if it's fun," (feel free to use that as you event's tagline!).

Or maybe find a project that anyone can come and help build. Maybe a local park needs a shed. Invite the public to come help your company build something of need for the community. Make sure participants know that they will have a visible, long-lasting landmark that they can say they helped build. Promote the fact that they will have something visible they can be proud of every time they pass it.
Now, I'm no construction expert, so I can't vouch that these ideas are feasible. But it does seem like an interesting concept. Maybe some more fun, hands-on experiences not necessarily with the main goal of recruiting more workers could help the construction industry generate more interest.
What are your thoughts? Does your company or community already host events like this? Do you think this idea could be a successful way to improve the image of construction and the acceptance of it as a career choice?

Share your thoughts and comments with me at khegeman@acbusinessmedia.com, in the comments for this blog, or start a conversation on social media with ForConstructionPros.com on Facebook and Twitter.