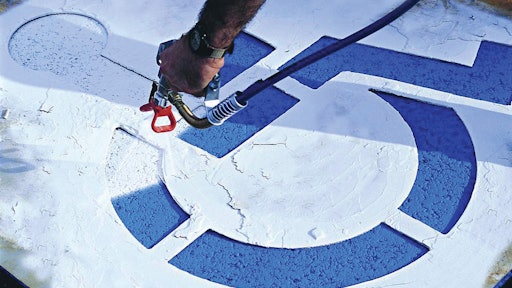 Effective today updates to the Americans with Disabilities Act approved in 2010 take full effect -- and just as these standards were a boon the pavement maintenance industry when initially approved in 1991 the updates provide another opportunity for contractors to become the problem solvers for their customers.
The updated guidelines make it clear that the ADA Standards are a network of interconnecting requirements designed to make it easier and safer for those with disabilities to access public buildings—in the case of our industry that means from the time people park their car or van until they reach the accessible entryway.
Contractors and property owners and managers need to be aware, if they aren't already, that the standards that create this network of accessibility lead from one requirement to the next and that at each stage the requirement must meet applicable standards. That means, for example, that the parking place must be constructed and marked to meet ADA standards, including an appropriate "access aisle" immediately adjacent to the parking space. This access aisle must immediately connect to an "access route" that a person can easily and safely follow, and the entire access route must meet ADA standards including with regards to slope, obstructions, and height clearance. And, should this access route cross a curb the ADA requires a "curb ramp," which must itself meet specific standards for detectable warnings, slope and space for a wheel chair to turn around.
The ADA does not specify who is to make the decisions on applying the standards to a parking lot but there is little question that the property owner is ultimately responsible for making sure the property meets the guidelines. And in instances where requirements are not spelled out – such as the path of the access route from the parking space to the entryway – the contractor, architect, and property owner are given leeway into how that path is determined – provided the final route meets all ADA Standards.
Like any government regulation the ADA Standards are complex and it can be difficult to find the answer to a specific question. But that's a great opportunity for contractors to become indispensible to their customers. You can start at www.ada.gov and Pavement Maintenance & Reconstruction will provide an overview in the May issue