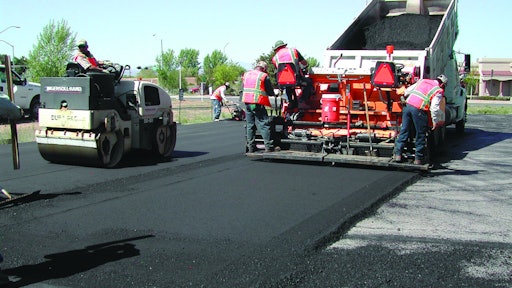 A new Green Roads Summit at CONEXPO-CON/AGG 2011 will offer attendees ready-to-apply green road construction techniques and insights into the latest environmental jobsite practices. 
"We are all aware of the rapid growth of the green building movement in the structures environment but it seemed many contractors were initially caught unawares by the requirements of LEED and similar programs," says William Turley, executive director of the Construction Materials Recycling Association (CMRA) and associate publisher and editor of C&D World magazine. "The green highways movement is still in its early stages. All the organizers felt that providing contractors a heads up on what would be coming down the road would be a great way to promote the green roads concept to them, the people who would have to implement the plans."

The daylong Green Roads Summit will be held Thursday, March 24, 2011, at the Las Vegas Convention Center and is open to all CONEXPO attendees. It is a collaboration between CONEXPO-CON/AGG and CMRA, U.S. Federal Highway Administration (FHWA), U.S. Environmental Protection Agency (EPA) and Associated General Contractors of America (AGC).

Also participating are industry experts from groups including Maryland State Highway Administration, New York Department of Transportation, American Concrete Pavement Association (ACPA), Diesel Technology Forum, National Asphalt Pavement Association (NAPA) and Rubber Pavements Association.

"Sustainability is an issue that transcends national borders, so attendees from the United States as well as worldwide will find the topics of interest. It's a great opportunity for attendees to meet with leaders in this emerging area to discuss current and future best practices," says Turley.

Kicking off the event is Steven Van Beek of the ENO Foundation for Transportation, talking on "Climate Change, Sustainable Transportation and Economic Competitiveness." Emerging trends in sustainability will be the focus of the summit's morning general sessions, including FHWA's sustainable-highway criteria tool and pilot projects.

Afternoon sessions will cover a variety of topics related to recycling and reuse, stormwater management and climate/air issues.

Recycling/Reuse breakouts will discuss use of industrial byproducts in pavements, recycled asphalt pavement, scrap tires in rubberized asphalt, in-place concrete and asphalt pavement recycling and two-lift concrete construction with recycled concrete.

Stormwater Management breakouts will focus on watershed-based stormwater management, low-impact development processes/practices, performance/value of green infrastructure, and case studies of the Colorado stormwater excellence program and Maryland inter-county connector.

Climate/Air breakouts will cover achieving profitable and sustainable fleet operations, regulatory updates and a "clean diesel" retrofit case study.
"So much of America's resources are devoted to the road and bridge environment that even small, incremental improvements in materials use can bring major ecological and environment benefits," says Turley. "And much of what is under these programs, especially the use of recycled materials of all types, is not only economically feasible but can even save money over traditional means."