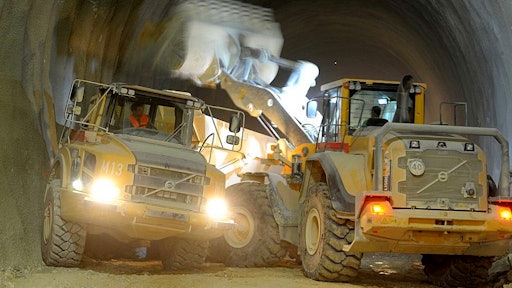 The challenge:
Excavating two single-track, 4-mile-long rail tunnels for construction of Germany's high speed Inter City Express rail line into the center of Ulm.
The players:
ARGE Tunnel Albabstieg
Robert Aebi GmbH
The process:
Work on the twin-bore Albabstieg tunnels began last year and a tight schedule has been set to carve through 2.5 miles of limestone rock and emerge in front of Ulm main station by December 2017. A fleet of Volvo Construction Equipment (Volvo CE) machines are helping to achieve this enormous task.
The tunnel is the final link between Stuttgart and Ulm central station for the Inter City Express (ICE), the fastest of the Deutsche Bahn (Germany's national railway) trains. It connects all the major German cities, such as Frankfurt, Hamburg, Stuttgart, Munich, Cologne and Berlin. The next stop will be Ulm. 
The construction consortium, ARGE Tunnel Albabstieg, is responsible for building the tunnel. The project involves excavating two single-track rail tunnels from the town of Dornstadt to Ulm. Each bore is more than 30 feet in diameter and 4 miles in length, with a 16-inch to 20-inch-thick, concrete inner shell.
The twin tunnels to Ulm are each being bored at a rate of 49 feet a day. This schedule will run 24-hours, seven days a week until December 2017. Critical to the plan are the wheel loaders and articulated haulers the excavated limestone rubble, as the high-intensity mining operation proceeds.
In November 2013, Volvo CE dealership Robert Aebi GmbH was awarded the contract to supply nine Volvo L150 wheel loaders (four G-Series and five H-Series) and 10 Volvo A30 articulated haulers (eight F-Series and two G-Series).
"We needed machines that could provide the reliability, service and back-up required for such an intensive tunneling schedule," says ARGE project manager, Mathias Abele.
"My experience of working with Volvo on previous projects was positive enough to give me the confidence that its machines could provide the service and reliability required for the project," says Eric Lüpfert, mechanical engineer at ARGE. "The wheel loaders and articulated haulers have been specially configured for tunnel work, including custom tires, air filters, automatic engine cut-out systems, automatic fire extinguishers, optical and acoustic reversing warning devices, LED lighting, protective headlamp guards and reinforced heavy-duty cabin roofs."
The construction company had also decided it wanted to purchase outright, rather than rent — it was important for ARGE to deal with one reliable supplier, rather than many.
"As far as ARGE and Deutsche Bahn are concerned, every link in the extraction chain has to be solid and unbreakable," explains Manfred Prinz, sales manager at the Robert Aebi dealership. "The contribution from our machines will be to keep this extraction carousel going day in, day out, for two-and-a-half years."
Each explosion releases many tonnes of blasted limestone, which is then moved by the Volvo wheel loaders on to Volvo articulated haulers for transporting to designated recycling sites. The blasted material is sorted and reprocessed on-site, then sold on for use in cement production.
For the fleet of Volvo articulated haulers, this work schedule represents an estimated 370 round trips every 24 hours. Over the life of the project, the Volvo machines will shift an estimated three million tonnes of excavated rock.
As tunneling progresses, the demands will increase. The final stages of the project will see the Volvo haulers making an 5-mile round trip to the 'business end' of the tunnel, returning up a gentle incline with their 33-ton loads. This will certainly test the performance of the Volvo carousel, although both ARGE and Volvo CE are confident of the machines living up to expectations.
On standby
Manfred Prinz emphasizes the lengths his company has gone to in meeting the need for machine reliability and availability. In addition to the fleet of machines purchased for the tunnel project, the dealer has placed an L150 wheel loader and an A30 articulated haulers on-site, available as standby machines for the contractor.
While day-to-day maintenance is undertaken on-site by ARGE, specialists at the Robert Aebi dealership are just 12 miles away, on call for technical support and ready to intervene whenever necessary.
"Nothing is left to chance," Prinz stresses. "The 24/7 tunneling schedule cannot be allowed to stop. In addition to supplying them with high-performance machines, we are capable of providing the level of back-up and support they require for this time-critical project."