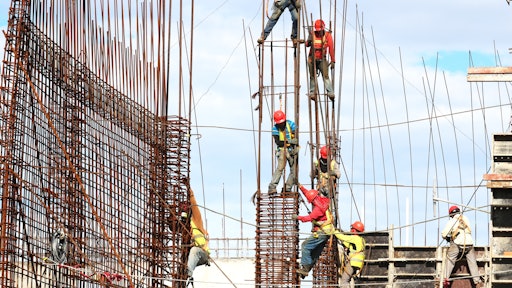 Josue Isai Ramos Figueroa/Unsplash
The construction sector added 10,000 jobs in October, pushing the total for the past 12 months to 148,000, according to the U.S. Labor Department's monthly employment situation report.
The sector's annual 2% employment growth rate outpaced the overall 1.4% rate of job gains, thanks to steady public investment. The monthly gain in jobs was boosted in part by an increase in single-family homebuilding following recent Federal Reserve interest rate cuts that spurred activity.
The construction unemployment rate was 4% in October.
Average hourly earnings in construction advanced 2.4% from a year earlier to $30.95. That is notably higher than the overall private-sector average of $28.18.
Despite job growth, construction spending is down
Construction spending, however, declined 2% between September of this year and the same month a year earlier, according to an Associated General Contractors of America (AGC) analysis. The Association blamed global trade disputes and higher tariffs that have fostered uncertainty and undermined demand. These developments likely kept construction hiring from even stronger levels in October.
Read next: Nonresidential Construction Continues to Add Jobs

"The construction industry is still adding workers at a faster clip than the overall economy, but growth has slowed as private nonresidential and multifamily construction spending shrinks," said the association's chief economist, Ken Simonson.
Construction spending totaled nearly $1.3 trillion at a seasonally adjusted annual rate in September. That was up 0.5% from the previous month but down 2% from a year earlier, according to the AGC analysis of U.S. Census Bureau estimates.
"Resolving trade disputes and providing businesses with greater certainty about trade and tariff levels will help accelerate demand for new construction projects," said Stephen Sandherr, AGC's chief executive.
Heavy-civil construction sees highest job growth, nonresidential building posts loss
Within construction categories, heavy-civil construction added 6,000 jobs in October, according the Labor Department — the best showing within the sector. Residential building added 2,900 jobs, and the residential specialty trade contractors segment grew by 2,200. These and other gains were partly offset by the loss of 1,700 jobs in nonresidential building and a loss of 300 among nonresidential specialty trades.
"Increasingly, the nonresidential construction sector is a tale of two industries," ABC Chief Economist Anirban Basu said in a statement. "While the overall industry has added jobs for the past three consecutive months, the segments most closely tied to commercial construction  — including retail and lodging — have slowed substantially. There are many reasons for this, including emerging concerns regarding saturation of available commercial product in a number of areas."
Read next: Construction Starts to Slip Back in 2020 as Economic Growth Eases

More broadly, the U.S. economy on the whole added 128,000 jobs in October and wage growth was up 3% from a year earlier. U.S. employers have collectively expanded payrolls for 109 consecutive months. On average this year, companies have added 167,000 jobs per month in 2019.
The national jobless rate was 3.6% in October, up slightly from September's 50-year low of 3.5%, as the labor force participation rate increased.
Companies in this article