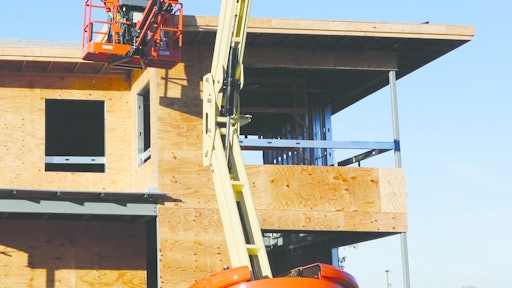 Many changes are coming our way in 2015 — most of them good, with some of them not so good.
Construction business is improving from what I can tell. Backlogs are better and it looks like a busy year for contractors. (Knock on wood!)
The rental industry is also improving. According to a recent survey, 60% of equipment dealers plan to increase the size of their rental fleet; 38% plan to significantly increase fleet size; and another 38% plan to keep their fleets at the current rate. The rental companies are making fleet adjustments, as well.
What is driving these adjustments? You are! Of the contractors polled by Wells Fargo, 45% indicated they will rent the same amount of equipment in 2015 as last year, 26% will increase rentals moderately and 11% will significantly increase rentals.
The point here is there should be a meaningful improvement in rental asset availability, which makes life easier for contractors as well as equipment manufacturers.
A word of caution is in order, however, because many equipment dealers are venturing into rent-to-rent transactions for the first time. Consequently, they could find themselves behind the service "curve" while they are going through this learning stage. It would behoove you to take extra care when working with one of these "new" rental sources to make sure they can deliver the goods.
Rent or Purchase?
Another reason rental is increasing is Tier 4 emissions requirements. Not only are the Tier 4 models more expensive, they have higher maintenance costs without a clear vision of what residual values will be. If that isn't enough for a contractor to rent more, there is a need for highly skilled technicians, and the equipment required to analyze Tier 4 models is costly to the point of why take the risk if you can rent?
If you do plan to buy, financing packages are attractive and should stay that way. With dealers adding to rental fleets, it means less outright sales to customers. That means manufacturers have a lot to sell and will offer attractive deals to get them sold. To make it even better, interest rates are still very low. So if utilization on the equipment will be 60% or better for the entire year, it may be time to see what's out there.
I was going to give you some tax planning ideas for 2015 and then decided to see if Congress does a tax overhaul this year. So far, there's not much action, and until something happens, here is where you stand. In 2015, we have the 5-year class lives for depreciation expense, which means 20% for the first year with zero bonus depreciation. These rates are what we had before the bonus era — okay, but not great.
Based on what Congress has on its plate, it appears we could get lower depreciation write-offs in the future, along with proposed lower individual rates. I'll believe it when I see it. You can probably not expect any tax action in 2015, unless you get audited. (Let's hope not!)
Expanding Role of Rental Companies
I don't think it's any surprise that, as equipment gets more expensive and complex, rental companies will benefit and gladly take on both the maintenance and residual risk of the rental units.
It's not hard to understand how rental companies that work on the same equipment all day long are able to handle these new units hitting the markets. In addition, rental service technicians get OEM training on a regular basis to help them get units rental-ready for the next day. One thing OEMs understand is if the rental companies can't operate their units profitability, they will find another vendor.
Add telematics to the equation and the rental option looks even better. Again, here is an area where most contractors cannot compete because they have neither the personnel nor the technology to make telematics work to their advantage. From what I see and
hear, contractors are demanding these services from their equipment dealers and rental companies, which can work if the expertise is in place to interpret the data.
In my mind, technicians and technology are the key to profitability in the construction business. But when you think about it, they don't have to be your company's techs or technology — they could belong to your equipment rental vendor.
Garry Bartecki is the managing member of GB Financial Services LLP and a consultant to the Associated Equipment Distributors. He can be reached at
(708) 347-9109 or gbartecki@comcast.net.