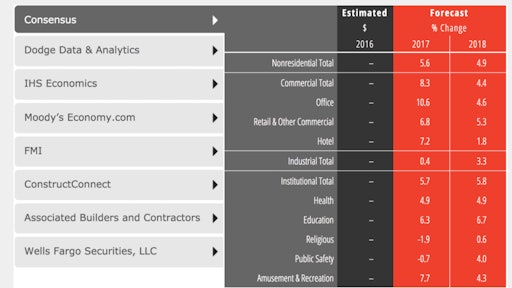 Entering 2017, the construction industry is looking forward to another couple of years of healthy growth. The economy in general is doing well with healthy job growth, rising wages, low interest rates, and very strong levels of business and consumer confidence.
Construction levels surprised many on the upside this past year, particularly for most commercial categories. According to current estimates, spending on offices increased more than 20% in 2016, hotel spending was up about 25% and even retail and other commercial facilities saw growth of about 10%. Industrial construction was weak, as expected. Institutional project activity was somewhat disappointing, particularly for healthcare facilities.
Looking back at 2016
Last year was a chaotic year for nonresidential building activity. For most serving this market, it turned out to be a successful year — construction spending in this sector rose almost 8%, according to current estimates — even as challenges to the industry were continually emerging.
Construction labor remains a major concern. Virtually every segment of the design and construction market is reporting that recruiting and retaining qualified staff is a growing issue. Many workers left the industry during the downturn, and others left the workforce entirely. Rebuilding a competent and productive workforce is a challenge, particularly when the national unemployment rate is below 5%. 
The decade-long decline in interest rates is coming to an end. Long-term rates have been edging up in recent months, and the Federal Reserve Board's hike in short-term interest rates in December is likely to be matched by another two to three increases this year. Many feel that this current economic cycle is well past its prime, so a recession watch remains. While the imminent threat of a national economic recession seems modest, most analysts have it in the back of their minds and each new economic threat will be viewed in this context. 
Looking ahead in 2017
For the coming year, the American Institute of Architects (AIA) Consensus Forecast panelists are projecting growth in overall nonresidential building spending of almost 6%, virtually identical to their projection from mid-year 2016. Commercial construction activity is expected to increase in excess of 8% this year, which is slightly above the projection from mid-2016. Industrial construction looks to remain essentially flat at 2016 levels, below the growth expected as of the last forecast. Institutional construction is projected to grow at an almost 6% pace, largely unchanged from last summer's consensus.
The Consensus Forecast panel sees the construction cycle continuing to ease moving into 2018. Overall building spending should increase by about 5% that year, with the commercial and industrial sectors growing at a slower rate than the overall building sector. Institutional building activity will pick up some of the slack, growing nearly 6%. Educational facilities are expected to see healthy gains, and even healthcare spending is projected to be fairly strong.
How the new administration's potential policies may impact construction
The general uncertainty surrounding the construction outlook has been heightened by new policy directions being proposed by the Trump administration. Many of these policy discussions are not yet sufficiently developed to project specific implications, but there is a long list of issue areas that may have an impact.
Infrastructure investment: The infrastructure investment proposal is the one area under discussion that has the greatest direct impact on the construction industry. With national construction spending currently running at about a $1.2 trillion a year pace, this proposal to increase spending by up to $1 trillion over the coming decade would have a dramatic impact on the industry. In all likelihood, buildings would not be much a focus for most of these projects. However, the additional demand for labor and materials would put pressure on an already stressed industry.
Repeal and replace Obamacare: Healthcare accounts for about 10% of building spending nationally, so major changes to the healthcare system, or even uncertainty surrounding the possibility of major changes, could have significant impacts on building construction levels.
Roll back governmental regulations: A widely cited study by the National Association of Home Builders concludes that, on average, regulations imposed by government at all levels account for 25% of the final price of a new single-family home built for sale. While the federal government has limited ability to influence state and local regulations, initiatives to reduce government's involvement in the private sector construction process would likely streamline the design and construction process.
Tax reform: Trump administration proposals for simplifying and potentially reducing tax burdens are likely to have disproportionate benefits to the corporate sector and upper-income individuals. This would likely increase the availability of capital for investment, thereby increasing commercial and industrial construction, at least in the short term.
Trade: Restricting trade would likely increase prices of imported construction products. For construction product manufacturers, those relying on exports could see reduced demand, as our trading partners may decide to match any US restrictions on their goods. Those with import competition might see increased demand, as tariffs or restrictions likely would raise prices on these imported goods.
Immigration: Construction is one of the US industries that is most reliant on immigration for its workforce. Limiting immigration could exacerbate an already serious labor problem in the industry.
Financial deregulation: Rolling back Dodd-Frank provisions would increase the availability capital for mortgage, real estate, and construction loans. Privatizing government-sponsored enterprises like Fannie Mae and Freddie Mac could reduce lending to the residential sector.
Energy policy: Efforts to make the US energy independent would unleash programs to boost fossil-fuel production. Incentives to encourage the development of renewable energy sources and promote sustainable design and construction would likely be significantly reduced with these programs.
While few of the proposals around these ideas directly affect construction, most have at least some potential impact on the industry. Some would generate more construction activity, and others less. Monitoring progress along these agenda items will help to assess how construction will fare in the coming years. 
Encouraging outlook for construction 
The prospects for the construction sector for this year and next remain quite positive. Even with all the challenges facing the industry, the expectations are that construction spending will outperform the broader economy this year and next. The AIA's Architecture Billings Index (ABI), an accurate indicator of construction activity that leads spending in the nonresidential sector by nine to 12 months, moved up sharply in December. Firms with a commercial/industrial, as well as those with an institutional specialization reported the strongest growth of the year in December, once seasonal adjustments are applied. New design work is coming into architectural firms at a healthy pace, and firm backlogs are at sound levels, so the industry has a lot of momentum heading into 2017. 
Still, it is clear that the industry is on the down side of this construction cycle, meaning the growth rates will slow in the coming quarters. The commercial sector is typically the first building sector to see a slowdown, and that is expected to be the case again this time, with growth in construction spending on commercial buildings projected to fall from about 17% last year to 8% this year to just over 4% in 2018. Institutional construction will offset some of this slower growth, with spending growth of about 4.5% last year rising to around 6% this year and next. However, being this late in the cycle, the industry is more vulnerable to external disruptions, and the list of possibilities in this category is very long at present.