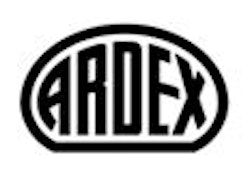 ARDEX Academy Technical Training offers classroom and hands-on product installation training at eight locations throughout North America. Participants will learn proper substrate preparation and the newest installation techniques.
Sessions for Spanish-speaking attendees are currently offered at the Mansfield, Texas location.
Class size is limited to provide maximum participant experience so class availability will change. The most current schedule is posted at www.ardexamericas.com. Click on ARDEX Academy.
The following classes scheduled through 2014 are currently open for registration:

ARDEX Designer Floors
Anaheim, Calif. — October 16
Portland, Ore. — November 6
Delta, British — Columbia November 19
Stockton, Calif. — December 3
ARDEX Polished Concrete Systems
Delta, British Columbia — November 20
Stockton, Calif. — December 4
ARDIFLO AMP 200 4-hour Pump Training
Aliquippa, Pa. — November 20
ARDEX MC Moisture Control Systems
Aliquippa, Pa. — October 8
Mississauga, Ontario — October 14
Anaheim, Calif. — October 15
Stockton, Calif. — October 29
Portland, Ore. — November 5
Mansfield, Texas — November 11 (Spanish)
Delta, British Columbia — November 18
Mississauga, Ontario — November 18
Aliquippa, Pa. — November 19
Mansfield, Texas — December 2
Portland, Ore. — December 2
Stockton, Calif. — December 2
ARDEX Tile & Stone Installation Systems
Mississauga, Ontario — October 7
Anaheim, Calif. — October 14
Mansfield, Texas — October 14
Portland, Ore. — November 4
Aliquippa, Pa. — October 16
Stockton, Calif. — October 28
Mansfield, Texas — November 18
Portland, Ore. — November 18
Mississauga, Ontario — December 2
Aliquippa, Pa. — December 9
ARDEX Underlayments & Toppings
Mississauga, Ontario —Octob er 1
Mississauga, Ontario — October 15
Stockton, Calif. — October 30
Aliquippa, Pa. — November 17 & 18
Mississauga, Ontario — November 19
Mansfield, Texas — December 3 & 4
Engineered Concrete Repair Systems
Mississauga, Ontario — October 8
Mississauga, Ontario — October 9
Mansfield, Texas — November 4 & 5
SystemOne
Aliquippa, Pa. — October 6 & 7
Mansfield, Texas — November 12 & 13 (Spanish)
Espanol Mansfield, TX
ARDEX MC Moisture Control Systems — November 11 (Spanish)
SystemOne — November 12 & 13 (Spanish)