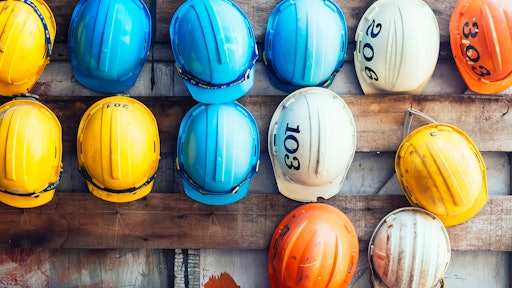 Adobe Stock Images | By VTT Studio
Across the spectrum of jobs on construction worksites, workers face many hazards that can lead to injury or even worse: a fatality. The Occupational Safety and Health Administration (OSHA) reports that there were 1,061 construction fatalities in 2019, which was about 20% of total worker fatalities that year, in spite of the fact that construction employees comprise just 6% of the workforce. There were around 196,000 construction workplace injuries in 2019.
Injuries and fatalities in the workplace are not only bad for those who suffer them but can also be quite expensive for the companies operating the sites where they occur. Construction injuries are particularly common—and costly. Every year, construction-related fatalities cost the U.S. approximately $5 billion (a May 2017 amount reported by the Midwest Economic Policy Institute) in lost production and lost income. The good news is that many of these injuries and associated costs can be prevented by implementing a safety-first culture through the entire organization.
Construction sites can be dangerous places to work and it takes thoughtful pre-planning to reduce worksite hazards. While not all risks can be eliminated, leaders can manage risks to prevent injury and loss. This, of course, requires that employers understand the specific hazards of all various jobsites, from residential, commercial, institutional or industrial construction. Only then can they provide the proper personal protective equipment (PPE) to help prevent injuries, saving lives, time and money. By creating a culture of safety and implementing it, employers can help keep their teams secure every day.
In tight labor markets, retaining and recruiting top talent is critical to business outcomes and a site's safety record can be used as an effective tool to attract younger workers who are entering the workforce. Following are some of the most common construction dangers and mitigation measures companies should implement to safeguard against them and keep workers safe.
Falling
Falls from height are the most common cause of construction injuries and fatalities, making up a full third of jobsite fatalities in the industry. Falls bring not only a great deal of pain and suffering to workers but also a lot of downtime and lost productivity.
Falls can happen anywhere—from roofs and scaffolding, and into trenches and holes. This is why OSHA requires that fall protection be provided for all those who are working 6 ft. or higher. Fall protection is also required for those working with dangerous equipment, whatever the fall distance may be.
PPE should be light, breathable, and flexible.
Harnesses should fit various body types, flex to allow motion and provide ventilation.
It is vital that employers provide the right fall protection for each situation. There are many options, including self-retracting lanyards, harnesses, and anchorage systems. All of them should be durable and comfortable because if the equipment isn't easy to wear, workers are less likely to wear it correctly.
Employers should look for PPE that is light, breathable, and flexible. Harnesses, for instance, should fit various body types and flex to allow a full range of motion, while also providing ventilation to keep workers cool and comfortable. The best options are ergonomically designed to limit fatigue.
Podcasts on Construction Safety on ForConstructionPros.com
Safety & How it Impacts Culture & Employees, Part 1 by The Contractor's Best Friend Podcast - From rearview cameras to backup sensors, technology advancements in safety on the jobsite are continuing to grow – make sure your company stays ahead of the curve.
PPE Best Practices with Safety Expert John Meola - John Meola, safety manager, Timmons Group, discusses PPE best practices that can help to enhance safety on your construction sites.
Head Protection Moves Beyond Hard Hats to Maximize Safety - Learn how advances in head protection design help to enhance safety and tailor this critical PPE to jobsite applications.
Improving Work Zone Safety Through Innovation - PSS International is delivering products to the industry that help to ensure every person arrives home safely at the end of the day.
Struck-by Injuries
Struck-by injuries are usually caused by heavy equipment, vehicles, and flying or falling objects and are the top cause of nonfatal injuries among construction workers. They also result in billions paid in compensation.
To help prevent these injuries, employers should provide proper training and ensure that equipment is inspected before each use. They should also supply the proper PPE for workers, including safety goggles, face shields, and hard hats.
Look for hard hats and safety helmets that furnish best-in-class protection, as well as comfort and durability.
There are numerous PPE options available. This is good, but it means that choosing the right PPE for each specific situation can be a challenge. Employers should examine all options carefully. For example, they should look for hard hats and safety helmets that furnish best-in-class protection, as well as comfort and durability. If the headwear is lightweight and comfortable, workers won't just have to wear it, they'll want to wear it.
Eye protection should also be carefully chosen. Poorly fitting eyewear can be just as hazardous as no eyewear at all. For outdoor workers, it makes sense to choose eyewear with lenses that are polarized, mirrored and fog-resistant.
Electrocution
Construction workers are four times more likely to be electrocuted than all other workers combined. But electrical hazards can be minimized with the correct precautions. Workers should constantly be reminded to use caution around live wires, to de-energize equipment before starting any repairs, and to always wear the right PPE, including gloves and footwear made to protect against a range of electrical hazards.
Industrial-grade gloves should resist cuts, be lightweight, and flexible.
Employers should provide industrial-grade gloves designed to protect workers from all types of electrified surfaces and components in all possible environments. Gloves should resist cuts, be lightweight and flexible enough to allow a full range of motion, so workers won't remove them to manipulate small wires and parts, all while providing sufficient grip.
Noise
Construction workers have the second-highest rate of occupational exposure to dangerous noise levels, and yet more than half of noise-exposed construction workers say they don't wear hearing protection.
OSHA requires employers to implement a hearing-protection plan whenever exposure to noise is at or over 85 decibels averaged over 8 working hours. This is important because damage from noise exposure accumulates over time. Constant exposure to noise over 85 decibels can lead to permanent or temporary hearing loss and tinnitus (ringing in the ears). Loud noise can also compound the rate of other injuries by limiting workers' ability to hear what their coworkers are saying.
Earmuffs should fit a broad range of head and ear sizes, have a lightweight cushioned headband, and memory foam cushions for comfort.
Employers can best protect the hearing of workers by giving them PPE that is thoughtfully designed and fits well enough to seal workers' ears from noise. Earmuffs should comfortably fit a broad range of head sizes and ear sizes, including ears with hearing aids. They should have a lightweight, cushioned headband and memory foam cushions for comfort. Earplugs should be made with quality materials that cancel noise even in very loud environments and should be ergonomically designed to allow full and easy insertion and removal.
To help with noncompliance, employers should provide education on the long-lasting effects of hearing loss, which can have a severe impact on quality of life. Asking a simple question to an employee like, 'What is your favorite sound?' can help make it resonate.
Airborne Hazards
Construction sites are full of airborne contaminants, including gases, dust and chemicals. One of the most common and most dangerous is breathable crystalline silica, which is often in the air at construction sites. In fact, 2.3 million people in the U.S. are exposed to silica on the job.
Crystalline silica is produced when workers crush stone, cement, brick or mortar. It's generated by sawing, cutting, drilling and grinding, and inhaling it is dangerous. Silica dust can cause problems like lung cancer, silicosis, chronic obstructive pulmonary disease (COPD) and even kidney disease. This is why OSHA mandates that employers limit workers' exposure to respirable crystalline silica and take other measures to protect them.
Respirators should provide moisture resistance and breathability, and should fit a variety of faces with a proper seal.
Here again, the right protection is vital. Respirators, whether reusable or disposable, should provide moisture resistance and breathability, and should fit a variety of faces with a proper seal. If not, workers risk using them incorrectly.
Construction workers face many hazards on a daily basis, so having the right PPE is critical. Employers should seek out these solutions and provide education and training, not only to protect workers but to build a culture of safety. By doing this, employers can decrease accidents and the costs associated with injuries, while driving positive business outcomes for on-time and on budget project execution by having the right workers in the right place at the right time.
About the author
Omar Vikin is the General Manager for High Risk Personal Protective Equipment at Honeywell.