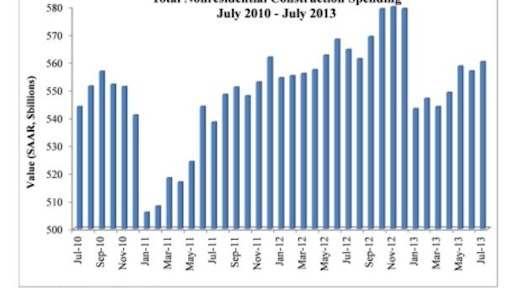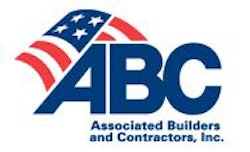 The nation's builders were busy in July as construction spending increased 0.6 percent to $900.8 billion - the largest upswing in four years - according to the September 3 report by the U.S. Commerce Department.
Nonresidential construction spending also rose 0.6 percent in July but is down 0.8 percent compared to one year ago.
Private nonresidential construction spending grew 1.3 percent, only to be offset by a 0.2 percent decline in public nonresidential construction spending. On a year-over-year basis, private nonresidential construction is up 2 percent while public nonresidential construction spending has dipped 3.7 percent.
Construction Spending Hits Four-year High in July 2013 Based on Private Spending Strength
Eleven of 16 construction sectors posted monthly gains in spending. The largest gains were in:
lodging, up 5.8 percent
conservation and development, up 3.6 percent
manufacturing, up 3.3 percent
transportation, up 2.4 percent
Six subsectors experienced higher spending on a year-over-year basis, including:
lodging, up 29.9 percent
commercial, up 1.6 percent
power, up 6.1 percent
sewage and waste disposal, up 3.8 percent
water supply, up 9.5 percent
manufacturing, up 0.2 percent
In contrast, spending in five nonresidential construction sectors declined in July, including:
educational, down 0.7 percent
religious, down 3.1 percent
public safety, down 8.1 percent
amusement and recreation, down 2.7 percent
highway and street, down 1.1 percent
On a year-over-year basis, construction spending has softened in 10 subsectors. The largest losses occurred in:
religious, down 18.1 percent
public safety, down 14.1 percent
amusement and recreation, down 12.6 percent
communication, down 12.5 percent
Residential construction spending increased 0.5 percent for the month and is 16.8 percent higher than the same time last year.
"July represented a period of accelerated progress in terms of private nonresidential construction spending," said Associated Builders and Contractors Chief Economist Anirban Basu. "However, a deeper look at the data indicates recovery remains subdued in many key segments.
"For example, within the commercial construction segment, construction spending was down 3 percent in the automotive category, 6 percent in the dining/drinking category and 31 percent in the mini-storage category," Basu explained. "Private preschool construction was down nearly 20 percent for the month and amusement park spending was off 26 percent.
"All of this indicates that even in the fifth year of economic expansion, recovery in the nonresidential construction sector remains sporadic," remarked Basu. "This should come as little surprise because economic growth remains at or below 2 percent, capital remains highly constrained and a lack of confidence pervades the economic environment.
"Moreover, the impact of strained public finances continue to be felt," Basu said. "Public nonresidential construction fell again last month and is down nearly 4 percent for the year. Given sequestration, rising interest rates and the ripple effect of Detroit's bankruptcy, there is little prospect for any near-term improvement in public nonresidential construction even if the economy re-accelerates during the latter stages of 2013.
Construction News Tracker Video: Detroit Bankruptcy and Construction Concerns
"Many economists continue to predict the second half of the year will be better for the broader economy, which would imply better nonresidential construction performance in 2014," Basu added.
"However, with interest rates rising, there are reasons for contractors and other stakeholders to remain cautious," Basu said. "Federal Reserve monetary policy is poised to shift during the next several months, and additional unexpected increases in interest rates could serve to suppress the pace of economic expansion, as well as nonresidential construction starts going forward."
View the June spending report.