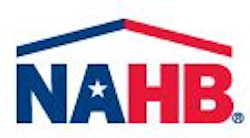 The average size of new homes keeps getting bigger. As homes get bigger, so does the average sales price, rising from $248,000 in 2009 to $318,000 in 2013. "The average home size has continued to rise for the past four years, from 2,362 square feet in 2009 to 2,679 square feet in 2013," said Rose Quint, assistant vice president for survey research with the National Association of Home Builders (NAHB).
The share of new homes with at least four bedrooms has also been on an upward trend, rising from 34 percent in 2009 to 48 percent last year.
Meanwhile the percent of homes with at least three full bathrooms has gone from 23 percent in 2010 to 35 percent in 2013, and the share of homes with three-plus garages has climbed from 16 percent in 2010 to 22 percent last year.
The upward trend also applies to the percentage of two-story single-family homes started, with the share steadily rising from 51 percent in 2009 to 60 percent in 2013.
To find out why homes are getting so big you need to look at who is buying them.
"It requires a high credit score and a nice income to qualify for a mortgage," said Quint, who noted that the spread between the average Experian credit score of all U.S. consumers and the average home borrower's score has risen from 33 points in the early 2000s to 58 points in 2013.
The median income of new-home buyers has steadily climbed from $91,768 in 2005 to $107,607 in 2011. During the same period, the number of new-home sales has dramatically declined, from 1.28 million to 306,000. "There are not as many people who have the income that can qualify for a new home," said Quint.
The features that builders are most likely to include in a typical single-family home this year are a walk-in closet in the master bedroom, low-e windows, a laundry room and a great room, according to the latest survey by NAHB.
Energy-efficiency is also a key theme, as Energy-Star rated appliances, programmable thermostats and Energy-Star rated windows also rank high on the list.
According to builders, granite countertops, a double-sink and a central island will likely make the cut in the kitchen as well as a linen closet and a private toilet in the bathroom.
Other features that builders are likely to include are first-floor ceilings at least nine-feet high, a front porch, exterior lighting and a patio.
Conversely, the most unlikely features to show up in 2014 homes are laminate kitchen countertops, an outdoor kitchen, an outdoor fireplace, a sunroom, a two-story family room, a media room, a two-story foyer and a whirlpool in the master bathroom.
Companies in this article