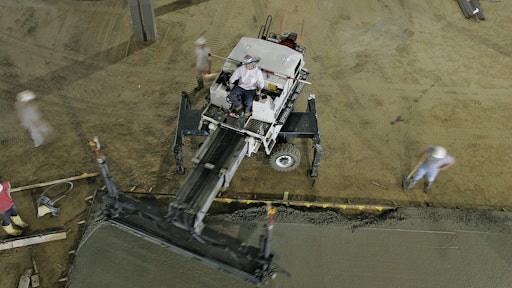 In southern New Hampshire, near the border with Massachusetts and 60 miles northwest of Boston, is the small town of New Ipswitch, headquarters of S&S Concrete Floors. Dave Somero bought S&S Concrete Floors in 1974. The concrete construction business started small with two employees, two trucks and a walk-behind trowel. The company focused on commercial and retail projects, taking on the occasional residential job. David Somero Jr. says his father ran the business always wanting to stay ahead of the curve — looking for better ways to perform work and get it done faster. The business added equipment, employees and a strong bank of clients.
In 1984, Dave built the first Somero Laser Screed, a laser-guided concrete screeding machine that revolutionized the concrete industry by improving quality, increasing production and taking away much of the physical burden of placing floors (see sidebar on page 24, "Q&A with the Inventor of the Somero Laser Screed"). The invention not only helped his concrete construction company grow, it also changed the business for contractors worldwide.
Today David Jr., Nathan and Niel Somero own S&S Concrete Floors. Nathan runs the field operations while David spends more of his time in the office. "I hate being in the office just a little less than he does," David Somero says, explaining how he and his brother arrived at the decision on how to split duties within the company.
S&S specializes in commercial and industrial concrete. About 80 percent of its work is in slabs on grade, high rise and multi-story construction, and tilt-up concrete, where S&S collaborates with its sister company in North Carolina, Ace/Avant. The remaining 20 percent of S&S's jobs are in specialty areas like Superflat floors, trap rock floors, grinding and polishing, joint filling, concrete repair, pervious concrete, and decorative concrete.
Somero says he and his brother run the company in the spirit of their father's business model. Their reputation is built on quality jobs, strong relationships and keeping their projects problem-free for their customers. "There are enough problems on any construction site. Our job is to make our customers' jobs easy," he says.
The Somero brothers are also involved in industry groups like the American Society of Concrete Contractors (ASCC), American Concrete Institute (ACI), Tilt-Up Concrete Association (TCA) and (ACPA) so they can stay informed about the concrete industry. They track industry trends and look for new services and products that help them diversify their company. That keeps S&S ahead of its competition and allows them to always offer their customers the latest and greatest. The company added concrete polishing to its list of services a few years ago and is using digital plans and BIM. "Our clients like the added capabilities because they expand their one-stop shopping needs with our company," Somero adds.
The key to getting jobs
Running a business in today's economic climate is tough. Bidding is tight, and competition seems to crawl out of the woodwork. An established company has to stand on its reputation and experience in order to compete with a startup that someone runs out of their basement. Somero says one of the biggest issues contractors face in the real world is competition that prices work too low. "People work cheap because they don't understand the true costs of labor, equipment, risk and overhead. When they price a job too low, quality will suffer because they need to start skimping on the job so they don't lose money. That leads to bad work and bad relationships."
S&S avoids this trap through close cost tracking and careful planning with its clients. "We spend a lot of time on job costing and planning upfront, in the estimating and takeoff stage," Somero says. This approach gives them an accurate view of what a project will cost. "Then we work diligently every day to make sure a project stays on schedule."
S&S also acts as a team member with its customers to review plans and specifications. Somero says their ideal situation is when a GC or owner brings them in during the planning stages of project. "We can review the plans and recommend different ways of doing things," he says. "Then we look for design or specification problems up front and get them fixed before we start building so we don't have to deal with them in the middle of a project."
Staying productive to maximize efficiency also comes with taking the right jobs. S&S looks for jobs that are a good fit for the company — industrial and commercial facilities and warehouses, superflat and other specialty floors. "Those are the kinds of jobs we are best set up to do. We have the equipment and personnel to do that type of work," Somero explains.
Training and safety
Specialty work like that performed by S&S Concrete Floors requires a staff of well-trained and experienced concrete craftsmen. Job training and safety training are often integrated at S&S, stressing the importance of the company's safety culture. When a new employee comes into the fold, he or she goes through drug screening and safety training. Once they get out in the field, S&S pairs new employees with experienced workers. They go through hands-on field training and have the opportunity to work their way up from laborer to other positions if they choose to. The company also has certified ACI Flatwork Finishers on staff.
"We invest a lot into safety training. We run our own safety program, our safety manual is based on the ASCC Safety Manual, and bring in outside consultants for education programs. We are currently implementing an internal, online safety training program, so when employees aren't needed in the field, for example if there is a rain day, they can work on safety education without having to schedule an instructor which is one of the biggest challenges in construction training," Somero explains.
Business challenges
Staying ahead of the curve in your industry means more than staying current on new equipment and techniques. It also means being proactive and educated on changes that will affect the business side of your company. Somero tracks current issues, but is still unclear on how they will affect his business: health care reform, changes to workers' compensation insurance and taxes.
"Regulations don't seem to be getting easier to deal with either. With environmental restrictions and equipment emissions rules, the cost of building is going up. The associated paperwork and training costs money. Ultimately, you have to pass these costs on to your customers if you are going to stay in business," he adds.
Another trend Somero has seen grow in recent years is the issue of risk mitigation. "GCs and owners are pushing more risk down to subcontractors. We see a lot of clauses in contracts that we don't like, and we've had little success getting those changed. Our clients tell us to bid accordingly, but it's challenging because our competitors may not have noticed those clauses or understood the ramifications of them, and their prices will come in lower than ours.
"It's hard to argue that point during the bid process, and there were a lot of times when we thought we might have lost a job because of that," Somero adds.
Despite the challenges with business and competition, S&S continues to win jobs and strengthen its reputation. Its goal to stay ahead of the curve helps them form partnerships with their customers that result in quality building projects.
Sidebar: Company Snapshot
S&S Concrete Floors
New Ipswich, N.H.
Majority owners: Nathan, David and Niel Somero
Founded: 1974
Employees: 65
Scope of work: Commercial and industrial slabs on grade; tilt-up and mulit-story buildings; superflat floors; concrete grinding and polishing; joint filling; repair; and decorative concrete.
Key products and equipment: Somero Laser Screeds and material spreaders; equipment by Allen Engineering and Multiquip, Ashford Formula chemicals, Laser-Grader equipment from Precision Grading Company.