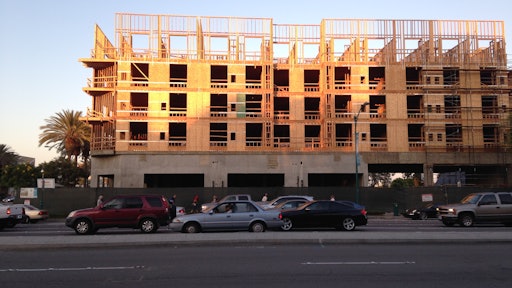 Jaime Farny - Director, Building Marketing, PCA
The construction market is doing reasonably well these days and most concrete contractors are busy. So they aren't particularly aware of the movement away from concrete in some markets to other building materials such as steel and particularly wood "stick" frame construction. There are many reasons for this—a change in the aesthetic preference for wood, marketing campaigns, changing prices, perceptions of what "green" is, lack of education, and building code changes. Of particular note in the wood industry is cross-laminated timber (CLT). Technical developments now make it possible to construct taller buildings, picking up where "stick" construction reaches its limit.
In the 1950's the Portland Cement Association (PCA), Skokie, Illinois, sponsored ads featuring movie stars promoting concrete pavement. But the concrete industry as a whole wasn't interested in extensive campaigns to market concrete as a material until recently. In contrast the wood industry through the American Wood Council (AWC) based in Leesburg, Virginia has devoted large sums of money to market wood in the U.S.—over $33 million 2016 to just such an effort. The money was raised through a check-off program approved by the industry and enabled by the US Department of Agriculture (USDA).
Many historically concrete-favored markets remain strong. For example, foundations for structures and structural freeway pavement aren't likely to lose much market share to other materials. But walls and structural building elements are much more competitive and very important to the concrete industry. Ed Sullivan, Chief Economist and Senior Vice President for the PCA, says that from the depths of the recession in 2010 through projections for 2040, cement consumption is expected to double, an increase of roughly 70 million metric tons of cement, or 308 million cubic yards of concrete. The buildings-related concrete market is expected to account for 74 percent of the total tonnage by 2040, as compared to only 65% in 2010. Thus, building construction will be increasingly important for concrete sales.
Making Material Choices
The PCA conducted a survey in 2006 to determine the primary reasons that material selections are made by owners, architects, engineers, and general contractors. The results are illustrated in Figure 1. The graph tends to justify what many believe, that cost is the most important consideration. But decisions also are influenced by the other factors, depicted by bars in the graph. For example, cost can be greatly impacted by construction time for a project, while some owners make decisions based on how renewable a building material is. The AWC brands wood as a "green" material, suggesting that concrete isn't because of emissions associated with its production.
The Changing Marketplace
Over the past 10 years Sullivan estimates that approximately 45.5 million cubic yards of concrete have been lost due to market share erosion in the building sector of the market, about 4.5 million cubic yards per year. Of this amount, approximately 28.6 million cubic yards can be attributed to market share lost to wood. The construction segment with the largest revenue gain for the wood industry is multi-family housing.
Figure 2 illustrates the erosion (the red part of the bars) from 2006 to 2040. Looking at any one year, market share erosion is small compared with the total. But the cumulative loss is concerning, and even more alarming is the loss of cement market gets progressively worse each year.
The factors most often given for decisions to use wood as a building material include price, trusted sub-contractor skills, and the fact that wood is a renewable crop. But these perceptions are not entirely accurate, nor do they account for the underlying decision drivers of construction professionals with whom the concrete industry must ultimately educate and persuade.
Challenges for the Concrete Industry
The AWC's marketing efforts spans many years, built on a national funding program with  industry partners seeking to further grow market share. By contrast, it has historically been difficult to cultivate interest within the concrete industry to undertake a counter veiling national marketing program. This effort is starting to take shape now. Some concrete organizations have mission statements that exclude marketing responsibility. The American Concrete Institute (ACI), for example, develops guidelines and standards that regulate the entire concrete construction industry but they don't believe they should advocate for the increased use of concrete. Some associations representing segments of the concrete industry spend limited funds to market their specific products. Until now there hasn't been a successful intra-organization effort to market all concrete products through an industry wide marketing effort.
In addition to the need to build consensus, is the challenge of raising funds for a large marketing program across a diverse and competitive concrete-product marketplace. Concrete-related organizations typically focus marketing dollars toward events, education and other programs that benefit their specific audience, leaving the limited ability to send money to other causes.
At International Building Council (IBC) meetings over the past several years the wood industry has successfully changed or lobbied new building codes favorable to wood construction. Jim Baty, executive director of the Concrete Foundations Association (CFA) and Mitch Bloomquist, executive director of the Tilt-up Association (TCI), both organizations based in Mount Vernon, Iowa, have led efforts to "hold the line" against wood-driven provisions under consideration by the International Code Council (ICC) which also considers IBC codes in meetings. Baty says attendance can be expensive for a small association and the rules and schedules for code discussions are complicated. Timing attendance with discussion of an issue involving concrete can also be difficult.
The wood industry lobbies for modifications to existing code provisions for less stringent parameters favorable to wood construction. For example, fire safety is a problem for wood structures so the industry lobbied hard to make sprinkler systems mandatory for all housing a few years ago. They brought large numbers of people and businesses to the meeting where the decision was made to mandate expensive sprinkler systems. The code requires protection for a safe period of time for people to leave buildings on fire, but not long enough to save the structure.
Concrete as a structural material has many benefits. It can fully resist tornadoes, hurricanes, straight-line winds, floods, is highly resistant to fire damage, insects, deterioration, mold, and strong seismic forces. Concrete structures can be very energy efficient and provide long, useful lifespans. But many owners (especially homeowners) and developers have little awareness about structures. They focus more on cost and on amenities they can see.
While wood markets itself as a "green" material the concrete industry needs to market the safety and resiliency that concrete structures provide, as well as its low operational costs. During the operation of a building's life concrete structures can reduce carbon dioxide output by as much as 88- 98 percent compared to other building materials.
Marketing efforts try to change people's attitudes. The AWC has very successfully marketed the "warmth of wood" and its "greenness." Emotionally they want you to see wood and have a warm feeling. They want you to think that having enough 2 by 4's is as easy as growing another crop. On the other-hand, changing people's attitudes about concrete involves education to a wide group, including owners, developers, architects, engineers, and contractors. Education must provide information about the benefits, changing technology, construction efficiency, and the real costs associated with energy efficiency when concrete is used. And, like wood, it can be argued that concrete must determine and promote the emotional associations that end-users value in concrete, something recent research confirms.
CAMRA
Mark Justman, the PCA's Vice President of Market Development, says they are working with the Concrete and Masonry Related Association (CAMRA) to market concrete industry wide—resulting from the growing concern about losing market share to the wood industry. PCA has engaged the Washington D.C. based marketing firm Statler Nagle to develop research and marketing strategy. Justman adds that an effective program could cost as much as $5 million dollars annually CAMRA includes the PCA, the Concrete Reinforcing Steel Institute (CRSI), the National Ready-mix Concrete Association (NRMCA), the American Concrete Pavement Association (ACPA), the Precast Concrete Institute (PCI) the Concrete Pumping Association (PCA), the Tilt-up Concrete Association (TCA), the National Concrete Masonry Association, and the American Society of Concrete Contractors (ASCC).
The marketing program is planned to start on Jan 1, 2018 with a primary mission is to market the entire concrete industry, not the segments of the industry and not any one industry segment over another.
As the Managing Partner of Statler Nagle, Tom Nagle leads the team that is putting together the comprehensive marketing program for CAMRA. He says his company is experienced with marketing commodity products and marketing programs involving multiple organizations where collaborative efforts are key. Nagle also worked on the "Got Milk" marketing program—another commodity product.
Nagle says final marketing plans are still being worked out but there are some guiding principles:

It must be a large collaborative effort involving all segments of the industry.

Broad industry participation will help promote more appropriate and favorable building codes.

Including education for developers helps communicate value to end-users.
Marketing messages must be universal.
While a tag line might be expected, the campaign must be flexible to different industry segments and companies. Adoption of a single set of messages is the key to success,
Closing Thought
Most people tend to regard concrete as a commodity, it's just there and it does its job. But in one of Statler Nagle's recently conducted surveys they learned concrete provides a strong sense of protection and security for both commercial and residential users. A key goal for the marketing campaign is to increase awareness of what concrete can do for them and to think about it in a new way. Marketing isn't only an expense; it has the power to drive decisions that ensure value for investment—in homes, buildings and other structures built with concrete.
For people in the industry this would seem like a no-brainer. But marketers know that most decision-makers and consumers are only thinking about you when you're telling them your story, and promoting your value. Those that market effectively gain share and revenue—something the wood industry has been doing for some time. Hopefully that will begin to change soon.