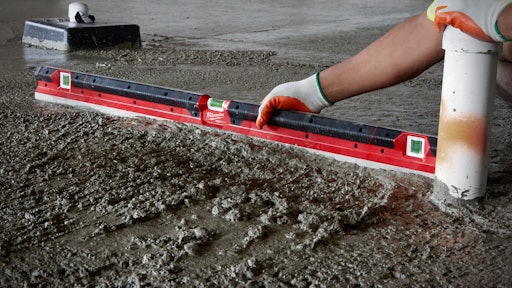 Milwaukee Tool
Taylor Crenshaw, a senior product manager for the Milwaukee Tool Company, Brookfield, Wisconsin, says that getting out on the jobsite to have real discussions with contractors and users is what drives the company's research and development of its newest tools. This user-focused research is what led them to discover a new way for contractors to strike-off concrete, level, and finish all with one tool. "Concrete workers need to be more efficient than most due to the time-sensitive material they're working with," he says. "Our goal was to make their work more productive." 
The company identified three key tools these users required every day and combined the functions of each into one easy-to-use solution. This new tool, called the REDSTICK™ Concrete Level, not only levels but it also screeds (strikes-off), and finishes (floats).
The level
Concrete work such as sidewalks, driveways and curbs are almost always pitched to drain water. The two most standard pitches are 2% and 1%, which is indicated as an individual line on Milwaukee's new level vial to easily find these measurements. Finishers are pretty good at estimating bubble distance from level but Milwaukee's new tool makes this easy and accurate.
It is customary for a finisher to check the slope of their concrete as they are screeding. This task is easier by combining the level and the screed into one tool. Now finishers can check the pitch of their work as they are striking off the concrete.
Screeding
Strike-offs are typically made from wood 2x4's or aluminum or magnesium metals. Wood 2x4's are 1-1/2 inches thick and finishers are used to the feel of that width in their hands (striking off concrete is an art and a skill that is developed over time, an especially good skill to have when there is no form to run the strike-off against). The problem with wood is that it's heavy, it warps when it gets wet, and it's hard to clean when concrete remains on it very long. Metal strike-boards are usually 2 inches thick (hollow in the center), are always straight as long as they aren't abused, and their edges remain crisp so that good striking planes are easier to achieve and accurate. However a problem with metal boards is that at 2-inches in thickness they are more difficult and tiring to hold. Wood strike-boards are inexpensive while metal ones cost a lot more.
Milwaukee's new REDSTICK™ Concrete Level is "keyhole shaped." The base of the concrete screed portion of the level is 2-inches thick, providing an ideal surface for striking off concrete. The top of the level is shaped to fit a person's hand wrapping around it while the middle of the level is indented for fingers to comfortably grip. The frame of the level is made with magnesium which is overall much lighter. The plastic fittings on the level are made so that they are easy to wash concrete from.
Finishing
Crenshaw says that one end of the concrete level has the typical square end but the other end of the tool has a rounded edge so that finishers can strike-off coved edges where horizontal concrete meets vertical concrete. The two-inch wide metal base can be angled slightly and moved back and forth across freshly struck-off work to provide a floated finish similar to that of a bull-float.
Milwaukee's concrete level also works as a darby to strike-off concrete in difficult to reach small areas. Afterwards finishers can use it as a darby to float-finish the area in preparation for the final finish.
An all-in-one solution
Milwaukee's intent was to introduce a solution that addressed three tools in one so that jobsite work could proceed more efficiently. Because there is a level on the tool that can be easily read, finishers can check for level or pitch while they are striking-off concrete, verifying their work to be sure it is correct as they proceed. Worker fatigue is less too because the tool is comfortable and light.
The REDSTICK™ Concrete Level was introduced in January of 2018 and comes in 2-, 4-, and 6-foot lengths. You can visit Milwaukee's website www.milwaukeetool.com and search for "REDSTICK™ Concrete Level" to see the product and locate the store nearest to you where it can be purchased.